An underground fire caused a complete power outage Sunday afternoon at Hartsfield-Jackson Atlanta International Airport, resulting in thousands of canceled flights at the world's busiest terminal and affecting travelers worldwide.
Click here to find out what caused the power to go out.
Here is a timeline of how the day unfolded:
12:38 p.m. | Georgia Power noticed outages in their system at the airport. During an investigation, they discovered the power.
The Atlanta Fire Department responded within minutes and took about an hour to extinguish the electrical fire.
1:06 p.m. | The power went out in several parts of the airport.
3:00 - 4:00 p.m | Georgia Power crews were able to get into the area to begin repairs.
Midnight | Power was restored completely at the airport
Here's a running list of updates:
4 p.m. -- Georgia Power releases a video of CEO Paul Bowers discusses the outage and showing the damage:
7:30 a.m. -- Georgia Power sent 11Alive pictures of their crews working on the damaged wires underground.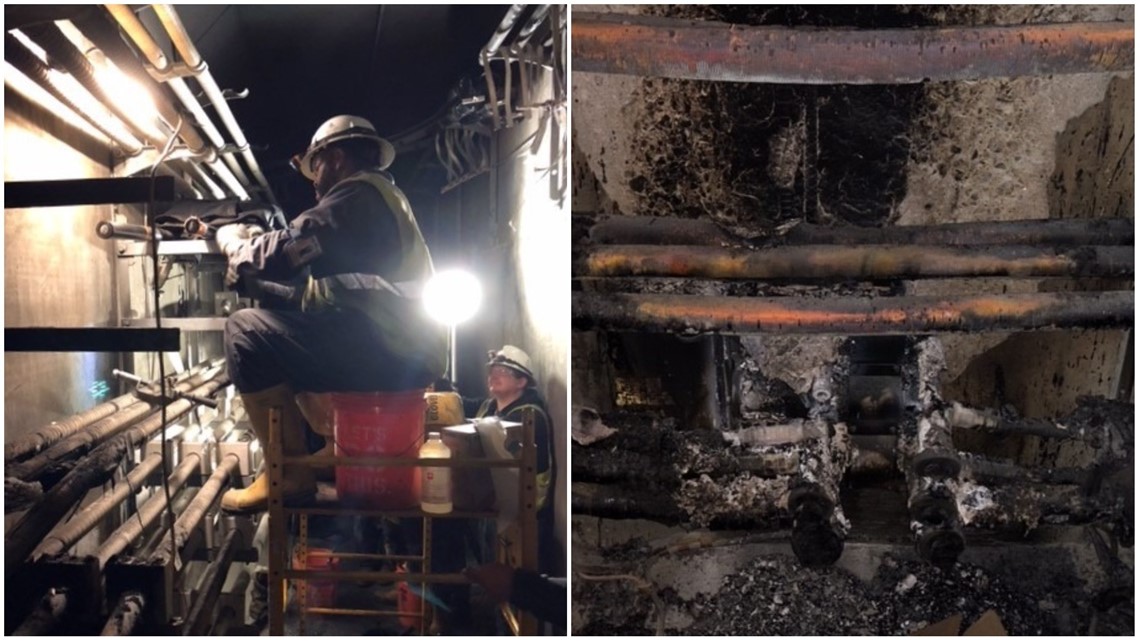 6:35 a.m. -- The plane train at the airport will be back up and running at 10 a.m.
6:30 a.m. -- Although a dense fog advisory is in effect, an airport spokesperson said it has not hindered departures. Andy Gobeil said flights are preparing to depart and 16 inbound planes are arriving.
5:00 a.m. -- 402 additional flights are canceled for Monday.
5:15 a.m. -- Concessions are opening, passengers are urged to check with their airlines for updated flight information.
3:30 a.m. -- According to Atlanta Airport's Twitter, TSA checkpoints have been reopened and passengers with a ticket dated for Sunday, December 17, are asked to reprint their ticket before being processed through security checkpoints.
1:10 a.m. -- 11Alive's Bill Liss reports that lines are now moving through security and Delta is checking folks in.
12:56 am -- First flight takes off from Atlanta airport after blackout.
11:56 pm -- Mayor Kasim Reed says all power has been restored to the airport.
11:46 pm -- There is free parking at the Atlanta airport until 8 am Tuesday for those impacted by the blackout.
11:35 pm -- Mayor Kasim Reed says Chick-fil-A has provided 2,000 meals to stranded passengers from today's blackout.
11:19 pm -- Power has been restored in the atrium and Concourses T, A and B.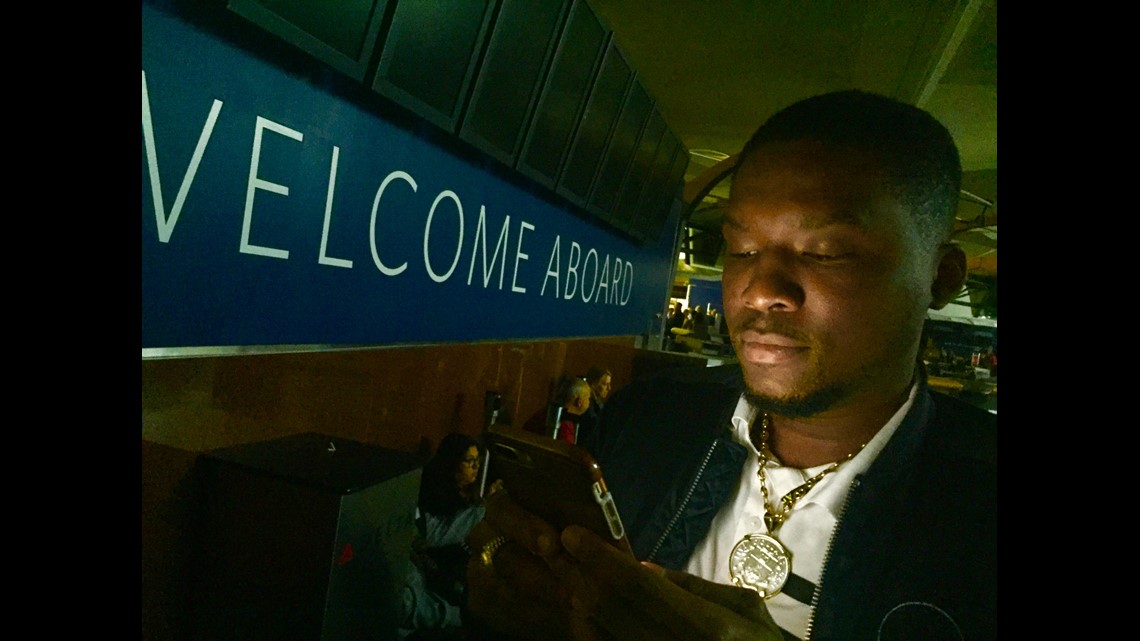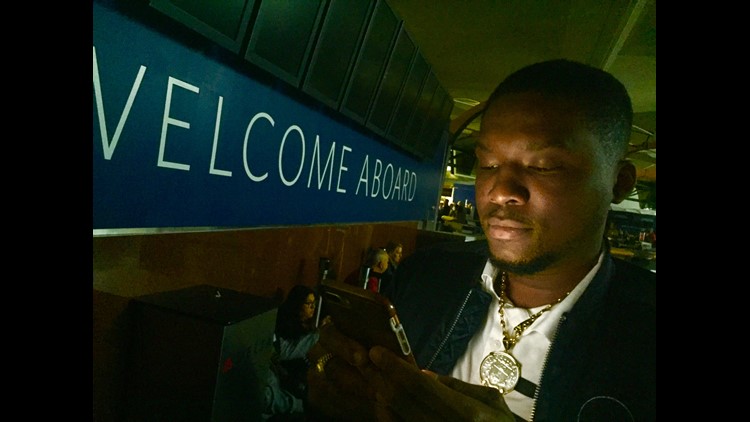 10:42 pm -- Georgia Power says repairs are "well underway" in restoring power to the airport.
10:15 pm -- Mayor Kasim Reed says all passengers have been deplaned.
10 pm -- City officials have mobilized the Georgia International Convention Center and will provide shuttle services for anyone who needs a place to stay for the night. Chick-fil-A is providing food for passengers.
9:37 pm -- Delta has canceled 300 flights on Monday as a result of today's airport blackout.
8:59 pm -- During a live press conference, Atlanta Mayor Kasim Reed says there is no evidence to suggest the fire that caused the airport blackout was the result of criminal activity.
8:30 pm -- Delta says it has canceled 900 flights as a result of the airport blackout. It is continuing to deplane passengers.
8:27 pm -- MARTA has added additional trains to its north/south line from the airport and additional buses at its College Park station. "We are also on standby to help with any evacuation if the city/airport request our help," the agency said. It is also offering complimentary fares for people stranded at the airport.
8:07 pm -- MARTA says it is prepared for extra riders leaving the airport and asks that riders be patient as trains and buses will likely be more crowded than on a typical Sunday night. It has not added extra buses to our service.
7:53 -- 11Alive reporter Christie Etheridge says cars are being allowed into the airport's lower level.
7:40 pm -- The Federal Aviation Administration says it will retain normal staffing in the air traffic control tower throughout the night. Air traffic controllers will be ready to handle flights as soon as they resume.
7:42 pm -- Delta has canceled all flights into and out of Atlanta.
7:34 pm -- City officials say power at Concourse F is back on.
7:33 -- Atlanta fire rescue says all flights at the airport have been cancelled.
6:50 pm -- Gov. Nathan Deal is sending two teams comprised of 24 Georgia state troopers to assist at the airport.
6:47 pm -- An employee from an 11Alive sister station who is on a plane grounded at the airport says planes are now being unloaded. "People are being told to wait in line for the Delta phones," our Tegna source says. "There are no representatives from Delta aside from the random pilots willing to speak to people. Terminal A has emergency lights and someone just said Terminal B emergency lights just came on."
6:35 pm -- Georgia Power expects power to be restored to Atlanta airport by midnight. Here is the utility's full statement:
"Georgia Power continues to work closely with Hartsfield-Jackson International Airport personnel onsite to restore power to the Airport as quickly as possible. Assessment and repair efforts are well underway at this time and the company expects to have power restored to the Airport by midnight tonight.
"Georgia Power believes the issue may have involved a fire which caused extensive damage in a Georgia Power underground electrical facility. The fire was safely extinguished by fire crews before Georgia Power could enter the area to assess damage and begin repairs.
"The event impacted not only the underground facilities, but also substations serving the Airport and, while the cause is not yet known, Georgia Power's system responded by isolating areas where equipment wasn't operating correctly to ensure safety and minimize damage. No personnel or passengers were in danger at any time.
"Georgia Power has many redundant systems in place to ensure reliability for the Airport and its millions of travelers - power outages affecting the Airport are very rare."
6:33 pm -- MARTA says its airport service has not been interrupted by the power outage, and that is has buses and trains available to assist. However, MARTA officials have not been asked by airport officials to assist in any evacuation.
6:29 pm -- A Delta executive has told 11Alive that the airport is being evacuated and that passengers are being urged to use MARTA.
5:50 pm -- Atlanta fire officials are on scene and have received no official reports of fire or smoke. A spokesperson is aware of tweets about smoke at the airport, but so far nothing has been found.
5:41 pm -- Atlanta Mayor Kasim Reed is preparing a statement on the airport power outage.
5:12 pm - -Delta says it is deplaning aircraft that have not been able to depart due to the power outage.
4:44 pm -- Atlanta police are sending extra manpower to the airport to assist with crowds.
4:43 -- A friend of 11Alive reporter Natisha Lance says partial power has been restored in the International Terminal via a generator, but none of the monitors are on. She says people are "surprisingly calm" because "no one knows what is going on." No one has told them anything.
4:31 pm -- Delta has issued a travel waiver for passengers affected by the power outage.
4 pm -- Airport officials say they are still working to restore power at the airport. The ground stop continues, and there is no timetable for when flights will be allowed to resume. The exact cause of the power outage is still under investigation. Many inbound flights to Atlanta are being diverted.
3:53 pm -- Southwest Airline has canceled all flights into and out of Atlanta for the rest of the day.
3:37 pm -- According to the U.S. Customs and Border southeastern division, all international flights heading into Atlanta are being diverted to other airports.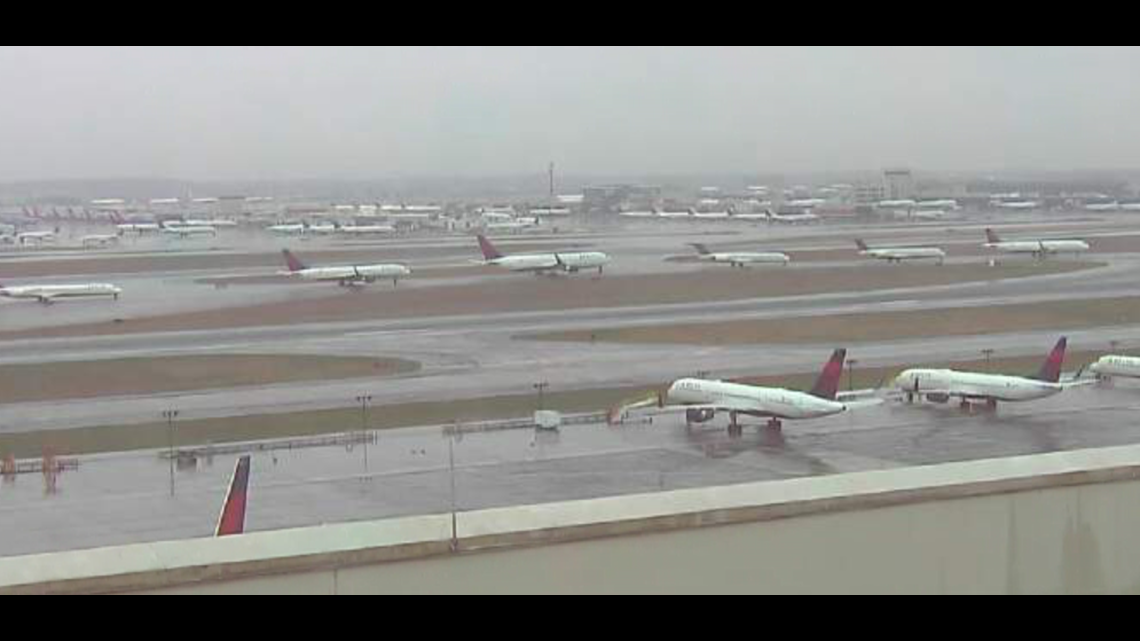 3:22 pm -- The FAA has extended the ground stop to at least 4 pm, and says between 80 to 100 jets are parked on the taxiways, waiting for gates.
3:15 pm -- Major airlines are canceling flights at Atlanta's Hartsfield-Jackson International Airport in the aftermath of a major power outage Sunday afternoon.
Southwest Airlines is canceling "all but a handful of international flights," according to an airline spokesperson.
Delta Air Lines says it is aware of the power outage and the flight disruptions are expected. Delta customers are encouraged check the status of their flight via the Fly Delta Mobile App or Delta.com.
Airport officials say the outage occurred at 12:55 p.m., and affects several areas of the airport. The outage was due to an electrical issue at a Georgia Power substation, according to an airport spokesperson who spoke to NBC News.
11Alive's Faith Abubey was in the North Terminal at the time of the outage, and reports that all power is out there. In speaking to staff at the United Airlines desk, she says she was told that the outage was over the entire airport and that flights were grounded.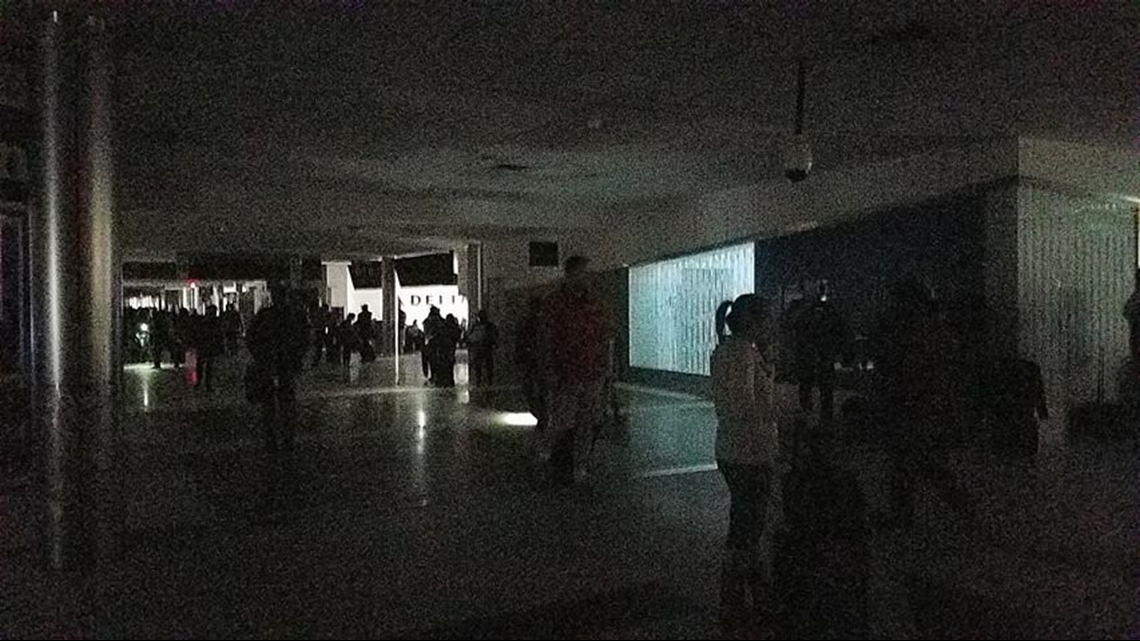 Abubey reports that the Plane Train, which connects each of the terminals below ground, is also affected.
Additionally, data service in and around the airport area is affected, limiting cell phone service in that area.
John Creft with Georgia Power indicated at 1:30 pm that there was a power outage at Hartsfield-Jackson, and that repair crews had been dispatched to the airport to work on the problem.
Airport officials said they were aware of the problem and were working to update the situation.
Georgia Power officials have also indicated they are working to alleviate the issue as soon as possible.
The FAA released a statement noting a ground stop for all flights heading to Atlanta from other airports around the nation as a result of the power outage at Hartsfield-Jackson.
The Federal Aviation Administration has put in a ground stop for flights headed to Hartsfield-Jackson Atlanta International Airport due to a power outage affecting the airport terminals. The FAA Tower can operate normally, however, departures are delayed because airport equipment in the terminals is not working. A ground stop means that flights headed to Atlanta are held on the ground at their departure airport.
FAA officials said they will provide an update as new information becomes available.
A ground stop at Hartsfield-Jackson will likely affect flights across the entire nation, due to delays resulting from passengers connecting through Atlanta.