ATLANTA — The national protests set off in the wake of the death of George Floyd have reached night seven here in metro Atlanta.
Demonstrators continue to meet near Centennial Olympic Park in the heart of Downtown to call for change in American policing tactics, which activists say has lead to too many deaths of black Americans during their interactions with law enforcement.
A curfew is back in effect for the City of Atlanta again Thursday night, and lasts at least through this weekend to stave off any potential repeats of last weekend's chaos. Protest organizers have since been urging crowds to heed the curfews and disperse when asked by police and the National Guard, and Wednesday night's protests ended without any tear gas ever being deployed.
11Alive has been covering the marches since they began on Friday, and will cover them again this evening. Scroll down for the latest.
11:23 p.m. - APD said they made 6 total arrests during Thursday's protests.

9:30 p.m. - The streets of Atlanta are largely clear.
9:17 p.m. - The group is finally persuaded to leave, and asked police to ask the National Guard to let them through a line of soldiers.
9:13 p.m. - A National Guard troop has taken aside a protester and a small group who were not wanting to leave. The guardsman and a protester are still in conversation.
9:09 p.m. - The police line has begun to move forward, but no tear gas has been used.
9:06 p.m. - It appears that a command officer on the skirmish line is engaging with the group to try to get the crowd to disperse.
9:03 p.m. - Some protesters who started to leave as curfew took effect, have decided to return to the crowd choosing to stay.
9:02 p.m. - The curfew is now in effect, but there is still a core group of protesters who have chosen not to leave.
8:59 p.m. - The National Guard announces the curfew is imminent, and anyone left on the street is in violation of the executive order.
8:53 p.m. - The barrier between protesters and law enforcement and the National Guard has been removed in anticipation of the enforcement of the curfew.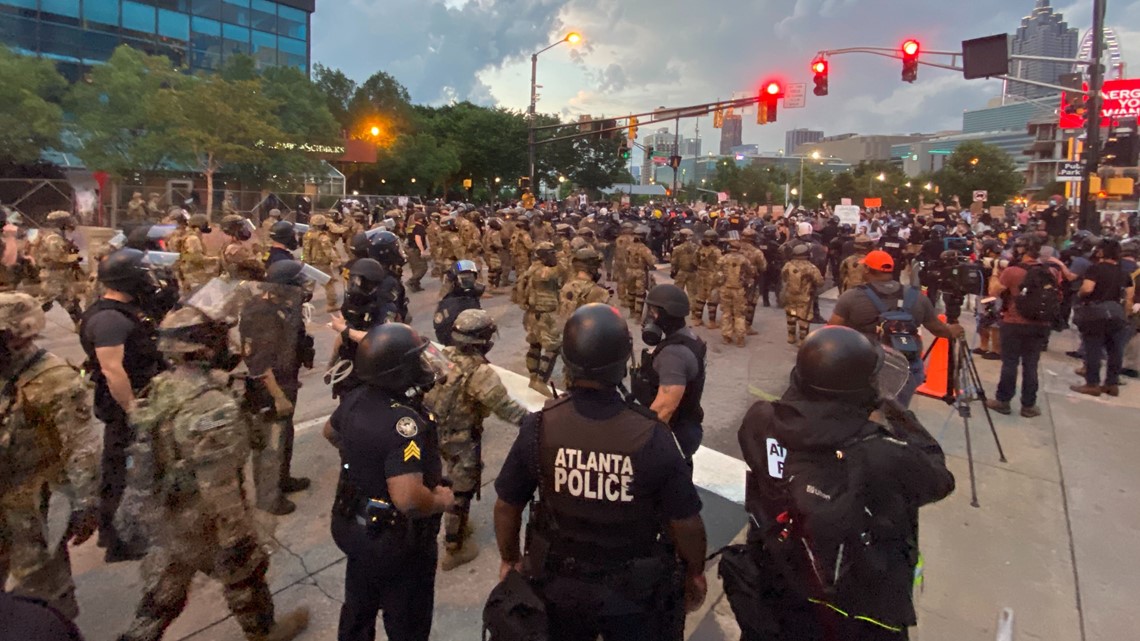 8:42 p.m. - 11Alive crews are reporting people in the crowd are asking for protesters to begin to gather their things to go home ahead of curfew.
8:00 p.m. - 11Alive's Hope Ford captures a moment where a little child holding a sign that says "Black Lives Matter."
7:39 p.m. - A hard rain is falling down near the site of the protests, but it doesn't appear to deter the crowd.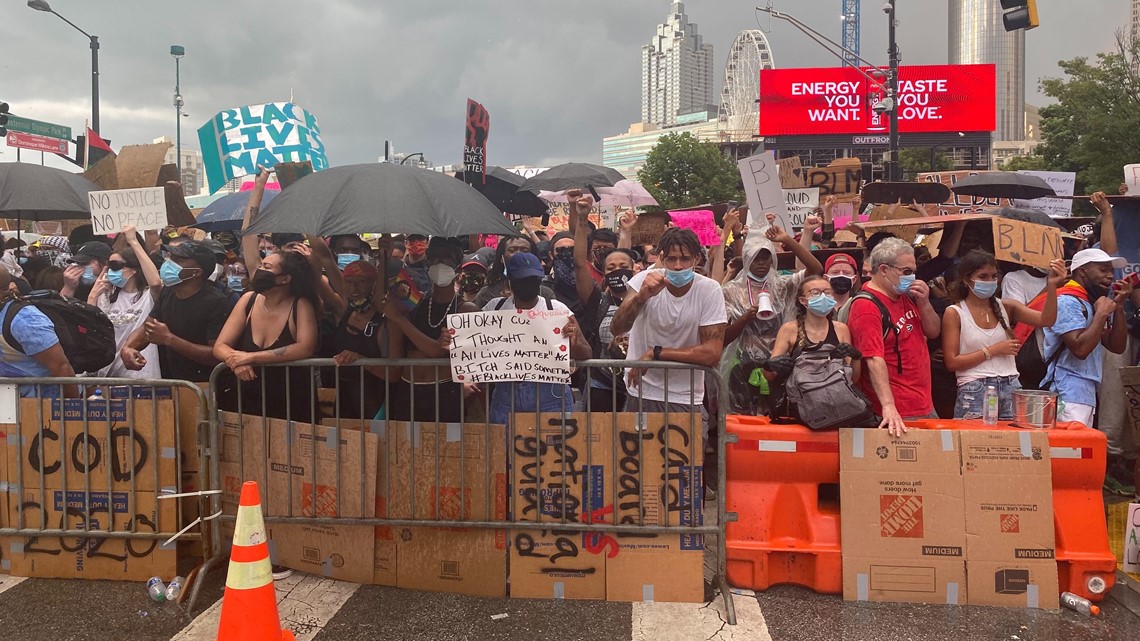 6:52 p.m. - Here's video of Mayor Bottoms speaking to the crowd.
6:30 p.m. - Atlanta Mayor Keisha Lance Bottoms addresses the crowd of protesters during the seventh night of protests in Atlanta, though it was met by loud heckling.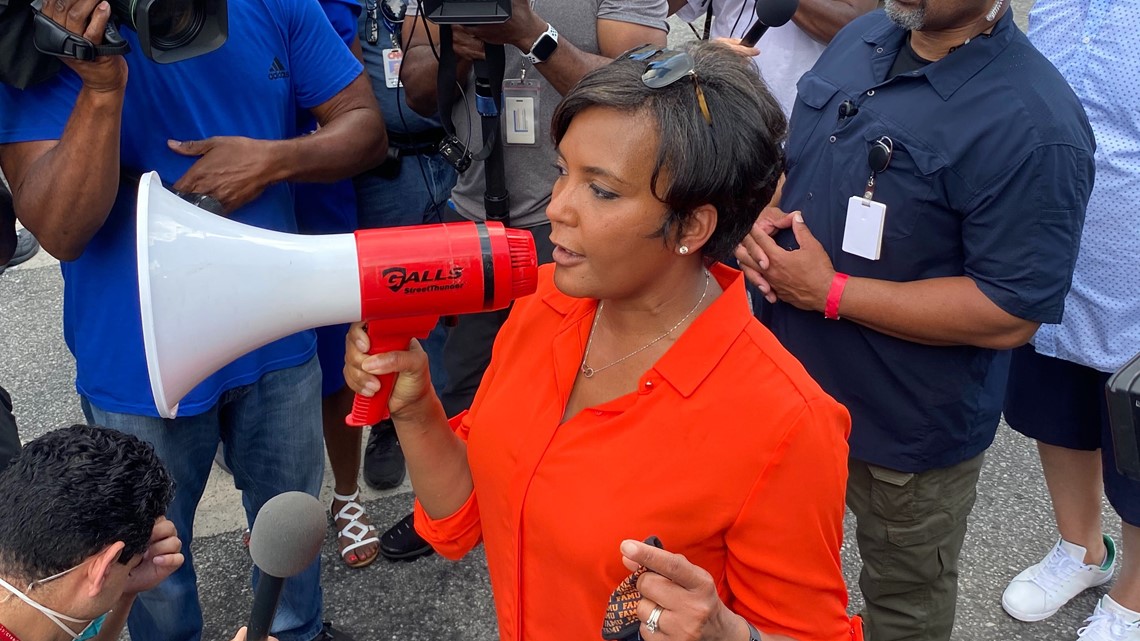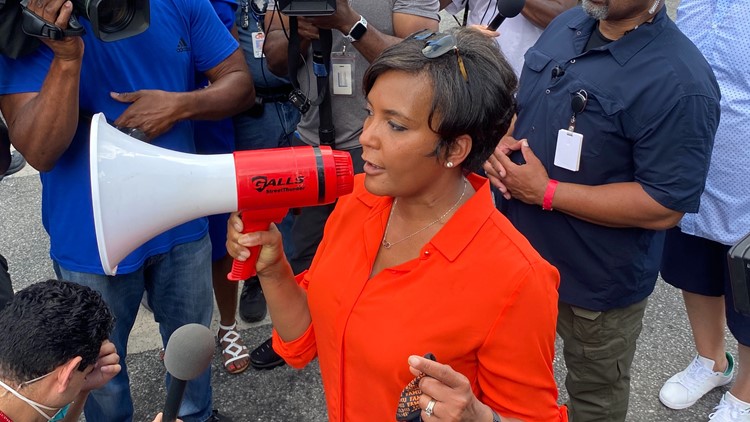 6:25 p.m. - 11Alive's Hope Ford reports someone was just arrested at the Capitol. The person was standing in front of the Capitol in a line of 20 people before seven state troopers walked over and arrested him. It was unclear why.
6:24 p.m. - Protesters are making their way down Peachtree Street as they walk from Piedmont Park to Centennial Olympic Park.
6:08 p.m. - Atlanta Police Chief Erika Shields is again on site of protests in Atlanta. It's at least the second time the chief has been publicly seen engaging in the demonstrations, the first time being on Friday.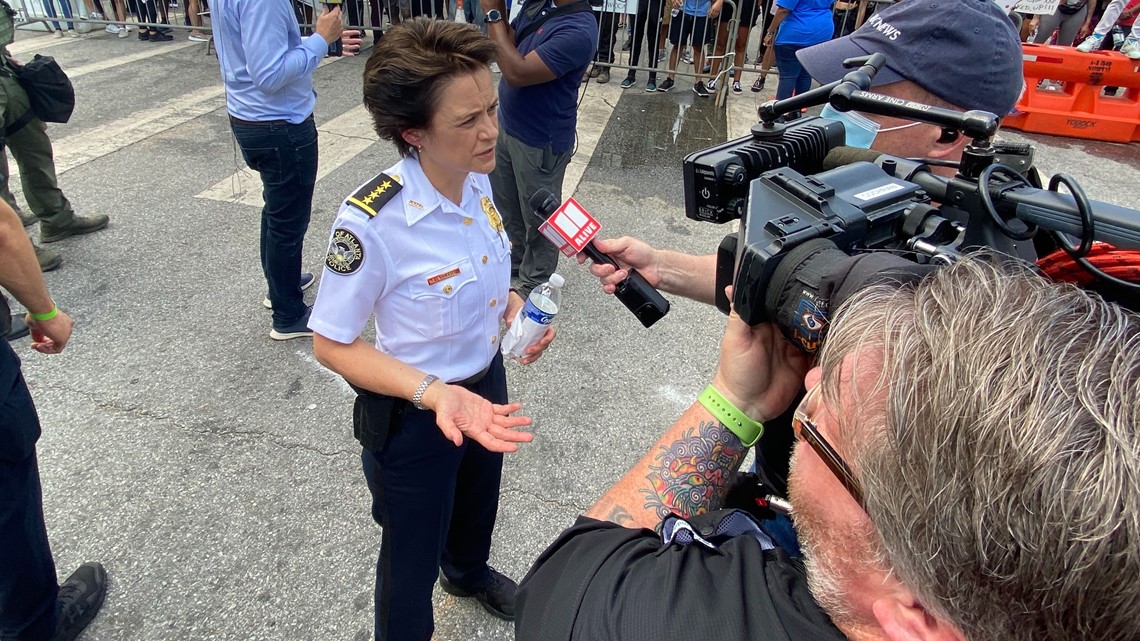 5:57 p.m. - Protesters are on the move from Piedmont Park in Midtown to Centennial Olympic Park in Downtown.
5:39 p.m. - Protesters in Piedmont Park have taken a knee for eight minutes, a symbolic time. A Minneapolis Police officer knelt on George Floyd's knee for more than eight minutes while he was in handcuffs before he died.
5:14 p.m. - A group of faith leaders is gathering at the Capitol to march to tonight's protests near Centennial Olympic Park.
4:00 p.m. - Protesters plan to meed in Midtown Atlanta to hold a moment of silence before marching to Centennial Olympic Park to join in tonight's protests.
3:25 p.m. - Atlanta Police say they made 43 additional arrests Wednesday night related to the protest, bringing the total number of arrests since the protests began Friday to 526.
2:56 p.m. - MARTA says all transit will operate as scheduled today, however the Streetcar service remains suspended due to the protests and road blocks near Centennial Olympic Park.
2:41 p.m. - 11Alive My News reporter Jay Plyburn reports there are about 100 people participating in a protest in Dacula in Gwinnett County.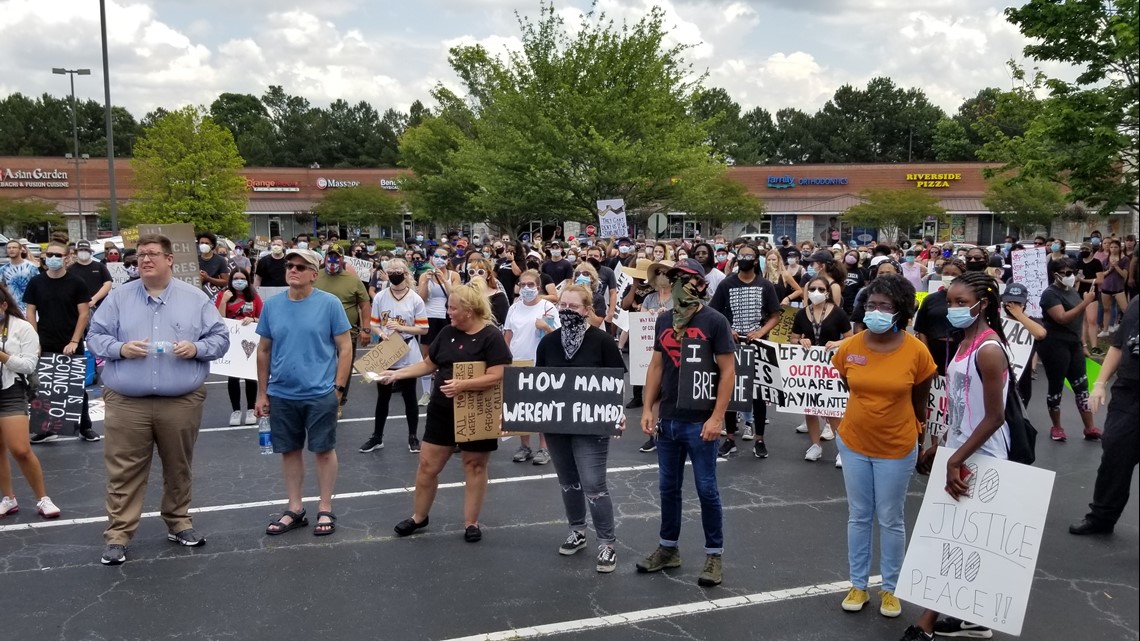 10:30 a.m. - A crowd gathers outside of historic Ebenezer Baptist Church near the Martin Luther King, Jr. Center in Atlanta for a rally.
Watch a replay of the stream below.
Watch live coverage of Day 7 of protests here.
Photos: Day 7 of Atlanta protests
Atlanta Protest coverage