People from across the nation discuss their roles in this 'historic' time amid worldwide Black Lives Matter, racial justice protests
We've reached out to people from across the world to ask one main question: 'What is your role in the conversation about race in America?' These were their responses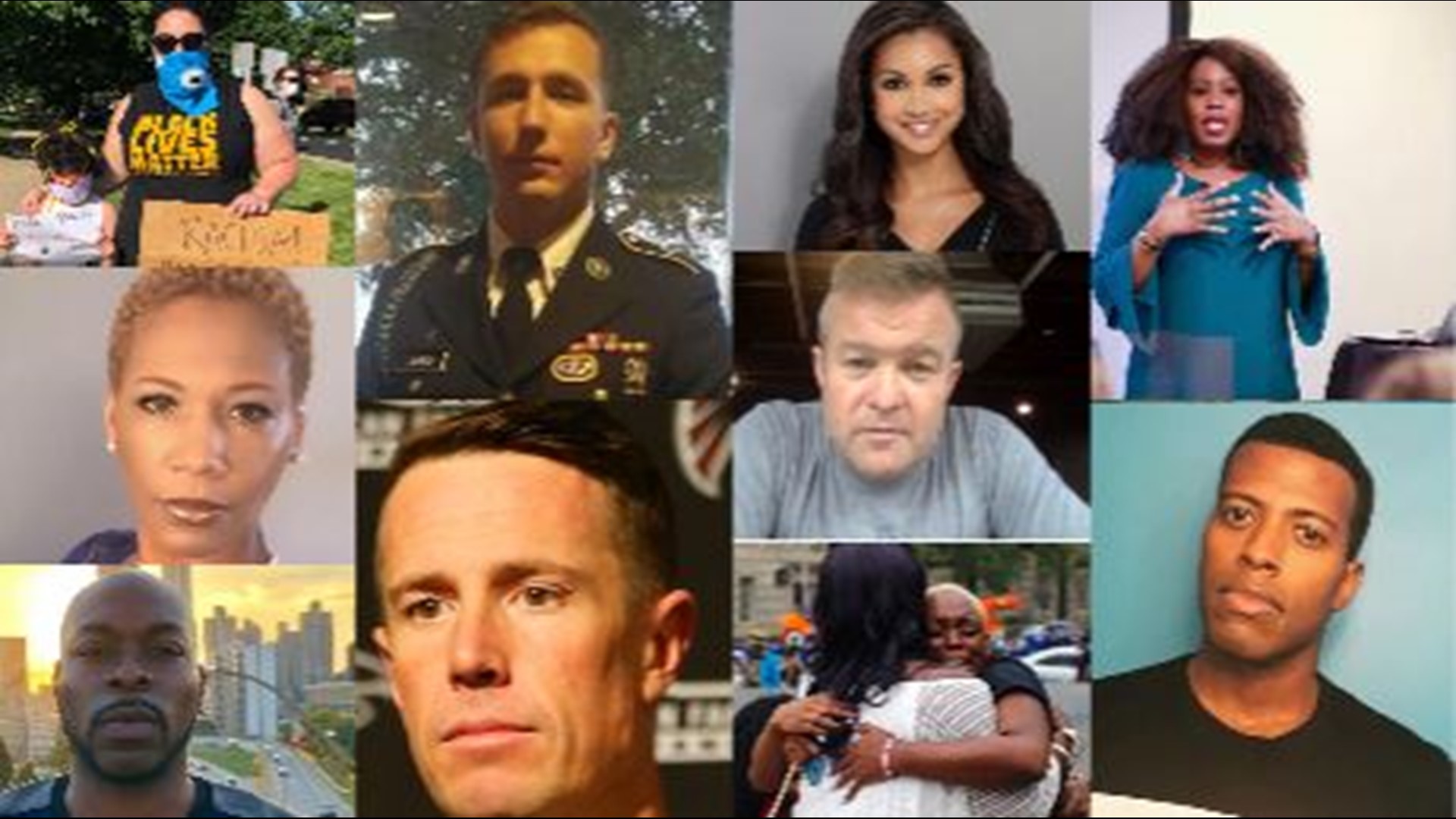 The deaths of Ahmaud Arbery, Breonna Taylor, George Floyd, Rayshard Brooks, and a searing, stretching list of others have profoundly shifted how we see and discuss race in America - igniting a modern civil rights reckoning across the country.
For the past month, members of the Atticus team, 11Alive's Matt Pearl, and LaPorsche Thomas have reached out to people of different ages, backgrounds, and professions to discuss the happenings across the world.
We asked one main question to facilitate discussion: "What is your role?" The range of responses reflects a society grappling with its self-image as a land of liberty and the sense felt by so many that they're denied it.
74 percent of Americans said George Floyd's death is part of a broader problem, according to an Ipsos poll.
62 percent of Americans believe White people benefit from societal advantages that Black people do not have, according to a recent CNBC poll.
76 percent of Americans feel racial and ethnic discrimination is a big problem in America, according to a Monmouth University poll.
23 percent say it is a lesser problem or "not a problem," according to a Monmouth University poll.
42 percent of Americans think race relations in the U.S are getting worse, according to a CBS News poll.
Just 17 percent believe they're getting better, according to a CBS News poll.
11Alive is Where Atlanta Speaks. We wanted to know where you fit in. Here are the perspectives of 23 people from across the world.
**The full YouTube playlist is available here and by clicking the video link above.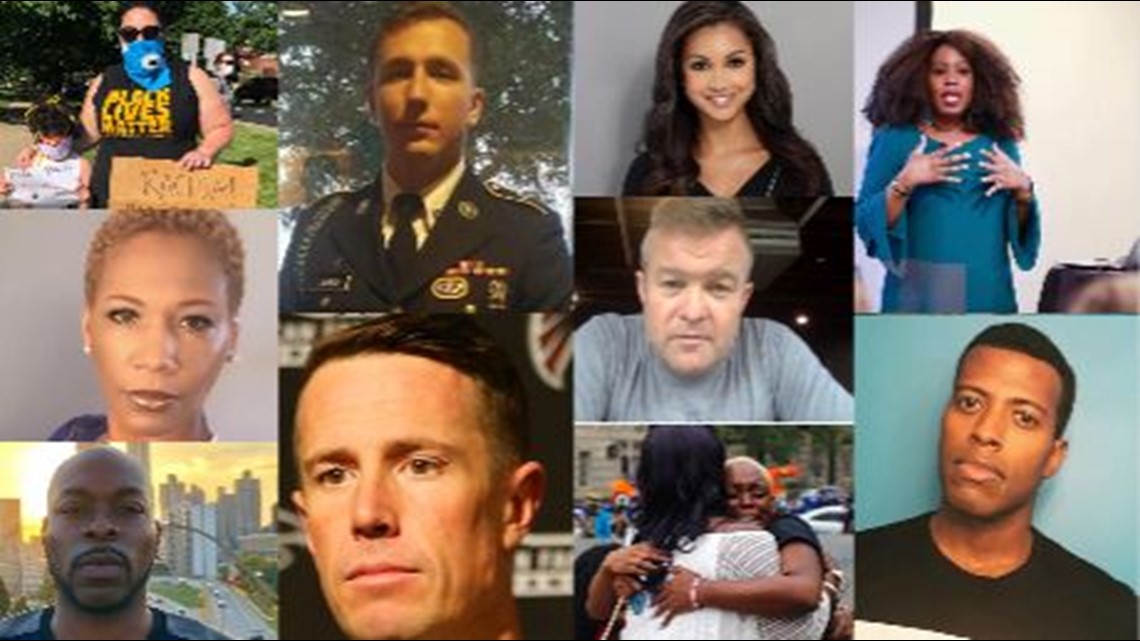 Eboni K. Williams
:
Eboni K. Williams
Williams' Self-defined Role: "My role in this incredibly historic and pivotal revolutionary moment in our country is to be an unadulterated truth-teller and an educator."
Quote: "This moment is not happening because of celebrities. It's not. It's happening because of the millions of protesters around the world and particularly in major American cities who have said enough's enough. We're tired of being tired."
Bio: Eboni K. Williams is a TV host, author, and attorney. She is the anchor of REVOLT BLACK NEWS.
Mark McCoy
:
Mark McCoy
McCoy's Self-defined Role: McCoy says his role is to be a great parent and raise his children to see and treat other people well.
Quote: "I had also been arrested for allegedly spending a counterfeit $20 bill. My police experience: very different from Mr. Floyd's."
Bio: Mark McCoy is an archaeologist and associate professor in the Department of Anthropology at Southern Methodist University in Dallas, Texas.
Dr. Kristina Collins
:
Dr. Kristina Collins
Collins' Self-defined Role: "My role in the movement is to ... define my voice, to use my voice, to give my voice, and to be a voice, not an echo, but a voice. That's my role."
Quote: "There is that danger of always trying to save us. And we don't need to be saved. We ... we want people to see us. And so ... I always tell my white colleagues, instead of trying to understand me, I would rather you spend that time trying to understand you."
Bio: Dr. Kristina Collins is a professor of Talent Development at Texas State University. She is also the first Black president of a prestigious international academic organization known as SENG "Supporting Emotional Needs of the Gifted."
Corinne Shutack
:
Corinne Shutack
Quote: "I can and will make a hundred mistakes. I know. But I also have a moral obligation ... to try and fix something that's horribly wrong in our country."
Rob Smith
:
Rob Smith
Smith's Self-defined Role: "My role right now is to be is to say ... uncomfortable truths, that a lot of the alleged leaders in the African-American community just cannot bring themselves to say, and to be hated for that by some people."
Quote: "I'm a very prominent Republican and I wear that label proudly. But whether you're conservative or liberal or anything between, you can't be afraid to speak truths and you can't be afraid and let people silence your voice. I think that that's the most important thing because it's going to take a lot of different voices, that have a lot of different angles on this situation, to get us to come together and find a path forward."
Bio: Rob Smith is a spokesperson for Turning Point USA, a contributor to a media network called The First, and considers himself America's favorite Black, gay, Republican.
Matt Ryan
:
Matt Ryan
Ryan's Self-defined Role: Ryan wants to be an advocate for change and make an impact on the movement.
Quote: "I believe this is the right thing to do. And I stand with my teammates and with my friends that have gone through things I haven't gone through."
Bio: Matt Ryan is the starting quarterback of the Atlanta Falcons.
Brian Johnson
:
Brian Johnson
Johnson's Self-defined Role: "I'm not racist, so, you know, what's the role? People have to figure out for themselves what their role is and why you're out there. Like I said, I think there is a while I didn't say, but my feeling on it is there is a group of people out there that want to create chaos to get their agenda through, that they want to get through. And the best way to do that is to get people mad and pit them against each other."
Quote: "I'm not abusing Black people. Why should I feel guilty about it?"
Bio: Brian Johnson is a hairdresser living in College Park, Georgia.
Dr. Tina Harris
:
Dr. Tina Harris
Harris' Self-defined Role: "My role requires that I continue to empower people through knowledge and compassion and understanding."
Quote: "We have had internal dialog within our families for decades about how we are expected to navigate in a white world. Not just to conform, but to survive."
Bio: Dr. Tina M. Harris is an internationally-renowned interracial communication scholar with a particular focus on race, media representations, and racial social justice. She is currently the Douglas L. Manship Sr.-Dori Maynard Race, Media, and Cultural Literacy Endowed Chair at Louisiana State University.
Darian Aaron
:
Darian Aaron
Aaron's Self-defined Role: "My role in this movement is to be visible. To be vocal, to refuse to be silent, to refuse to be silenced and to amplify stories from LGBTQ people of color."
Quote: "We're asking for equality across the board. Because I'm Black, too. At the end of the day, my gayness does not negate my Blackness. I'm a Black gay man."
Bio: Darian Aaron is a journalist specializing in stories impacting the Black LGBTQ community and communities of color. He is originally from Montgomery, Alabama.
Chris Williams
:
Chris Williams
Williams' Self-defined Role: Williams said he doesn't feel like there is much he can do other than vote right now. He said he doesn't believe he needs to go out and protest or anything of that nature.
Quote: "Regardless of what's going on with race relationships, I think we still live in the greatest country in the history of mankind, and there's so much opportunity, and we can't lose sight of that."
Bio: Chris Williams is a general contractor living in East Atlanta, Georgia.
Aaron Greene
:
Aaron Greene
Greene's Self-defined Role: Aaron Greene said his role in this fight started at the protest and led to him having a peaceful conversation with officers who could "do some real change."
Quote: "I saw this stuff in history books. I never thought I would be – I would have to be – on the front lines."
Bio: Aaron Greene is a student at Clark Atlanta University in Atlanta, Ga.
Toni- Michelle Williams
:
Toni- Michelle Williams
Williams' Self-defined Role: Williams' role in this movement is to continue to be an organizer, agitator, a facilitator of change, a facilitator of brilliance, and a healer again of hearts and minds of Black people and Black babies.
Quote: "To people who say to Black minority groups like trans people and LGBTQ people, when they say to us, wait your turn... How long have you been waiting? To be seen and heard and affirmed in what you need in order to survive ... it is going to take all of us to tear the door down."
Bio: Toni Michelle Williams is the executive director of the Solutions Not Punishment Collaborative in Atlanta, Georgia, a Black trans-led organization that focuses on leadership development of Black, trans, and queer people and transformative campaigns.
Zachary Outen
:
Zachary Outen
Outen's Self-defined Role: "To encourage conversation between people who might be more on the racist side and people of different races, getting them to converse, and maybe reach a common middle ground is what I see as my purpose in this."
Quote: "In the Army, there's no room for discrimination of any kind, especially racism. Your life depended on the person to your left and to your right. It didn't matter what color they were, what gender they were, sexual orientation. It didn't matter. It was just, if I go home, it's gonna be because of him."
Bio: Zachary Outen lives in Bozeman, Montana. He was previously serving in the Army and is currently a college student.
Monique Melton
:
Monique Melton
Melton's Self-defined Role: To never stop and to continue to do this work "with humility, with a deep commitment to self-love, self-dignity, and a deep and true honor and respect for my ancestors and desire for my children to live in a world where they can live and be free in their Blackness and their humanity."
Quote: "It takes so much Black death and so much gruesome dehumanization of Black life for the white collective to notice what we've been saying all this time."
Bio: Monique Melton is an anti-racism educator, podcast host, and international speaker. She lives on the East Coast with her husband and two children.
Eric Johnson
:
Eric Johnson
Johnson's Self-defined Role: To create ways to fund the next generation of African American entrepreneurs.
Quote: "It wasn't just George Floyd. In some ways, George Floyd was the match that was dropped on … a million gallons of gasoline."
Bio: Eric Johnson is the founder and brewmaster at Wild Heaven Brewery.
Cyriah Smith
:
Cyriah Smith
Smith's Self-defined Role: "I will bring all the kids together and have a peaceful protest."
Quote: "I like writing about it, so when I grow up, I can say, 'She did this. I did this when I was eight years old.'"
Bio: Cyriah Smith lives with her family in Atlanta, Ga. She is eight years old.
Atearia Jackson
:
Atearia Jackson
Jackson's Self-defined Role: "Well, my role is to educate and uplift my people on high vibrational frequency type of thing. Because right now, again, as you say, we're having an intense conversation."
Quote: "My goal is to wake up my people in regards to what's going on."
Bio: Atearia Jackson works as a server and a mother to an 11-month-old child in Atlanta, Ga.
Daphne Hampton
:
Daphne Hampton
Hampton's Self-defined Role: "I'm finding that my role is to help people stay positive in a cruel and negative situation. I've been on social media fighting battles and putting out fires and trying to get people to see the good."
Quote: "Examine your heart, examine your heart, because if you're not angry about what's going on or if you're not upset about it or at least thinking about it or reflecting about it, then to me, you're ... you're the oppressor. You're on the side of the oppressor."
Bio: Daphne Hampton is currently a U.S. citizen living in Germany. She is an author.
Taos Wynn
:
Taos Wynn
Wynn's Self-defined Role: "My job is to, at all times, express God's love and to seek his wisdom for this generation ... In this movement, I believe I am to use my platform and to use my voice to really highlight the societal issues and injustices that continue to affect our human and civil liberties."
Quote: "Even after the protests end, we have to continue with the pressure. And we apply that pressure with the ballot, with the census."
Bio: Taos Wynn is with Millennial Civil Rights, the civic engagement and advocacy division of the Perfect Love Foundation in Atlanta, Ga.
Anice Chenault
:
Anice Chenault
Chenault's Self-defined Role: "I, as a white person, have two primary roles. The first one is to get educated... And then the next thing is to break white silence, and that means to speak up."
Quote: "I think now is a moment to get out there, in small ways and big ways, and say, 'I will not stand for this.'"
Bio: Anice Chenault is an organizer with Stand Up for Racial Justice, an antiracism group in Breonna Taylor's city of Louisville, Ky.
Cadex Herrera
:
Cadex Herrera
Herrera's Self-defined Role: "As an artist, I believe that if you are a creative person, that you should be able to express, express, express your ... anger as well as your solidarity with Black Lives Matter movement and all solidarity with George Floyd and use whatever art, skill, art talent you have to get out there and let people know because they need to start. I think that art does speak sometimes louder than words. You can make images permanent."
Quote: "When he was murdered by the police, that really struck a nerve with me … I wanted to scream it out loud that this was another beautiful human whose life was unnecessarily taken away …"
Bio: Cadex Herrera is an artist, art educator, and intervention specialist for the St. Paul public school district. He designed the George Floyd mural in Minneapolis, Minn.
Oronike Odeleye
:
Oronike Odeleye
Odeleye's Self-defined Role: "My job as a citizen, as a concerned citizen, is somebody who feels a debt not just to my ancestors, but to the people who are out in the street putting their life on the line, to help support them. And so I've been doing that. In addition to going out and protesting myself, it has been about like, what are the calls to action and how can I help them and how can I do that and how can I amplify it?"
Quote: "If this is important to you – if the world becoming a place of equity and justice is important to you – it has to reverberate through everything you do, all the time."
Bio: Oronike Odeleye lives in Atlanta, Ga. She is the co-founder of the Mute R. Kelly movement, which was a social justice movement to encourage the Black community to financially divest from R. Kelly and his music, given his history of sexual abuse of Black girls.
Chelsea Connor
:
Chelsea Connor
Connor's Self-defined Role: "My role is to, like what we've been doing all week, is to speak about this, to say something to ... highlight the experience and as best as I have the bandwidth to educate people, because you don't always have the bandwidth to do that. It's a big emotional burden to do that sometimes."
Quote: "We just want to feel safe when we go outside. We don't want to feel like, 'Is this the last time I'm going to be leaving my house?'"
Bio: Chelsea is a college student at a university in Texas. She is originally from the Commonwealth of Dominica in the Caribbean and is a herpetologist.