Just days before Thanksgiving, and a month before she was supposed to give birth, a stray bullet stole a 14-year-old's life and the future of her unborn child's life
The person police believe pulled the trigger on the gun that fired the deadly round is in custody, but for Sonja Harrison's family, the shock is still fresh.
"I can't believe she's gone," explained Sade Pruitt. "That's my baby sister."
Pruitt said she hopes the accused gunman never sees the light of day.
"I hope he never get out, cause he really did some damage," she said.
It was around 6:30 p.m. Monday Nov. 19, when Harrison was inside the apartment off Cleveland Avenue - there to babysit her two nephews. At some point, police said Diallo fired a gun in an upstairs unit. The bullet traveled through to the unit below, hitting the eight-grader in the head, killing her.
Police believe there were several people inside the upstairs apartment when the shot was fired. Right now, they believe it was only one round was fired.
Photos: 14-year-old shot in head, killed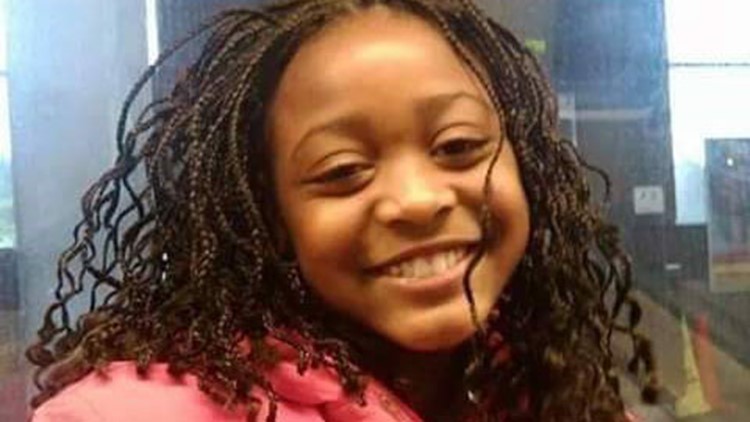 The fatal shot also killed her unborn child - expected to arrive next month. Pruitt said her sister planned to name the baby girl Naomi. Now, Pruitt said Naomi's future, and that of Harrison's, will never get the chance to blossom.
"(Sonja) was smart. She was intelligent," Pruitt said. "She had plans after she had her baby. She wanted a job so my mom wouldn't have to stress about another mouth."
Harrison had plans to join the Army - something that worried Pruitt, but also made her proud.
"By her wanting to join the Army it made me scared but it also made me proud of her cause I didn't know how to do that," she said.
Now, instead of celebrating Thanksgiving, they're mourning the loss of a family member, though thankful the accused gunman is behind bars.
In addition to the second degree murder charges, Diallo also faces charges of reckless conduct and possession of a firearm while committing a felony.