A Conyers mother is outraged over a store sign that banned shoppers from wearing hoodies.
Alana Sanders reached out to 11Alive after the store, Fred's on Sigman Road in Conyers, posted a sign on their door asking their patrons to remove their hoodie from their heads. The sign cited a Georgia law as justification for the rule.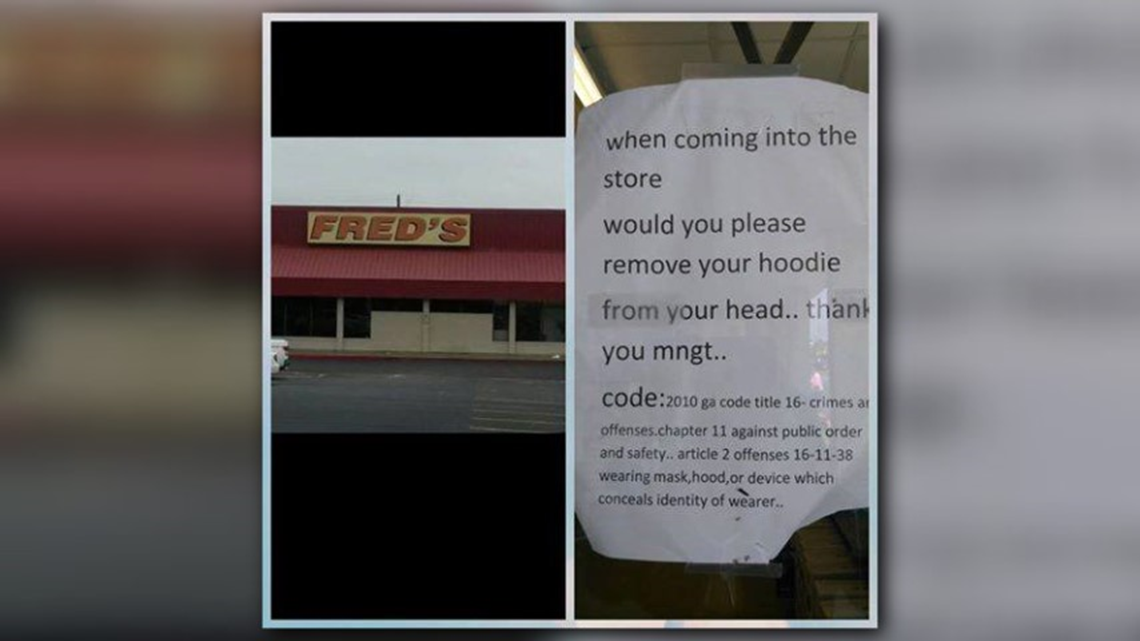 According to Sanders, as she approached the store and saw the sign, the manager also arrived at the same time and said, "These kids actually wear hoodies in the summertime and come in here to steal."
"You mean to tell me because I wear a hoodie I am a criminal? I said, no criminals wear 3-piece suits everyday. So what determines what a criminal looks like?"
Sanders, a professional fitness instructor who said she wears hoodies after workouts, responded, "I wear hoodies in the summer time, does that mean I'm in here to steal?"
The manager said she based the hoodie ban on Georgia law, citing Ga. Code 16-11-38, which states:
"A person is guilty of a misdemeanor when he wears a mask, hood, or device by which any portion of the face is so hidden, concealed, or covered as to conceal the identity of the wearer and it upon any public way or public property or upon the private property of another without the written permission of the owner or occupier of the property to do so."
Sanders then corrected her about what the law was actually meant to address.
"I told the manager, 'Let me explain something to you: A hoodie, which is an apparel or athletic wear, is not the same as me wearing a hood over my face,'" Sanders said. "I said you can actually see somebody who has a hood on -- their face."
The manager told Sanders that a Conyers police officer had told her that it did.
One manager of the store told 11Alive's Deborah Tuff that back in January during New Year's Eve, the store was held up and the man wore a hoodie. After that, for her safety and to feel a little more at ease, the sign was put up.
Sanders thinks this leaves room for discrimination and it could be offensive.
"What about those who wear hood regalia for their religion? Do you ask them to remove their items? Do you ask them to remove their attire?" Sanders demanded.
The Newton County Sheriff's Office stated that whether a piece of clothing that is hindering the business owner from clearly identifying a patron, the owner can ask them to remove that garment. However, in this instance, citing Ga. Code 16-11-38 may have been a 'bit extreme'. If the hood was 'clearly hindering' the manager from seeing the person's face or concealing their identity, then it is perfectly fine to ask them to remove it.
"The law is not up for interpretation but as far as how much of the clothing is hindering another person's ability to see another person's identity -- that can be up for interpretation," the sheriff's office said.
"OCGA 16-11-38 is a statute that criminalizes the wearing of masks, hoods, etc under certain circumstances," said Jason Swindle, a criminal defense attorney and criminology professor. "Appellate courts in Georgia have held that in order to obtain a conviction under the antimask statute, the state must show that mask-wearer intended to conceal identity, AND either intended to threaten, intimidate, or provoke apprehension of violence, or aced with reckless disregard for consequences of his conduct or with heedless indifference to rights and safety of others, with reasonable foresight that injury would probably result.
"So, there is not a broad prohibition against wearing hoodies in stores," Swindle continued. "The critical issue surrounds the behavior of the person with the hoodie in the store...As with most laws, it is a case by case analysis."
The store has removed the sign and its corporate office has declined to give a comment. Still Sanders feel an apology and a look at how they conduct business, should be in order.
"You need to find another loss prevention method. I.e. Invest in some surveillance cameras...maybe get some police officers to detail your store. To go in there and look," Sanders said. "Don't just single out people who are wearing certain garments to think they are coming in to steal from you."