Police said three people died during the pursuit after a van pulled in the path of a South Fulton officer chasing a stolen vehicle. The crash is still under investigation by the Georgia State Patrol, which is turning to DNA testing in hopes of identifying the victims whose family may live out of the country.
Now, looking through the city's chase policy, it appears that stolen vehicles like the only that was involved in the chase, are reason to give chase; though, the city puts several precautionary restrictions on officers involved.
The policy says that the officer should do "everything within his/her authority to apprehend the subject without resorting to a high-speed chase" and the officer should consider several factors such as the performance of the vehicle, the seriousness of the violation, weather conditions and their own experience.
Photos: South Fulton police cruiser involved in accident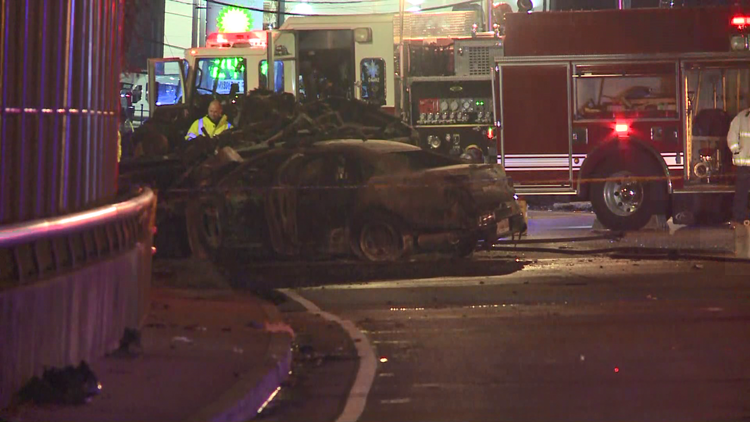 The policy also directly addresses how an officer should handle other vehicles who may come into the path of the chase.
"It is understood that the officer's ability to exercise control over other motorists is limited, but it is the officer's duty to avoid contributing to the danger already created by the violating motorist(s)," the policy reads.
It also points out early on that the law permits officers engaged in a pursuit to exceed the speed limit and to violate traffic regulations - but only if emergency lights and sirens are used and if the officer is ensuring the "utmost safety for self and others.
Much of the policy deals with how an officer should communicate with dispatch and other jurisdictions during a chase.
But, it also gives reasons an officer must end a chase including when it becomes an "unreasonable danger" to the officer, fleeing motorist, or other person.
"A clear danger exists when speeds dangerously exceed the normal flow of traffic, or when vehiclular and pedestrian traffic necessitates dangerous maneuvering that exceeds the performance capabilities of his/her vehicle or driver," the policy reads.
It's unclear if conditions of the chase from South Fulton violate the policies the city set forth. In an interview with 11Alive, Police Chief Keith Meadows said it's still too early to say whether there were any violations and that his department will begin looking into the crash following the Georgia State Patrol's own investigation.
That officer, Deontae Walker, was treated at a hospital after the crash and has since been released.