GWINNETT COUNTY, Ga. — Jamella and Muhammad Jihad are colleagues, business partners, community leaders, and, most importantly, mother and son.
Their love and comfort for one another are evident in every meal they serve at Springreens & Jayida Che' at Community Cafe in Atlanta. After attending prayer at the nearby East Lake mosque, or masjid, people will often say they'll stop by Springreens. People from nearby offices also contribute to its busy lunch rush.
During Ramadan, their customers might visit a bit later.
From dawn to dusk, Muslims fast for 30 days in observance of the holy month. Those who practice Islam break their fast with a nighttime feast, or ifṭār, or opt for a pre-dawn meal, a custom known as suḥūr.
As a Black, Muslim and family-owned business, the duo keeps its value of community at the forefront of their business plans, which sees slight adjustments during the holy month. As about 10% of Georgia's population identifies as Muslim -- of which more than 75,000 people call Atlanta home -- Springreens has become known as a delicious, not-so-secret spot that serves a niche crowd but has something to offer everyone.
Every Friday, Saturday and Sunday, the mother-and-son duo keep their cafe open a little longer until 9 p.m. for those who want to break their fast with a hearty meal. The extra hours don't bother Jamella much, because she loves to cook and loves her community.
It's why she wanted to open Springreens in the first place.
"In our community, you have all sorts of fast-food restaurants," she said. "I hadn't seen a healthy soul food restaurant."
So in 2018, she opened one -- with her son's support, of course.
"I wanted that for our people -- period," she said. "Across the board, Black and white, across the board."
For Jamella, she wanted to offer something she feels this generation is missing: A grandma-style meal.
"I wanted our community to feel that soul food, that love that came from the soul, not just from the idea of what soul food looks like," she explained.
She said people may be familiar with the ham, pork chops and hearty meat perhaps mixed into vegetables that may be associated with today's idea of soul food.
Jamella came up with a new brand: Healthy halal soul food anyone can enjoy.
"I wanted to introduce a vegetarian-style soul food as well where people who are vegan can eat there at the same time," she explained. She also clarified that people can enjoy meats with vegetables at her restaurant too.
Her son Muhammad said he grew up on his mother's cooking, and he's glad a tasty, fresh meal is now within more people's reach.
"Here at Springreens, we make sure that it's right on point," he said about their menu.
Springreens Community Cafe | Photos
Muhammad said though their food options have changed over the years, their location and purpose were decisions made with intention.
"We're located in a plaza, a Muslim community plaza," he said about their East Lake storefront. "But the East Lake community is made up of so many different people, so many amazing people."
For the past five years, people have walked through their doors ready to try something new or grateful for a flavorful meal they don't have to cook themselves. As a small minority-owned business, Muhammad said he's happy to have made it this far and through the pandemic.
"I feel like COVID took away like two, three years from us so we're still in that make-it-or-break-it stage," Muhammad said. "You know, businesses usually don't last this long."
Jamella said it's because they adapt, stay innovative, and have faith. She credits her son for that, too.
During the pandemic, it was tough for people to come together and have a sense of community. That's why during Ramadan, they decided to do a drive-thru -- and it's shifted their business model even today.
What they thought would be an occasional afternoon meal pick-up turned into an effort that helped them serve more than 16,000 meals.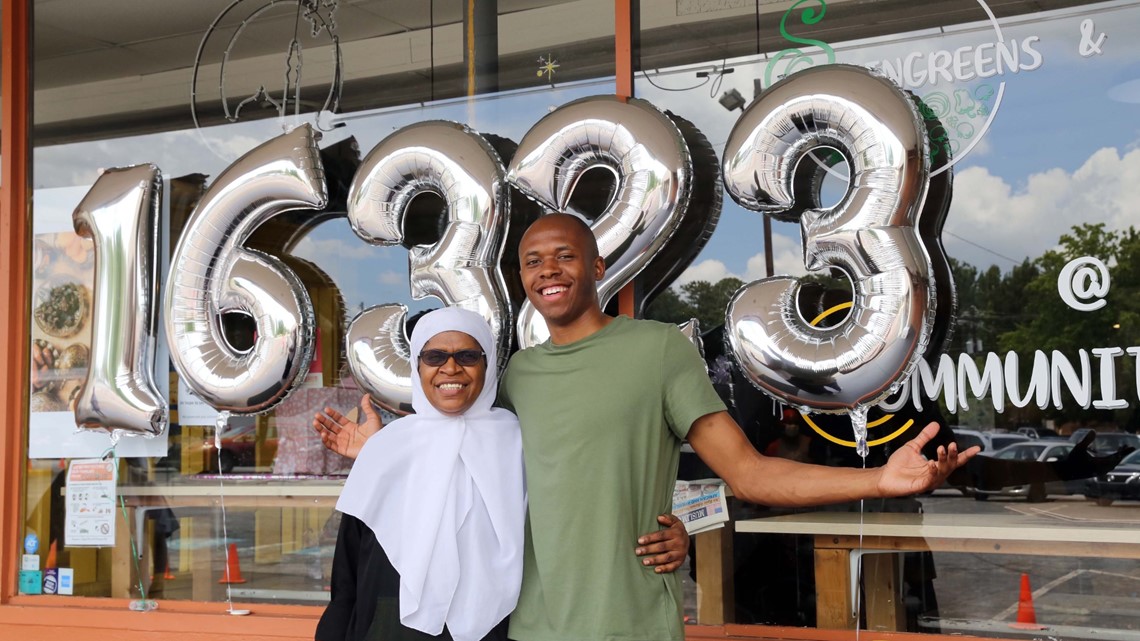 "And they all wasn't Muslim," Jamella joked. "But they came through that drive-thru, and we were really blessed with that."
Though they don't need their makeshift drive-thru anymore, they have decided to still serve meals.
"To give out packages for those families who may not eat in the morning," she said. "We're focused on making sure people get fed for Ramadan."
For more information on their business hours or to take a look at its menu, click here.