ATLANTA — A report from the Atlanta Police Department says the suspect accused of running across the busy tarmac of Atlanta's airport to a Delta plane shouted threats before the bizarre incident.
It was around 4:40 Tuesday evening when police said 19-year-old Jhryin Jones jumped across a fence surrounding a taxiway at Hartsfield-Jackson International Airport to a Delta flight that had just landed from Miami.
But before that, the incident report indicated witnesses saw Jones acting strangely way before that.
According to the report, witnesses saw Jones jump onto several parked cars at a nearby construction site, before he allegedly yelled," I'm going to kill y'all. I'm going to blow this place up. Trust nobody. You better believe me!"
After that, witnesses said the 19-year-old ran across Sullivan Road and entered the secure area by scaling the fence. During the process, witnesses said Jones took off all his clothes, even to the point of flashing his genitals to passengers aboard a plane.
At that point, passengers aboard the plane pulled out their phones and recorded what happened next.
(Mobile viewers, click here to see the video)
About five minutes after getting the call – and requesting clearance to enter an active runway – police were able to make their way their way to Jones, who, at this point, was only wearing his underwear.
PREVIOUS | Delta flight interrupted after half-naked man runs onto Atlanta airport tarmac
ALSO | Officials explain how a man ran onto a tarmac at Atlanta's airport
Once in handcuffs, police struggled to get Jones into the patrol car, who tried to get away several times by kicking the patrol car and even doing a back-flip while cuffed. Police were finally able to get a firm grip on Jones to get him inside.
Police took him back to the APD's Airport Precinct, where they treated Jones for minor scrapes and lacerations on his knees and hands from scaling the barbed wire fence. Officials said Jones appeared to be under the influence of narcotics and was "delusional." Jones allegedly told officials he "smoked a blunt" before the incident.
In a news conference held the day after the incident, Atlanta Police said they were still not sure what prompted Jones to jump the airport fence.
Police took Jones to the Clayton County Jail, where he's been charged with criminal trespassing, public indecency and obstruction of law enforcement officers.
PHOTOS | Half-naked man runs onto airport tarmac, rushes Delta plane
Photos: Half-naked man runs onto airport tarmac, rushes Delta plane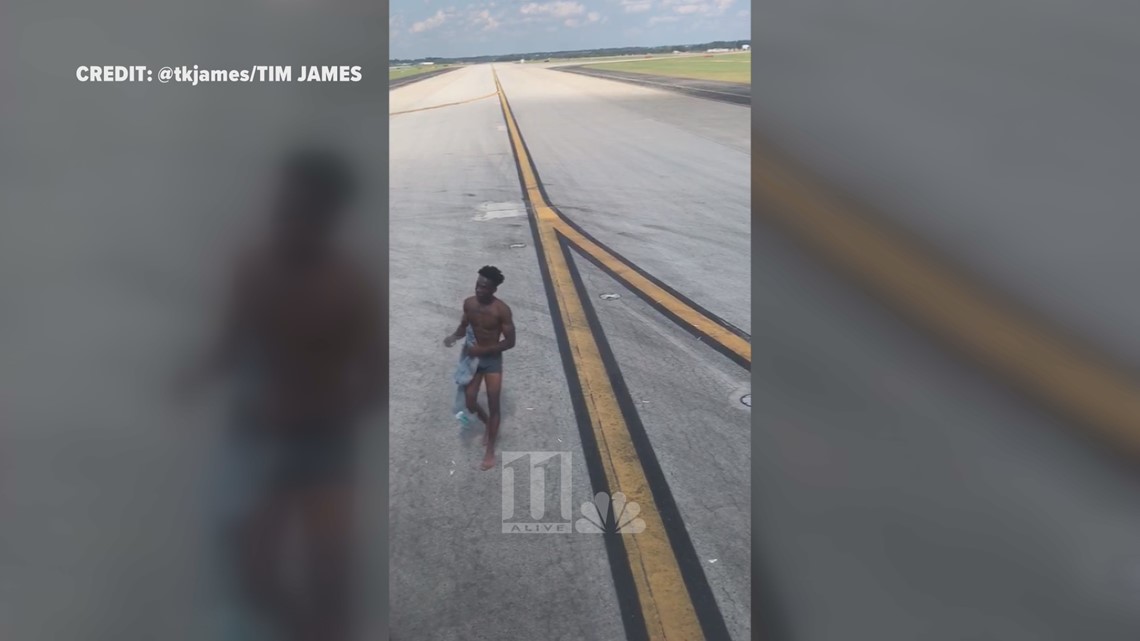 Sign up for The Speed Feed newsletter below to get the latest headlines in your inbox each weekday! (App users click here)