CARTERSVILLE, Ga. — Authorities have released more information into what led to the arrests of more than 70 people at a New Year's weekend lingerie-themed birthday party.
According to Cartersville officials, the city's police department responded to Cain Drive in the early morning hours of New Year's Eve after getting reports of shots being fired.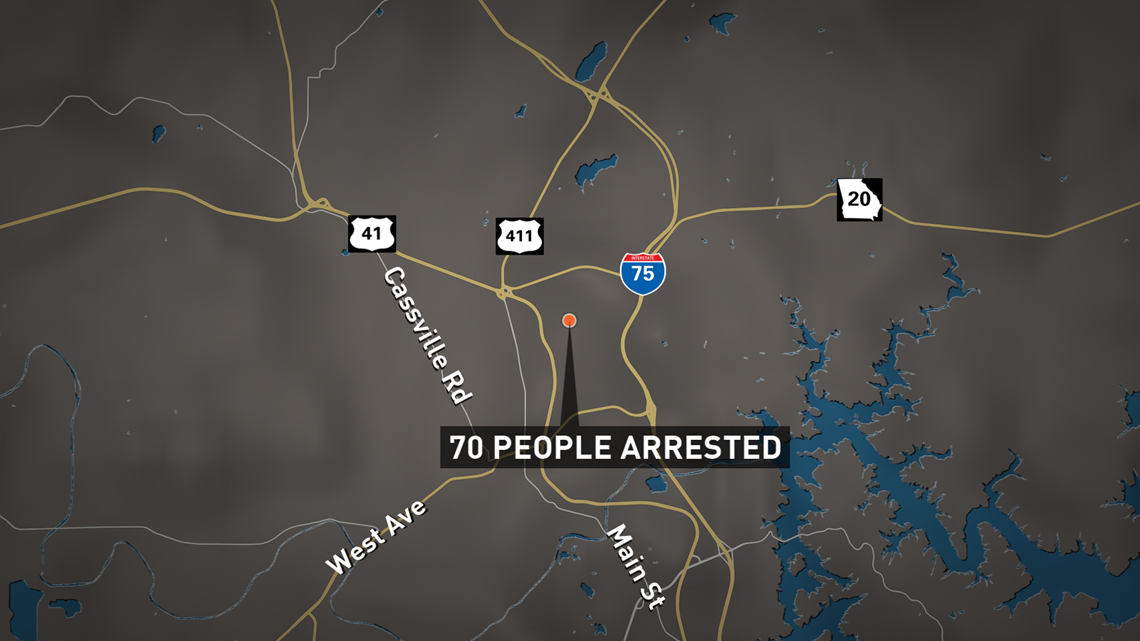 When officers got there, they were met with the smell of marijuana and several people trying to run from the area. After entering the home, officers said they saw weed in plain view and confiscated a semi-automatic weapon. Because of the presence of drugs, a gun and the sheer number of people inside, Cartersville Police notified the Bartow-Cartersville Drug Task Force to assist.
The drug task force got a search warrant and recovered two weapons (one reportedly stolen from Detroit, Mich.), individually-wrapped packages of marijuana and several smoking devices from the first floor. Drug agents also found individually-wrapped packages of cocaine and other paraphernalia on several people.

Authorities arrested all the people inside the home and charged them with possession of marijuana of less than 1 oz because police said it was within reach or control of everyone present. Police transported everyone to the Bartow County Sheriff's Office for booking. The ages of those arrested ranged from 15 to 31.
After reports of the arrests, multiple parents of those in custody contacted 11Alive to express frustration at the slow process of arrestees being released. Officials explained that the booking process for incoming inmates takes time, even for those with valid I.D., but is made more complicated if I.D. is unavailable or if inmates refuse to identify themselves.
Officials said as of 5 p.m., Monday, New Year's Day, all those arrested had been issued a bond amount.
According to a flyer for the party, given to 11Alive, it was a lingerie-themed 21st birthday celebration. The flyer advertised food, drinks, and games, including strip "twister."