GWINNETT COUNTY, Ga. — One man is in custody and another is dead after the murder of Gwinnett County Police officer Antwan Toney.
On Monday, Gwinnett County Police Chief Butch Ayers said Maynard was located in a shed behind a home on Hewatt Road SW. Two officers opened the shed door and found 18-year-old Maynard inside, surrounded by clothes. They gave him verbal commands but he refused to comply. An officer deployed a Taser. Ayers said Maynard had an "edged" weapon in his hand.
Police search Snellville home for accused police shooter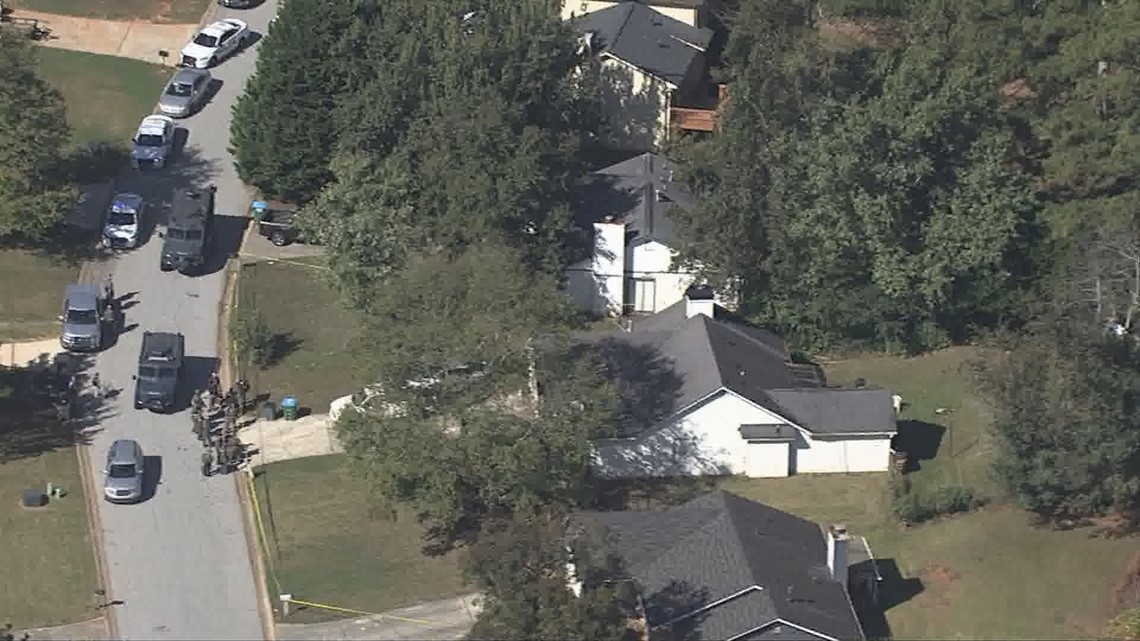 A second officer fired on Maynard from close range, about 5 to 6 feet and Maynard died at the scene, Ayers said.
The GBI is now investigating the shooting, along with the Gwinnett County District Attorney's Office.
"The danger to the community is now over," Ayers said. "Now we are turning our attention to supporting the family of Officer Toney."
Nineteen-year-old Isaiah Pretlow was captured by officers late Saturday night
CATCH UP | Gwinnett Police officer Antwan Toney shot and killed in unincorporated Snellville
MORE | Police officer killed in shooting in Gwinnett County near middle school
Here's how the deadly night unfolded.
Saturday Oct. 20
2:30 p.m. - Gwinnett County Police get a call of a suspicious vehicle sitting in the area of Crumps Landing and White Road, near Shiloh Middle School, in Snellville.
Police said officer Antwan Toney responded to the call, but he never got a chance to talk to anyone inside the car, because as he walked up to the car, bullets started flying. Another officer returned fire, and pulled officer Toney out of the line of fire. But it was too late - he was hit, and the suspects had taken off in the car. Officials said Toney was struck four times.
4:45 p.m. - A search for the suspects mounts, with K-9 and SWAT officers, helicopters and more joining in to find possibly four suspects.
Officer Toney is in critical condition.
5:30 p.m. - Gwinnett County Police confirm that officer Toney has died from the gunshot wound he got during the gunfight with the suspects.
ALSO | Fallen Gwinnett County Officer Toney plays basketball with neighborhood kids
MORE | Seeing a different side of fallen Gwinnett County Officer Toney
Toney had just celebrated his 30th birthday. In six days, he'd be celebrating his third anniversary with the Gwinnett County Police Department.
The search continues over the next several hours, looking for a man described as a 6', dark-skinned man with dreadlocks, wearing a gray shirt and green pants.
9:00 p.m. - After an hours-long search, Chief Butch Ayers announced investigators had been questioning several persons of interest.
11:30 p.m. - Investigators confirm one of the two suspects they're searching for, 19-year-old Isaiah Pretlow, was arrested and charged with aggravated assault.
MORE | Gwinnett Police officer Antwan Toney shot and killed in unincorporated Snellville
The search is still on, however, for 18-year-old Tafahree Maynard. He's now wanted for aggravated assault and felony murder.
Sunday, Oct. 21
7 p.m. - As the search for Maynard enters its second day, Gwinnett Police said they're fielding tips to find the suspect.
SWAT officers execute a search warrant at a home near the scene of where Saturday's shooting happened, connected to one of Maynard's "associates." Authorities take three people in for questioning, though they're not under arrest.
READ | Police execute search warrant on home of 'associate' of suspect wanted in officer's murder
If anyone has any information to share in the case, please call the tip line at 770-513-5710. To remain anonymous, tipsters should contact Crime Stoppers at 404-577-TIPS (8477) or visit www.crimestoppersatlanta.org. There is a reward of $5,000 for information that leads to an arrest.
PHOTO | Gwinnett Police officer killed near Snellville, manhunt
Gwinnett Police officer killed near Snellville, manhunt underway