FULTON COUNTY, Ga. — A Union City police officer was shot Monday evening and another person killed following an officer-involved shooting, authorities confirmed.
It happened at a home in 6200 block of Highpoint Road, near the border of City of South Fulton and Union City.
According to preliminary information from the Georgia Bureau of Investigation, the Union City Police officer had been dispatched to the area around Highpoint Road to investigate a reported fight. Follow-up on that report brought him to Highpoint Road, where he spotted a person running. At some point, the person, reportedly a 19-year-old, pulled out a gun.
Authorities are still trying to figure out what transpired, but said backup arrived to find both the officer and the 19-year-old, shot. The teen was pronounced dead at the scene.
The officer, meanwhile, was taken to Grady Hospital with multiple gunshot wounds. The Union City mayor told 11Alive that the officer went through two surgeries. According to a post by the Union City Police Department, the officer is officially in recovery and, according to the surgeons, everything went well.
11Alive spoke to one woman at the scene who said it was her home where the shooting took place.
According to Tiffany Brown, she was at work when she got a call from her daughter telling her she needed to come home immediately.
"When I made it here, from my understanding somebody was shot in front of my house," she said.
She said that her daughter had returned home from getting food when she came upon the scene of the shooting. She had to be rushed to Emory Hospital in early labor, as a result.
"It's just crazy," Brown said. "It's real scary. It is close to home. It's at my home. And for someone to be shot and killed in front of my house? ... for my daughter's father to be shot in my front yard. It's crazy."
Brown said police had been tight-lipped about what happened. All she knew was what her daughter told her - that police came and she heard shooting.
"I'm trying to see was it the police shooting or was somebody shooting first in order for them to shoot - I need to know what happened," Brown said. "Police didn't tell me anything."
She added that her son - who was home at the time with her two small grandchildren - was put into the back of a police cruiser, and officers wont let her back inside her home, yet.
"I can't go, and I've been over here for about 30 minutes," Brown said.
Photo: Union City Police officer shot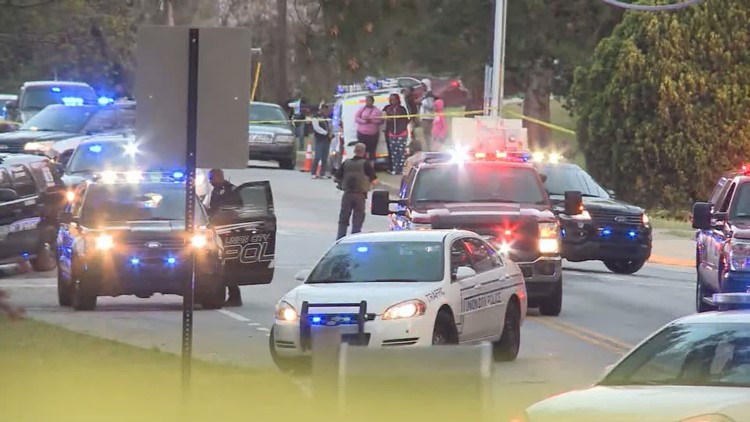 While the GBI is now looking into the shooting - the 27th officer-involved incident of 2019 - what is still unclear is who fired first. That will likely be sorted out later, as investigators continue to work the case, but noted a gun was recovered at the scene.