HENRY COUNTY, Ga. — A hostage situation at a Stockbridge neighborhood that lasted more than 15 hours has come to a tragic end, police said.
11Alive has been following the updates since Thursday morning. Here are the updates:
4:55PM -- More bodycam footage released by Henry County police shows the rescue of injured Officer Taylor Webb:
3:35 PM -- Both Henry County police officers who were shot are stable and recovering from surgery at Grady Medical Center in Atlanta, according to Henry County Police Captain Joey Smith. They might be released soon but no exact time has been given.
3:30 PM -- Sandra White's employer, WellStar Atlanta Medical Center South, issued the following statement on her death:
"We are truly saddened by the tragic loss of Sandra White. She worked in the surgery department at WellStar Atlanta Medical Center South for two and a half years. We will miss her presence and contribution to the WellStar team. Our deepest sympathies go out to Sandra's family and friends."
12:51 PM -- Police have released bodycam footage showing the moments when officers were fired upon.
WARNING: Video contains graphic footage. We are showing this footage in the manner given to us by police in order to show full transparency in what authorities said happened:
12:34 PM -- Henry County Schools released a statement regarding the victims. It said:
"Henry County Schools is sad to learn of the passing of one of our students and his mother during the tragic events in our county yesterday. Our thoughts and condolences go out to their family. Our thoughts are also with local law enforcement officers who were injured during the event. We will have grief counselors available at school on Monday for students and teachers upon their return from Spring Break."
12:00 PM -- Press conference update: Henry Co Police Chief Mark Amerman released a few new details in the most recent press conference. The name of the officers shot in the incident are: Keegan Merritt and Taylor Webb. He also said the gunman shot at the the responding officer when he attempted to enter the house. At one point the officer was laying near the "believed to be" deceased body of Sandra White as he and another officer attempted to escape the gunfire. Investigators are still at the scene. No word yet, on exactly when the victims died.
11:23 AM -- Henry County District Attorney Darius Pattillo released a statement on shooting deaths.
"Our hearts go out to the families of those who tragically lost their lives yesterday and who were injured. We also thank the entire law enforcement community for the bravery and professionalism they exhibited yesterday."
11:05 AM -- Police have identified the victims of the shootings as well as the suspect.
According to Henry County Police Capt. Joey Smith, the victims are:
* Sandra White, 39, of Stockbridge, Georgia
* Arkeyvion White, 16, of Stockbridge, Georgia
The suspected gunman was named 47-year-old Anthony Tony Bailey, Jr., Smith said.
Henry Co. will have a press conference at 11:30 to discuss the standoff situation.
9:55 AM -- We're learning more about the victims in this tragedy: "She actually sent me a picture of the dress she was going to wear to the baby shower that she'll never get to have," Sandra's sister said.
4:30 AM -- Family members gave 11Alive's Nick Sturdivant this photo they say shows two of the victims found dead inside the home after the standoff: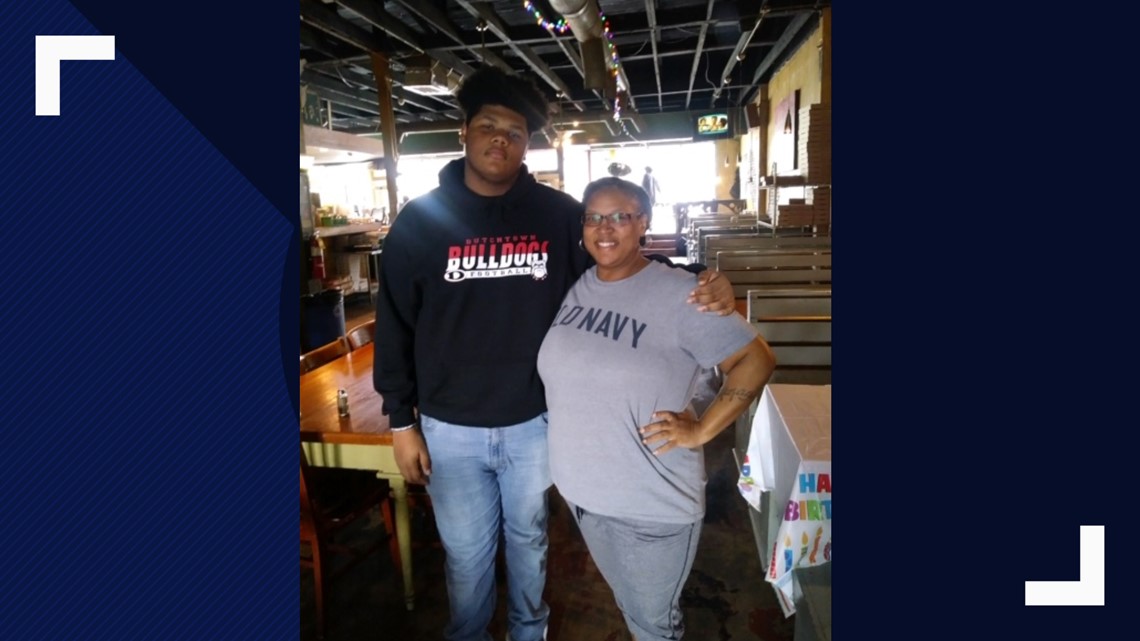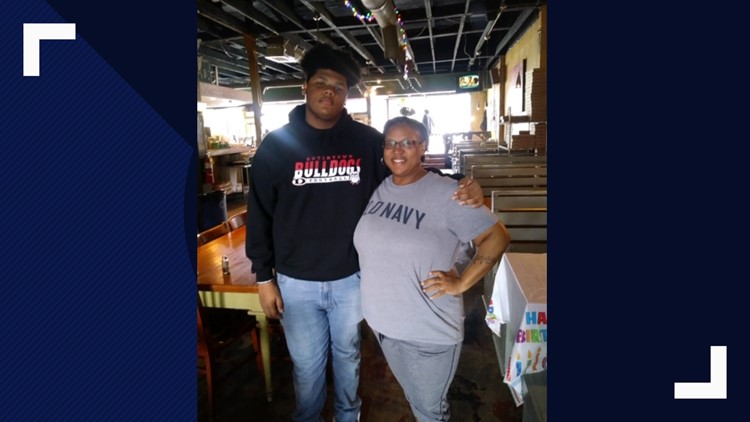 The woman, who police say was 36 weeks pregnant, was the teen's mother, family members said.
3:30 AM -- The standoff has ended with the deaths of several people, Henry County Police said. Authorities entered the home early Friday morning and found three people dead of gunshot wounds. The dead include a teenager, a pregnant woman and the gunman.
Authorities said it's believe the gunman died of a self-inflicted gunshot wound.
Police said they were not sure when the other two deaths had occurred. The woman was 36 weeks pregnant, police said.
11:08 PM - 11Alive's Joe Henke says residents are being let back into part of the neighborhood, but the scene is still active.
10:57 PM - According to Henry County police, the barricaded subject has refused to surrender and refused to provide proof of the well-being of a female and 16-year-old believed to be inside the home.
According to Capt. Joey Smith, negotiators made the decision to deploy several rounds of gas into the home. Smith said the suspect did fire numerous rounds at SWAT officers and vehicles, but no injuries have been reported.
Smith also said no officers have returned fire or engaged the suspect at this time. They plan on letting some of the streets reopen.
10:26 PM - The situation has now been developing for 12 hours, but police say there have been little developments.
9:43 PM - More police cars are seen arriving to the scene.
9:30 PM - Video shows several police cars and state patrol cars leaving the neighborhood. 11Alive reporter Joe Henke reports hearing a loud noise that sounded like a flash bang.
6:30 PM - Police say there are still no new developments in the ongoing situation.
4:51 PM - Police say there is no change in the situation, and they are still working to negotiate with the suspect.
"We are hoping the subject will surrender," Capt. Joey Smith said.
4:27 PM - The entrance to the Eagle Ridge Subdivision remains closed, but video from the scene shows several police cars moving in on the neighborhood.
2:19 PM - In an update, Capt. Joey Smith said officers got to the home around 10:30 a.m. after getting a "trouble unknown" call for some sort of medical emergency. He said when officers arrived, gunfire erupted, injuring two officers. The officers reportedly did not return fire.
Smith said one officer was hit in the torso, while the other was hit in the hand.
When asked, Smith said they were waiting for confirmation that another wounded victim was somewhere inside the home. However, he did say there were at least two people - including the barricaded man and a 16-year-old - still inside the home.
Smith said they were able to make contact with the barricaded man - some sort of family member - and were trying to negotiate with him. Smith said the gunman indicated he would release the teen, but there was no timeline of when.
Smith said officers have evacuated some residents around the area while they negotiate, but at this point are focused on the "preservation of life."
"Hopefully he will do what he said and release the teen, and then we will have to wait this out," Smith said.
12:59 PM - Family told 11Alive on scene that the suspect does have a gun and is holding a teen hostage inside the home.
12:55 PM - Henry County Capt. Joe Smith confirms the situation began as a "trouble unknown" call that came across at 10:46 a.m.
Smith said multiple agencies were called in to assist in the situation, which resulted in two officers being shot. Smith confirmed one of the officers was taken to Grady by helicopter and one by ground.
"There is a barricaded gunman situation and we ask residents to stay away from the area," Smith said. "This a very fluid situation and we will update information as soon as possible."
12:41 PM - An official with Henry County confirms two police officers were shot, but are in stable condition with non life-threatening injuries. They are being treated at Grady Hospital in Atlanta. However, officials confirm the gunman is still barricaded inside a home in the Eagle Ridge Subdivision.
Police shooting in Henry County
Officials say officers were called to the home when a woman went to her sister's home, opened the garage door, and saw blood on the floor. She backed out and called police.
12:22 PM - Video updates from the scene shows several roads blocked, and multiple emergency officials arriving.
11:35 AM - The Georgia Bureau of Investigation confirms they have not been requested at the time to respond to the incident.
11:25 AM - The Henry County Police Department confirms there is an "active incident" in the area of Eagle Way in Stockbridge. They are asking drivers to avoid the area.
11:23 AM - Georgia Department of Transportation confirms they were asked to stop northbound traffic on I-75 near Hudson Bridge after getting reports of a shooting involving officers.