In the last three days, you've lit up our 11Alive Facebook page with more than a hundred-thousand reactions to the NFL protests.
Tonight, 11Alive's Joe Henke set out to verify some of the claims in the posts, drawing some of the biggest conversation.
PREVIOUS | Veteran uses U.S. Flag Code to defend NFL players kneeling during National Anthem
VOTE | Will you STOP watching NFL games if players continue to kneel during national anthem?
First: A quote being attributed to Dallas Cowboys owner, Jerry Jones.
We traced the quote back to Twitter user, @dan_themandan, who tweeted back in July, before all of the recent conversation over the national anthem, "FYI, Dallas Cowboys' Jerry Jones told his players "You will stand for the National Anthem, or your *** will be off this team."
VERIFY | Are NFL football players required to stand for the National Anthem?
It spread from there, even being re-tweeted by the Governor of Texas. But our research finds that Jones never said it, and in an interview with our sister-station in Texas, Abbott later said he wishes the story tweeted was true because he supports the proposition. In fact, Jones joined the team on Monday night to take a knee before the national anthem.
Second: Many are discussing how players aren't allowed to support various causes on the field without the NFL's concent, otherwise they could face fines. However, most of the NFL's language specifically relates to uniforms and illustrations, not necessarily taking a knee.
Here's the language from the NFL:
PERSONAL MESSAGES Article 8
Throughout the period on game-day that a player is visible to the stadium and television audience (including in pregame warm-ups, in the bench area, and during post-game interviews in the locker room or on the field), players are prohibited from wearing, displaying, or otherwise conveying personal messages either in writing or illustration, unless such message has been approved in advance by the League office. Items to celebrate anniversaries or memorable events, or to honor or commemorate individuals, such as helmet decals, and arm bands and jersey patches on players' uniforms, are prohibited unless approved in advance by the League office. All such items must relate to team or League events or personages. The League will not grant permission for any club or player to wear, display, or otherwise convey messages, through helmet decals, arm bands, jersey patches, or other items affixed to game uniforms or equipment, which relate to political activities or causes, other non-football events, causes or campaigns, or charitable causes or campaigns. Further, such armbands and jersey patches must be modest in size, tasteful, noncommercial, and non-controversial; must not be worn for more than one football season; and if approved for use by a specific team, must not be worn by players on other teams in the League.
Any changes to uniforms must be approved by the league. For example, the Cowboys wanted to wear decals last season to support the Dallas Police Department after five officers were killed in the line of duty. The NFL vetoed the idea, but later relaxed those rules with the "My cause, my cleats" campaign.
PREVIOUS | Falcons players wear cleats honoring charity, condemning police brutality
Hundreds of players participated, including the Falcons' Brian Poole and Matt Ryan. Poole's cleats featured police tape with the message "Stop police brutality" and Ryan's supported Children's Healthcare of Atlanta. More recently, Florida teams wore a special decal showing their state's resilience following Hurricane Irma.
We are joining the @MiamiDolphins and @TBBuccaneers in wearing a "ONE FLORIDA" decal to signify the state's resiliency following Irma. pic.twitter.com/4gDSguvLgJ

— Jacksonville Jaguars (@Jaguars) September 17, 2017
Photos | NFL players during the national anthem on Sunday Sept. 25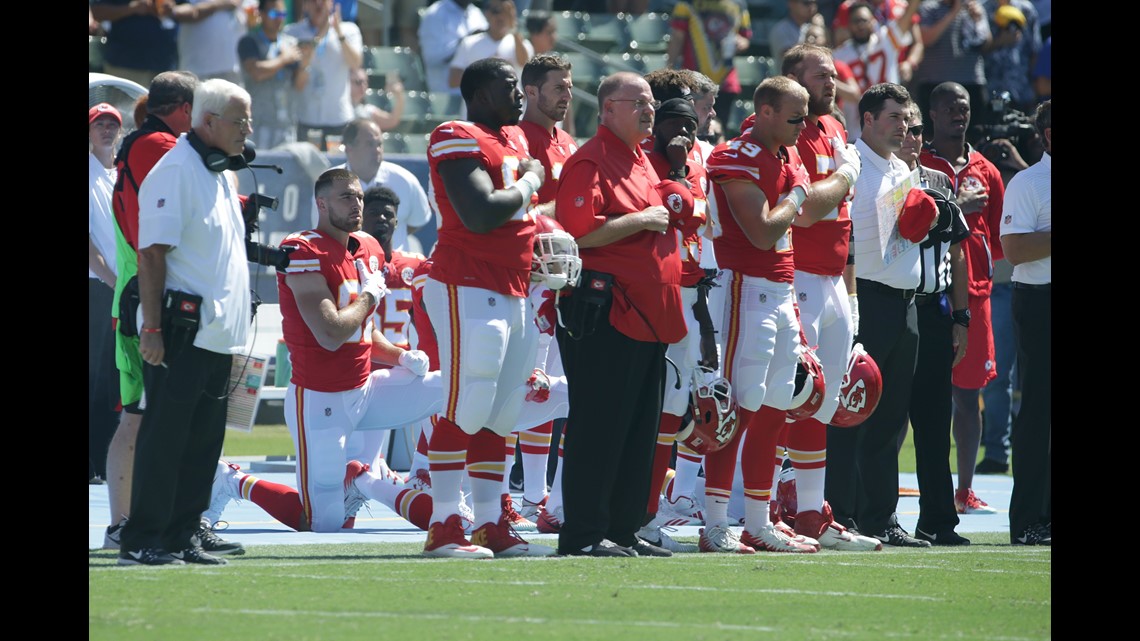 SOURCES:
Interview with Gov. Greg Abbott