While her parents wanted her to go to college so much that they allegedly broke the law, Olivia Giannulli was, at least at one point, not looking forward to the schoolwork.
According to an indictment announced on Tuesday, Loughlin, best known for her role as "Aunt Becky" in the "Full House" sitcom, and her husband, fashion designer Mossimo Giannulli, are accused of agreeing to pay $500,000 in bribes to boost their two daughters' chances of getting into USC.
"Desperate Housewives" actress Felicity Huffman and other dozens of others are also named in what federal authorities called it the biggest college admissions scam ever prosecuted by the U.S. Justice Department.
No students have been charged, and authorities said in many cases the teenagers were not aware of what was going on.
Lori Loughlin and her daughters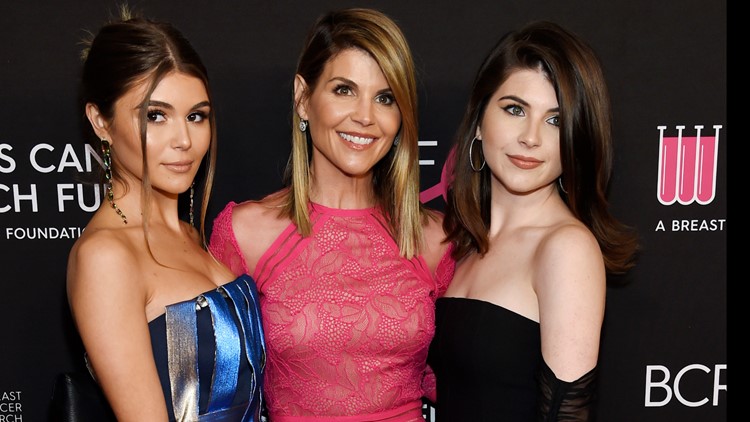 In a YouTube video posted last year during the apparent first week of school, Olivia seemed less than thrilled about the prospects of studying.
"I don't know how much of school I'm gonna attend," she said. "But I'm gonna go in and talk to my deans and everyone, and hope that I can try and balance it all. But I do want the experience of like game days, partying…I don't really care about school, as you guys all know."
Two days later, she seemed to have a slight change of heart, saying in a video called "im sorry", "I said something super ignorant and stupid. It totally came across that I'm not grateful for college. I'm going to a really nice school...I watch it back and I'm really disappointed in myself."
She goes on to say going to USC is "privilege and a blessing."
On Sept. 17, 2018, she posted photos apparently from her dorm in an paid partnership (read that: ad) for Amazon Student.
In a video posted on March 8, 2019, she opened up more on her decision to attend college on the Zach Sang Show.
"Mostly my parents really wanted to go because both of them didn't go to the college," she said. "But I'm so happy they made me go...That sounds so terrible, they didn't make me go. My sister goes to the same school and we're pretty much inseparable so..."
In that same video, Olivia said she started her YouTube channel when she was 14. That's apparently remained her major focus. Last month she tweeted, "YouTube will always be my #1 passion. I promise I'd way rather be filming 24/7 than sitting in 6 hours of classes straight but an education is also super important to me so thank u for ur patience and letting me figure out time management."
Since Tuesday's announcement, a flood of negative comments have appeared on Olivia's YouTube video. She apparently disabled comments on her Instagram account. It appears her mother also deleted her Instagram account, and her sister made her Instagram private.
Material from the Associated Press was used in this report
Other stories you may be interested in: