Twenty years ago this month, tragedy struck the Bozof family.
Evan Bozof was a 20-year-old pre-med honors student and baseball pitcher at Georgia Southwestern State University. He originally thought he was suffering from a migraine.
"Over 26 days he was hospitalized and he had both arms and legs amputated," Evan's mother, Lynn Bozof, said.
Evan Bozof later passed away from meningitis.
"You say your son died 20 years ago and it sounds like, "OK. you should be over it. That is a long time,'" Lynn Bozof said. "In your heart it is yesterday. It is always going to be yesterday. I just picture him in the hospital every day."
About a year before his death, Lynn said there had been an outbreak in Carrollton, Ga. She remembers Evan asking how he would know if he ever had meningitis.
"I said oh, Evan you don't have to worry about meningitis. I just poo-pooed this disease that killed my son, because I didn't take the time to research it and see what was available," she said.
Bozof has turned her family's tragedy into a push to educate as many people as possible about Meningitis. She is now the president of the National Meningitis Association.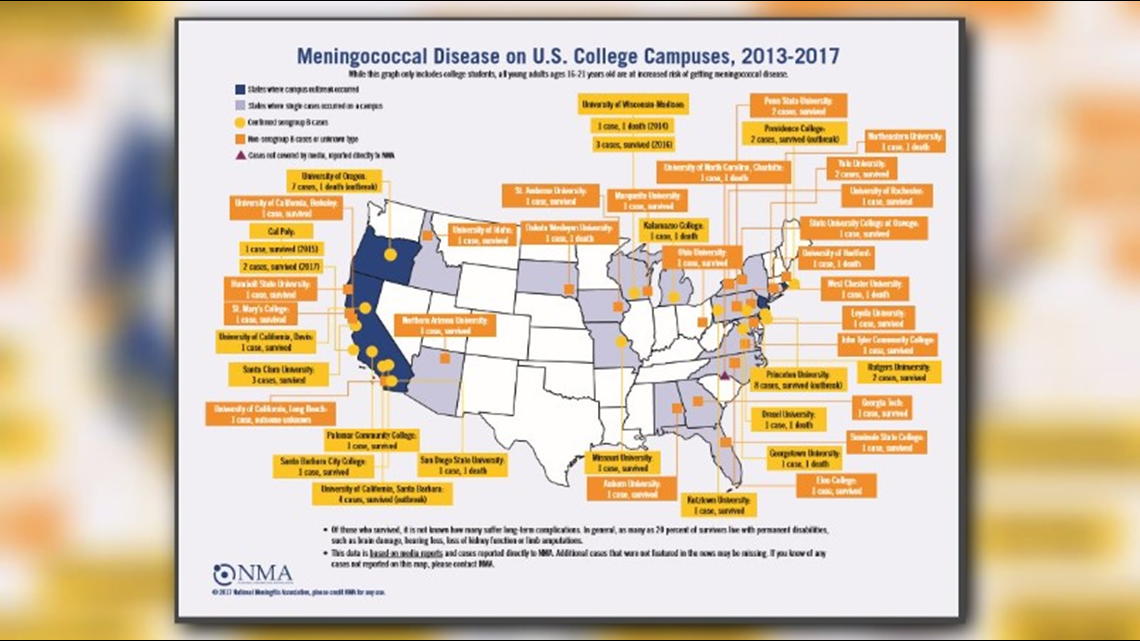 Data collected by the National Meningitis Association shows since 2013 shows 42 of 68 meningitis cases on U.S. college campuses have been linked to the B strain of the disease.
"The majority of cases on college campuses are B," Lynn Bozof said.
Georgia campuses though only require students living on campus though receive a vaccine which cover meningitis A, C and Y -- the four other strains.
"Why are we leaving out the fifth strain? Especially since that is the one hitting the college campuses," Lynn said.
Current mandates were written before FDA approved B vaccine a few years ago.
"That is because all of these laws and mandates were written before the Meningitis B vaccine was approved," Lynn said. "So now several states are going back and trying to amend their existing legislation."
Lynn Bozof and the National Meningitis Association are among four physician groups in Georgia urging Georgia colleges to require vaccination against meningitis B. On Wednesday, they hand-delivered a letter to University System of Georgia Chancellor Steve Wrigley to urge him to encourage students to get the vaccine.
Lynn believes a required B vaccine for students living on campus would put a stop to outbreaks, such as the ones that have played out at the University of Oregon, California-Santa Barbara and Princeton in recent years.
"If we can get the kids vaccinated ahead of time and protected, we are just saving, saving time, we are saving money, we are saving lives," she said.
She hopes the letter will spark a change and lead to meningitis B prevention.
"I've seen, we've seen what this disease can do. I just wouldn't wish that on anyone," Lynn said.
• Nausea
• Vomiting
• Photophobia (increased sensitivity to light)
• Altered mental status (confusion)
Symptoms of bacterial meningitis can appear quickly or over several days. They usually develop within 3 to 7 days after exposure.
Anyone who thinks they may have meningitis are urged to see a doctor as soon as possible.