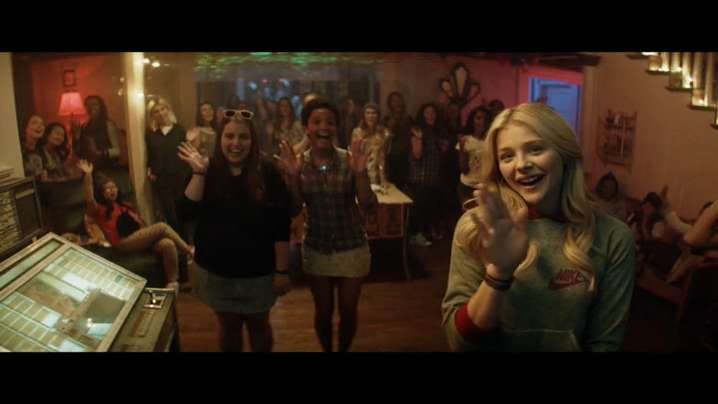 The guys who brought us dude-bro comedies like Superbad, Pineapple Express, This is the End and The Interview made a feminist sorority movie? Well, sort of. 
The latest outing from Seth Rogen and Evan Goldberg is Neighbors 2: Sorority Rising, centers on one sorority rule that Selena Gomez's character Phi Lamda explains as unfair early on in the film.
"In the United States, sororities aren't allowed to throw parties in their own houses. Only frats can," she says. "Seriously, Google it."
The National Panhellenic Council, which publishes agreements made with the 26 major sororities in the United States, has "banded together to provide substance-free housing," says NPC executive director Dani Weatherford. In other words: It's true that sororities can't host any parties with drugs or alcohol in their chapter houses.
Fraternities, on the other hand -- which are governed by the North American Interfraternity Council — have no similar overarching provision regarding alcohol at residences, though chapters are required to have health and safety policies on alcohol and drugs and do not support illegal use. 
"When we realized that (sorority party rule) existed, it blew our (bleeping) minds," says Neighbors 2 writer Goldberg, who went to school in Canada, and didn't have much exposure to Greek life in the U.S. 
"Never in my mind would I imagine such an extremely sexist rule would say that women partying in their home is dangerous, but they should go to frats and party."
(To be clear, there is no rule forcing women to party at frat houses, save rules of nature and adolescence, etc.)
Goldberg, his regular writing partner Rogen, and three other male writers channeled their outrage with the Greek system into the Neighbors 2 screenplay, which sees its characters defying the NPC rules by starting an independent sorority, Kappa Nu. There, they can throw all of the substance-filled, feminist icon costume parties its members could want, rather than attend the "pimps and hoes, CEOs and corporate hoes, Boise boys and Idahoes" (as listed by Zac Efron's character, Teddy) which they despise. 
"I remember literally not acting at all in that scene where (our characters) all meet each other at the fraternity party," says Beanie Feldstein, who plays a Kappa Nu founding member, Nora. The recent Wesleyan grad found the scantily-clad women, drunk frat dudes and sign that read "no means yes" pointed and all too familiar.
"I'm incredibly excited and happy and proud to see how feminist and progressive" the movie turned out to be, she says.
According to Goldberg, the movie and its themes were the result of plenty of research -- he devoured a reading list of feminist essays prescribed by a professor friend  -- and ethical discussions. For example, the writers pondered whether it was sexist to have girls on a lawn in bikinis. 
"Most girls like to wear bikinis," Goldberg reasoned. "Do we have to have some in bikinis, and some not?"
They determined, yes, there would be some bikinis, and plenty of booze and weed -- but not a scene where the Kappa Nu sisters did "stereotypical guy (stuff)," like "blowing stuff up and going to a shooting range." Two female writers, Ghost Ghirls' Amanda Lund and Maria Blasucci, were brought on board and served as tie-breakers in those gender-equality script questions.
Another one of those questions: Is a particular scene, which involves tampons, too crude for the big-screen?
Well, no, thought Goldberg, since he's written so many male gross-out moments for his other movies. "That was the best moment of the whole thing, because if you think the scene goes too far, you're sexist," he says.