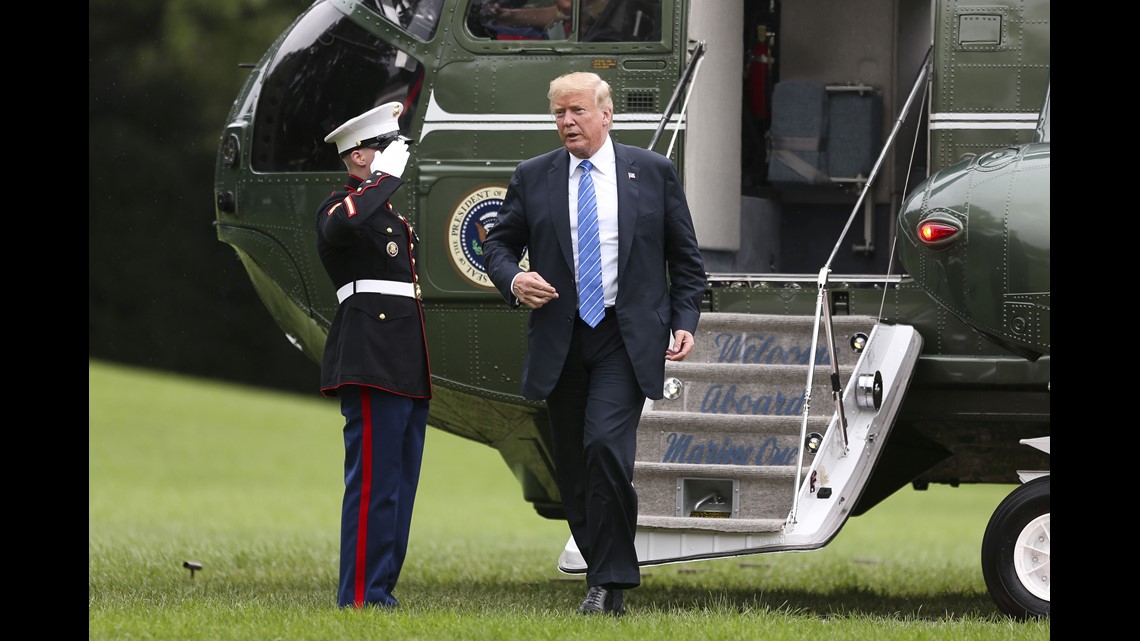 WASHINGTON – The feud between President Donald Trump and his former personal attorney, Michael Cohen, erupted into open warfare Wednesday with the airing of a taped conversation the two men had in 2016.
The tape intensified scrutiny over efforts to quiet a former Playboy model's allegation that she had an affair with Trump more than a decade ago. It also added to expectations that Cohen is preparing to cooperate with prosecutors examining the business practices of the lawyer, who was long known as Trump's "fixer."
Cohen's shift in allegiance has created an atmosphere of anxiety in a White House already under siege.
The president's friends and associates said they were watching the Cohen saga with a mixture of annoyance and worry. At this point, some said, Cohen – who once boasted he would "take a bullet" for Trump – may have an advantage because the White House does not know precisely what information he might have or what he might tell prosecutors.
"We all feel like we're under the gun here," said Sam Nunberg, a former Trump campaign aide and political adviser. "But who is Michael playing to?"
Those close to Trump believe he has been treated unfairly, and the release of the tape constitutes a violation of attorney-client privilege, said four aides and advisers speaking on condition of anonymity to discuss internal legal matters. Trump recently waived a claim to attorney-client privilege that would have shielded the tapes from prosecutors.
After weeks of hedging his remarks about Cohen – and even defending him against an FBI raid on his home and offices in early April – Trump blasted his former close associate on Wednesday for surreptitiously recording their conversation about a payoff to Karen McDougal and then releasing the audio to the media.
"What kind of a lawyer would tape a client?" Trump tweeted.
Cohen had regularly recorded telephone conversations, unbeknownst to those with whom he was speaking. Most states, including New York, allow for recordings of phone conversations with only the consent of one party. Other states require all parties to agree to a recording or have mixed laws on the matter.
It was not clear where Trump and Cohen were at the time of the call.
Though the general contents of the recording had been known for days, the audio itself – aired for the first time on CNN – amplified a controversy that has been simmering since just before the 2016 election. Trump is heard in a rapid-fire back-and-forth with Cohen discussing the "financing" of the rights to McDougal's story.
Trump can be heard discussing a "cash" payment, but the cross talk and murky audio of the recording left room for the president's lawyers to argue he directed Cohen not to use cash. Lanny Davis, an attorney representing Cohen, disputed that characterization, telling CNN that "only drug dealers and mobsters" paid in cash.
The Trump campaign told the Wall Street Journal days before the November 2016 election – and weeks after the conversation took place in September – that it had no knowledge of the payment to McDougal. Trump has repeatedly denied the affair.
Potentially more troubling for Trump, Davis repeatedly suggested that Cohen is ready to cooperate with prosecutors looking into the matter – a shift that may represent a new phase in the investigation. Federal prosecutors in New York are exploring the matter in an inquiry separate from special counsel Robert Mueller's probe into Russia's interference in the 2016 election.
"They fear that he has the truth about Donald Trump. He will someday speak the truth about Donald Trump," Davis told CNN.
"Just as Richard Nixon learned," Davis wrote on Twitter, "tapes don't lie!"
Still, Trump's allies said they doubted the revelation of the tapes would cause current staffers to rethink their association with the president.
"By now, in the White House, loyalty is a very well defined term, and this relationship between the president and Michael doesn't change that definition," said Michael Caputo, a former adviser to the Trump campaign.
"It's just another leak," he said.
The president's lawyer, Rudy Giuliani, has argued that the tape is exculpatory for the president.
"If Cohen is telling the truth why are he and Lanny Davis misrepresenting the language from President Trump "Do not pay by cash...CHECK," Giuliani posted on Twitter. "And why are they leaking falsely privileged and confidential information. So much for ethics!"
Like the controversial Access Hollywood tape released before the election in which Trump is heard making lewd comments about grabbing women's genitalia, the Cohen tape had the potential to knock Trump off balance at the same time he is dealing with the Mueller probe, defending his interactions with Russian President Vladimir Putin and confronting mounting criticism within his own party over his trade policy.
The White House said Wednesday that Trump and Putin would not meet this fall in Washington, a reversal from the U.S. president's announcement last week of plans for a second summit following their Helsinki meeting.
Trump's allies said that despite the attention the tape has drawn, it wouldn't distract the White House from its agenda.
Nunberg called the Cohen tape "a bust," and predicted Trump would emerge unscathed.