Are you OK with craning your neck at the movies to see the screen from the front row? If so, you might get a better deal at AMC Theatres — but cinemagoers who like the middle of the auditorium might not be so happy.
AMC revealed a plan Monday to make tickets for the less-desirable seats cheaper, while the most popular seats will cost more. Select locations are already using the new pricing model, while the rest of AMC's domestic locations will roll it out by the end of 2023.
"Sightlines at AMC" will include three tiers of ticket pricing, the chain said in a news release. Most of the seats in a given auditorium will be the middle-tier "Standard Sightline," available for a ticket's usual cost.
"Value Sightline" seats include the front row, plus some accessible ADA seats. They will cost less than a standard ticket, though you'll need to be signed up for the chain's free member rewards program to get the deal.
Tickets in the middle of the auditorium — "Preferred Sightline" — will cost you extra. Cinemagoers who pay for AMC's "A-List" membership, which allows customers to see several movies per week for a monthly price, won't need to pay the extra fee.
Monday's announcement didn't specify the price difference, but the new model is reflected when buying tickets at already-participating locations. One example is AMC Lincoln Square 13 in New York City, where a ticket to a 25-year anniversary showing of "Titanic" costs $2 less for "Value" seats and $2 more for "Preferred" seats.
The difference may also vary by theater. Tickets at another "Titanic" showing in New York City's AMC 34th Street 14, which has smaller auditoriums, cost $1 extra for "Preferred" seats.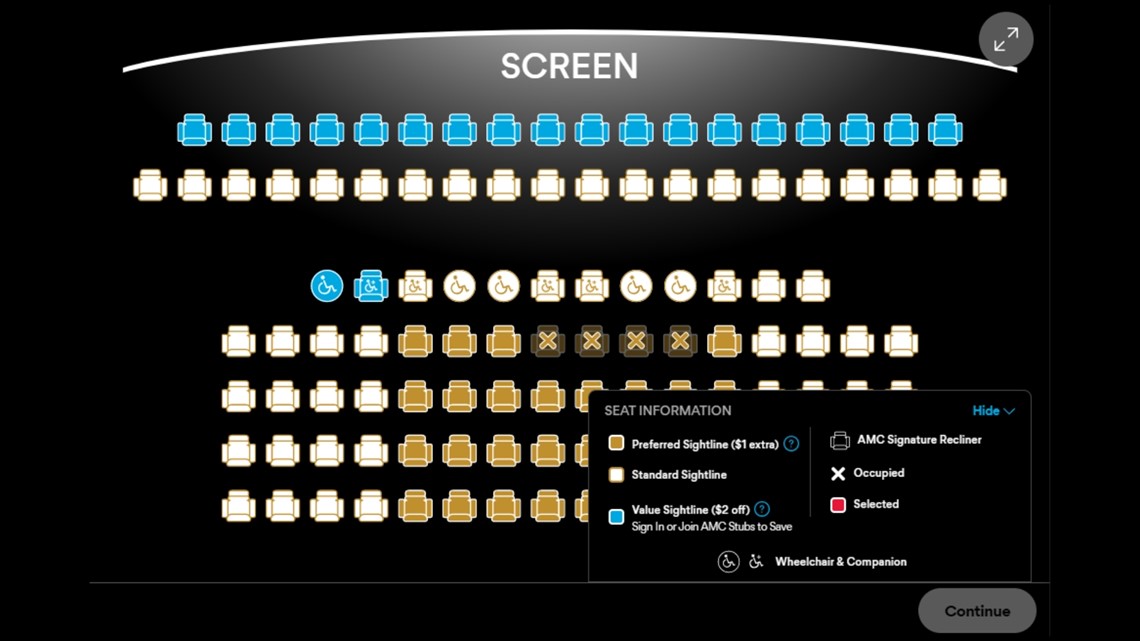 AMC said the new pricing will apply to all showtimes that begin after 4 p.m. at participating locations. The chain's "Discount Tuesday" showings won't be affected.
While tiered pricing by seat location is new for AMC, it's typical for many live events like concerts and sports.