A 26-year-old man from Yuba City, California revealed his new face to the world Thursday after undergoing a life-changing facial transplant in June 2018.
Cameron Underwood was injured by a self-inflicted gunshot wound on June 27, 2016. Over the next year, he would undergo several "conventional" surgeries to try to reconstruct his face as he hid the damage to his cheeks, nose and mouth behind a medical mask.
"It was a low time in my life, and we all do things that are not, you know, ideal, but you get through it," Underwood said in a news conference in June 2017.
But Underwood's mother, Beverly Bailey-Potter, found new hope after reading about Dr. Eduardo Rodriguez, chair of the Hansjörg Wyss Department of Plastic Surgery at NYU's Langone Health, CNN reported.
"We knew he was the only person to whom we would trust Cameron's life," Bailey-Potter said in a statement Thursday. "We were willing to travel the long distance."
Rodriguez has performed two other face transplants, a surgery he said empowers patients with "a second chance." Rodriguez traveled to Yuba City in June 2017 to examine Cameron's injuries.
"When we first met Cameron, we were confident we could improve his appearance and, more importantly, his function and quality of life," Rodriguez said in a statement Thursday.
The first face transplant surgery was done in France in 2005, and since then doctors have performed more than 40 worldwide.
Underwood was listed as a candidate for the surgery immediately after Rodriguez's visit in June 2017. On December 31, 2018, a potential donor was identified when 23-year-old William Fisher, a student at Johns Hopkins University, died unexpectedly. His mother, Sally Fisher, said she was proud her son could help others, even after his death, as an organ donor.
"Thank God for you. I'm so happy for you. Thank you. Thank you for letting my son live," Fisher said when she met Underwood in a video from the hospital.
Underwood's surgery was on January 5, 2018, less than two years after his injury. Dr. Rodriguez led a team of more than 100 surgeons, nurses and staff in the marathon process of removing Fisher's face and reconstructing Underwood's jaw, lower eyelids, cheeks, nose, nasal passage, and parts of his mouth.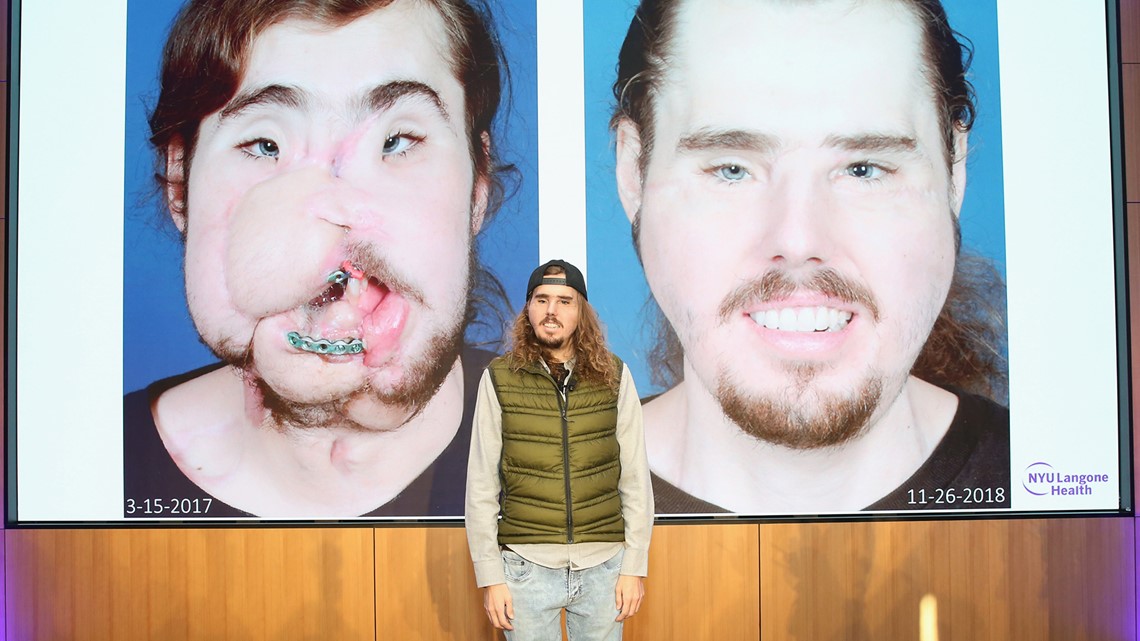 Rodriguez added that most face transplant patients wait much longer for a donor, impacting their emotional well-being. Underwood's waiting time, approximately 6 months after being placed on the transplant list, was one of the shortest wait times for a face transplant ever, according to the hospital.
"Cameron has not lived with his injury for a decade or longer like most other face transplant recipients have," Rodriguez said in a statement Thursday. "As a result, he has not had to deal with many of the long-term psychosocial issues which often lead to issues like severe depression, substance abuse, and other potentially harmful behaviors."
Underwood spend just under two months in the hospital recovering, according to the hospital. Today, his face has healed, and Underwood said he is excited to return to return to the "activities he loves," like being outdoors and spending time with family, as well as providing hope for others who undergo facial transplants.
"It's important to share my story to help inspire others to have hope and seek help," Underwood said in a news conference Thursday. "I hope to get back to work soon, too, and someday start a family."