A group of missionaries from a north Georgia church have found themselves stuck in Haiti after violent civil unrest over increased gas prices has forced the main road to the international airport to close, keeping the group stranded.
Pastor Jason Webb from Mount Olivet Baptist Church in Hartwell, along with a 21 others traveling with him, have been in the island nation since June 30. They were supposed to leave on Saturday, July 7, but the ongoing unrest has prevented the group from being able to head to the airport. They may be stuck there a few more days.
Pastor Webb and several others in his group spoke to 11Alive's Christie Ethridge on Sunday. He explained what happened.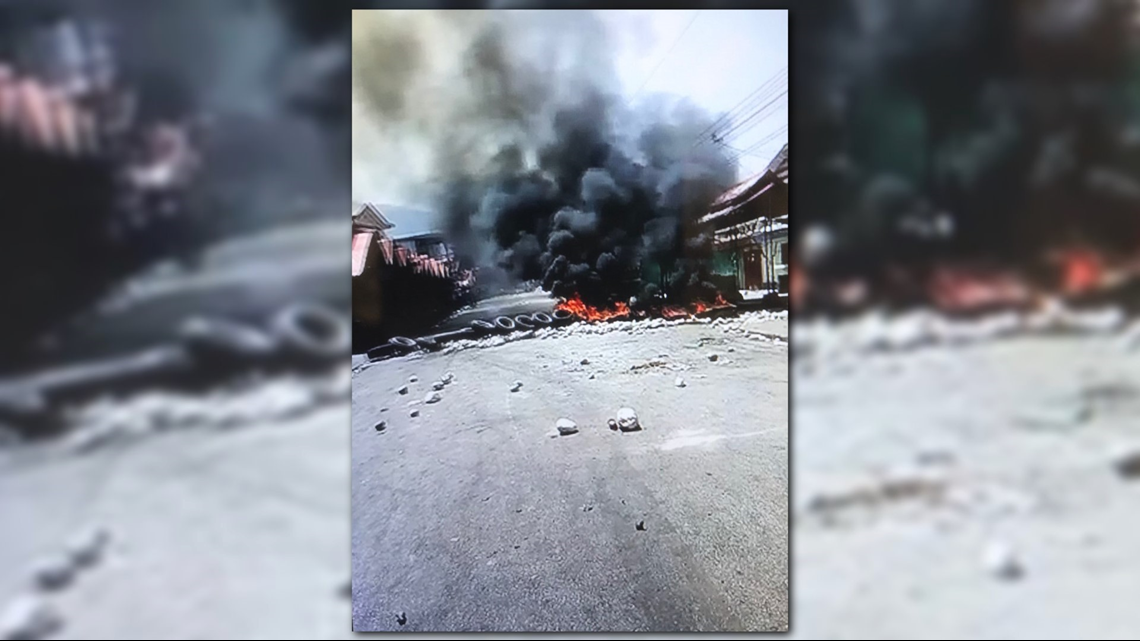 "Friday afternoon, amid a scheduled gas price increase, the Haitian people began to protest the gas hike, and first there were reports of people going to the gas station and pulling the hoses off the pumps," Webb said. "A little further down, they were set on fire. In our town, they created roadblocks with debris, rocks and burning tires."
Christie asked him about how his group would get to the airport.
"There's only one road in Haiti," Webb said. "It's the only one from here to PAP (the nation's capital, Port au Prince, where the international airport is). And they have learned they can block the bridges and that willl allow no traffic, either way."z
Christie asked him about getting out on Saturday.
"Early Saturday morning, we started hearing popping sounds. Some in our group deduced that it was tear gas canisters being thrown into the crowd to disperse the crowd," he said. "Our mission compound that we're staying at is about a quarter-mile to town toward the ocean, and we have walled security with guards and all."
"Are the locals angry with you?" asked Ethridge.
"They're not angry with us," he said. "They have no beef whatsoever with Americans or missionaries. It's just their government and what they consider outrageous gas prices."
"How does it feel to be stuck in Haiti?" Ethridge asked.
"It can be unnerving. It's worth it. This inconvenience is worth it," Webb said. "Jesus is worth it. The Gospel is worth it and these people are worth it."
"How do you plan to get back?" Ethridge asked.
"That's still kind of up in the air to be honest. (We) Had hoped to leave at 11 Sunday -- but there are still reports of road blockages and protests," he said. "The airport was closed Friday and Saturday. We're trying to call Delta now. They're not receiving any flights, but they're allowing flights out. Our home church had a prayer service yesterday and the sanctuary was packed. We were able to Facetime for a moment this morning."
The hotel where the missionaries are staying is a long car ride from the airport in Port au Prince under ideal conditions.
The missionaries are very happy with the work they've been able to do while in Haiti, but they're looking forward to returning to Georgia.
"The only thing we want is Chick-fil-A and sweet tea," Webb said.
"Our church comes to Haiti annually," said Slate Bauknight, a member of the mission team. "The people are poor and they desperately need love and hope. And we bring that through the gospel of Jesus Christ in practical ways -- build houses, churches, always bring rice and beans, medical supplies and support children."
"The average Haitian makes about $2 a day, Food costs, even though it's cheaper here than (in the) U.S. Gas is about six or seven dollars a gallon and they make $2 a day," Webb said. "It (the protest) is out of desperation and frustration. They're not bad people. They're peaceful. They're loving, they're courteous people, but they're so frustrated at their situation -- the rising gas prices, the rampant corruption of the government and others; and they express themselves the only way they know how, which is to shut down roads and commerce and have violent protests."
Webb said things were fine until Friday afternoon.
"We began to pack our bags and we began to hear reports of the protests, and then, we got reports of tires beginning to burn -- and gas stations on fire further up the road," he said. "That's when we were like, well, we may not be going home tomorrow."
Webb said their message is very simple.
"Continue to pray for the Haitian people, because eventually we're going to get on a plane and we're going to go back to Georgia -- but these sweet beautiful individuals who Christ loves have to stay right here and live in it every day," he said.