President Donald Trump ordered flags at federal buildings throughout the United States to be flown at half-staff in "solemn respect" for the shooting victims at a Pittsburgh synagogue.
Trump issued the proclamation late Saturday, shortly after returning to Washington from speaking at the Future Farmers of America convention in Indianapolis and a campaign rally in Murphysboro, Illinois.
Throughout the day, Trump expressed sorrow, called for justice and bemoaned hate, getting regular updates on the shooting. But he also campaigned for candidates and took shots at favorite Democratic targets. Trump said cancelling his appearance would make "sick, demented people important."
In the proclamation, Trump called for the flags to be lowered until Oct. 31. Earlier in the day he told reporters he would travel to Pittsburgh, but offered no details.
PHOTOS: Pittsburgh synagogue shooting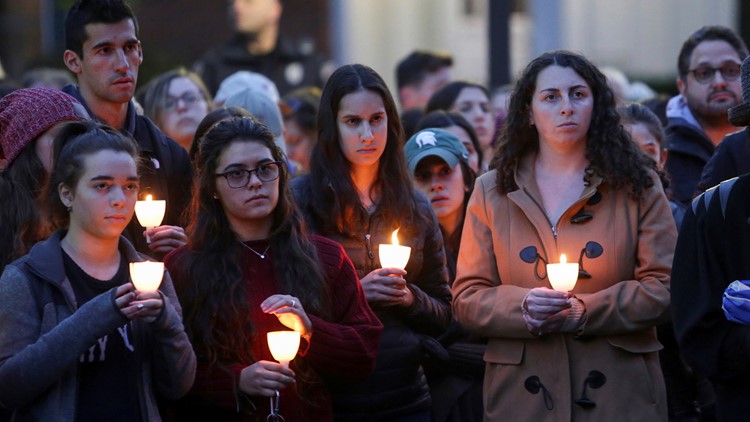 A gunman who's believed to have spewed anti-Semitic slurs and rhetoric on social media barged into Tree of Life Congregation on Saturday and opened fire, killing 11 people in one of the deadliest attacks on Jews in U.S. history.
The 20-minute attack at the synagogue in the Squirrel Hill neighborhood left six others wounded, including four police officers who dashed to the scene, authorities said.
The suspect, Robert Bowers, traded gunfire with police and was shot several times. Bowers, who was in fair condition at a hospital, was charged late Saturday with 29 federal counts, including hate crimes and weapons offenses.