WASHINGTON — The Senate Judiciary Committee voted along party lines Friday to move Brett Kavanaugh's Supreme Court nomination to the full Senate, but called on President Donald Trump to open an FBI investigation into sexual assault accusations against him.
About three hours later the White House released a statement from Trump ordering a new FBI probe.
"As the Senate has requested, this update must be limited in scope and completed in less than one week," Trump's statement concluded.
The committee's request for the investigation came after Sen. Jeff Flake, R-Ariz., who had been undecided on Kavanaugh, agreed to advance the nomination, asked that the FBI should be given up to one week to investigate the charges against Kavanaugh, as Democrats have demanded.
"This country's being ripped apart here," an emotional Flake said after a flurry of back-room negotiations outside the committee room. "We can have a short pause and make sure that the FBI can investigate."
Earlier in the day, Flake had announced his support for Kavanaugh and was confronted in an elevator by a sexual assault survivor.
Another undecided Republican senator, Lisa Murkowski of Alaska, said she supported Jeff Flake's calls for an FBI probe.
Republican Maine senator Susan Collins tweeted that she supported the "sensible agreement" to delay the vote for the probe.
The committee said the investigation would "be limited to current credible allegations against the nominee."
Only the White House can force the FBI to undertake such a probe.
The GOP holds a narrow majority in the Senate and can't afford to lose two votes.
"Someone's got to explain this to Trump," Sen. Lindsey Graham, R-S.C., said after the committee vote.
The president told reporters shortly after the vote that he was open to a delay and that senators should do "whatever they think is necessary" to reach a final vote on Kavanaugh.
Earlier, the Republican-controlled panel had turned aside Democrats' effort to subpoena Mark Judge, a potential witness to the alleged assault of Christine Blasey Ford, who gave wrenching testimony Thursday about allegedly being attacked by Kavanaugh when she was 15.

The committee's action came less than a day after it heard from Kavanaugh and Ford, who alleges the nominee pinned her to a bed and tried to remove her clothes at a party in 1982, when the federal appeals court judge was 17.
Kavanaugh, now 53, vehemently denied the allegations.
"We should not rush to judgment," said Sen. Dianne Feinstein, D-Calif., the top Democrat on the panel. She said it was wrong to listen to "a credible, poised and brave witness and simply ignore what we heard."
PHOTOS: Kavanaugh-Ford hearing in the Senate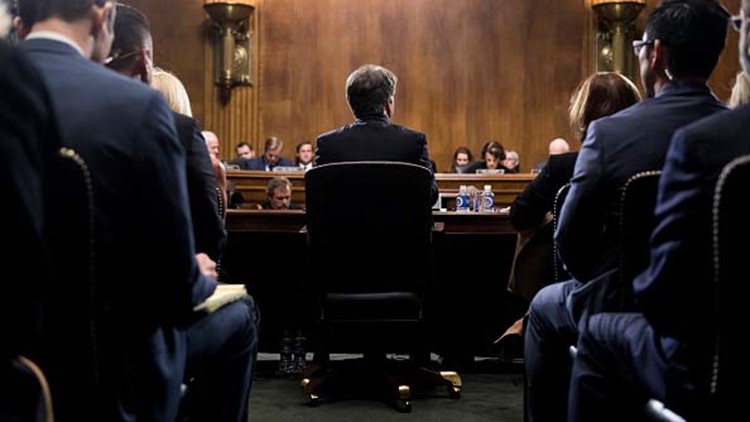 But Sen. Orrin Hatch, R-Utah, said Democrats simply want to "beat Judge Kavanaugh into submission."
"We can't allow more time for new smears to damage Judge Kavanaugh," he said. "We've reached a point where it's time to end the circus."
The nomination now goes to the full Senate, where a final up-or-down vote had been anticipated by Tuesday. Now that vote could be delayed for up to a week.