WASHINGTON — Authorities have publicly released video showing five Memphis police officers fatally beating a Black man; the beating prompted murder charges against the five officers and outrage at the latest instance of police brutality in the U.S.
The footage shows police savagely beating Nichols for three minutes.
After the first officer roughly pulls Nichols out of a car, Nichols can be heard saying, "I didn't do anything," as a group of officers begins to wrestle him to the ground.
"Get on the ground!," one officer yells, as another is heard yelling "Tase him! Tase him!"
Nichols calmly replied soon after being wrestled to the pavement, "OK, I'm on the ground." Moments later, as the officers continue to yell, Nichols says, "Man, I am on the ground."
An officer yells, "Put your hands behind your back before I break your (expletive)." Moments later, an officer yells, "(Expletive), put your hands behind your back before I break them."
"You guys are really doing a lot right now," Nichols says loudly to the officers. "I'm just trying to go home."
"Stop, I'm not doing anything," he yells moment later.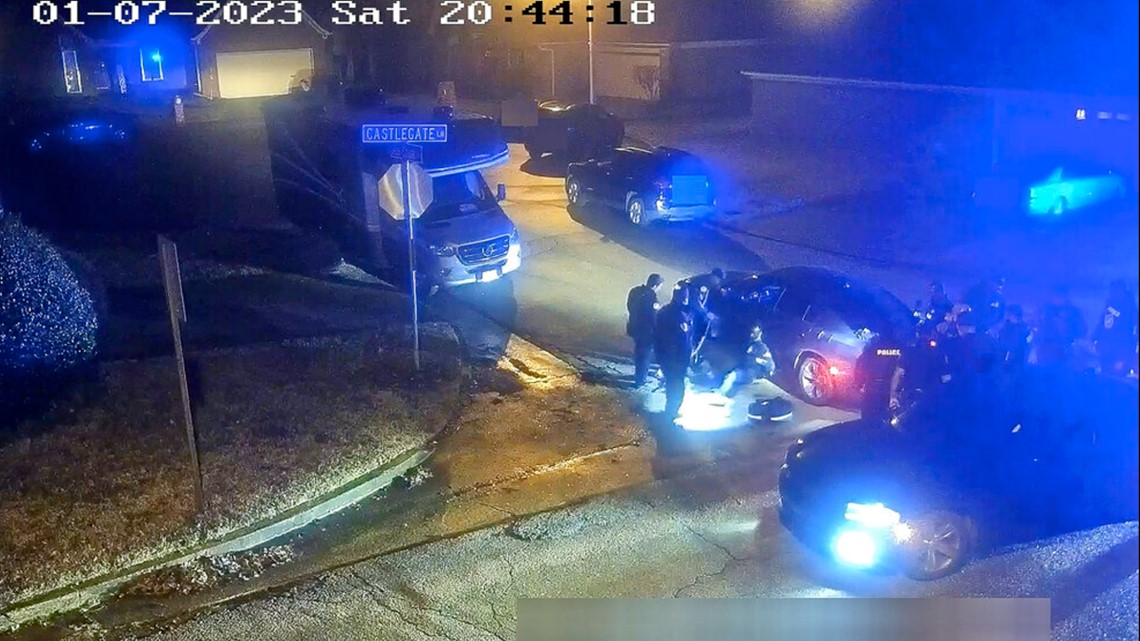 The camera is briefly obscured, and then Nichols can be seen running as an officer fires a Taser at him. The officers then start chasing Nichols.
Other officers are called and a search ensues before Nichols is caught at another intersection. The officers beat him again, this time using a baton, kicking and punching him.
Security camera footage shows three officers surrounding Nichols as he lies in the street cornered between police cars, with a fourth officer nearby.
Two officers hold Nichols to the ground as he moves about, and then the third appears to kick him in the head. Nichols slumps more fully onto the pavement with all three officers surrounding him. The same officer kicks him again.
The fourth officer then walks over, unfurls a baton and holds it up at shoulder level as two officers hold Nichols upright, as if he were sitting.
"I'm going to baton the f--- out you," one officer can be heard saying. His body camera shows him raise his baton while at least one other officer holds Nichols. The officer strikes Nichols on the back with the baton. He strikes strikes him again, and then a third time.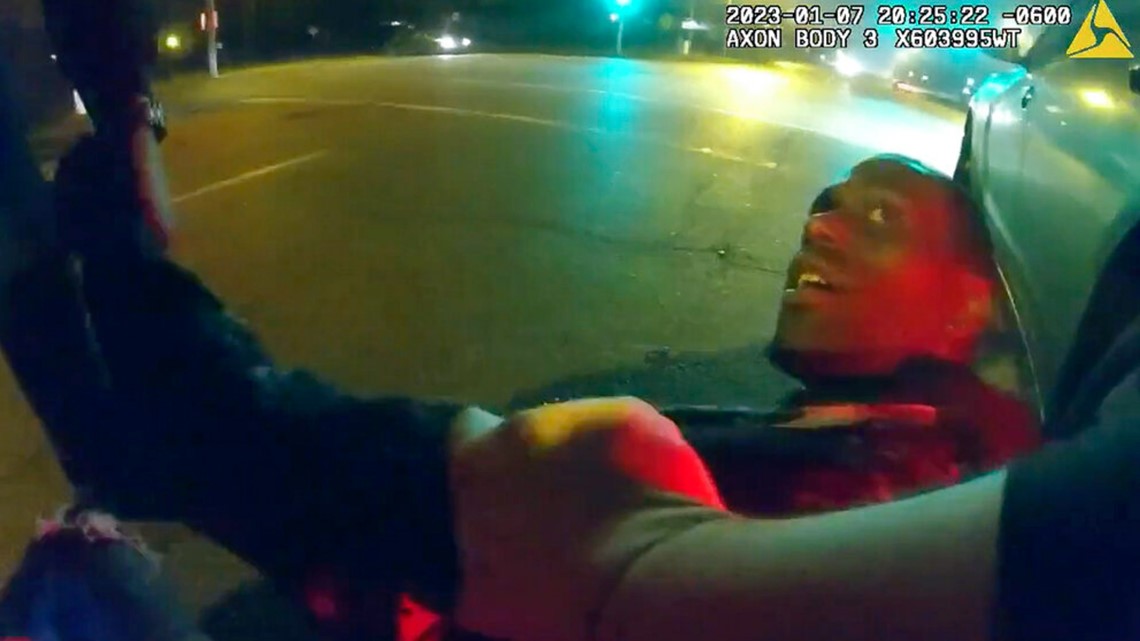 The other officers then appear to hoist Nichols to his feet, with him flopping like a doll, barely able to stay upright despite the bracing arms.
An officer then punches him in the face, as the officer with the baton continues to menace him. Nichols stumbles and turns, still held up by two officers. The officer who punched him then walks around to Nichols' front and punches him three more times. Then Nichols collapses.
Two officers can then be seen atop Nichols on the ground, with a third nearby, for about 40 seconds. Three more officers then run up and one can be seen kicking Nichols on the ground.
At one point, as Nichols is slumped up against a car and none of the officers are rendering aid, the body camera footage shows a first-person view of one of them reaching down and tying his shoe.
It takes more than 20 minutes after Nichols is beaten and on the pavement before any sort of medical attention is provided to him, even though two fire department officers arrived on the scene with medical equipment within 10 minutes.
The Nichols family legal team has likened the assault to the infamous 1991 police beating of Los Angeles motorist Rodney King.
The officers involved in the deadly incident, all of whom are Black, were charged Thursday with murder and other crimes in the killing of Nichols, who died three days after the confrontation with the officers during a traffic stop on Jan. 7.
Nichols' family members pleaded for any protests to remain peaceful.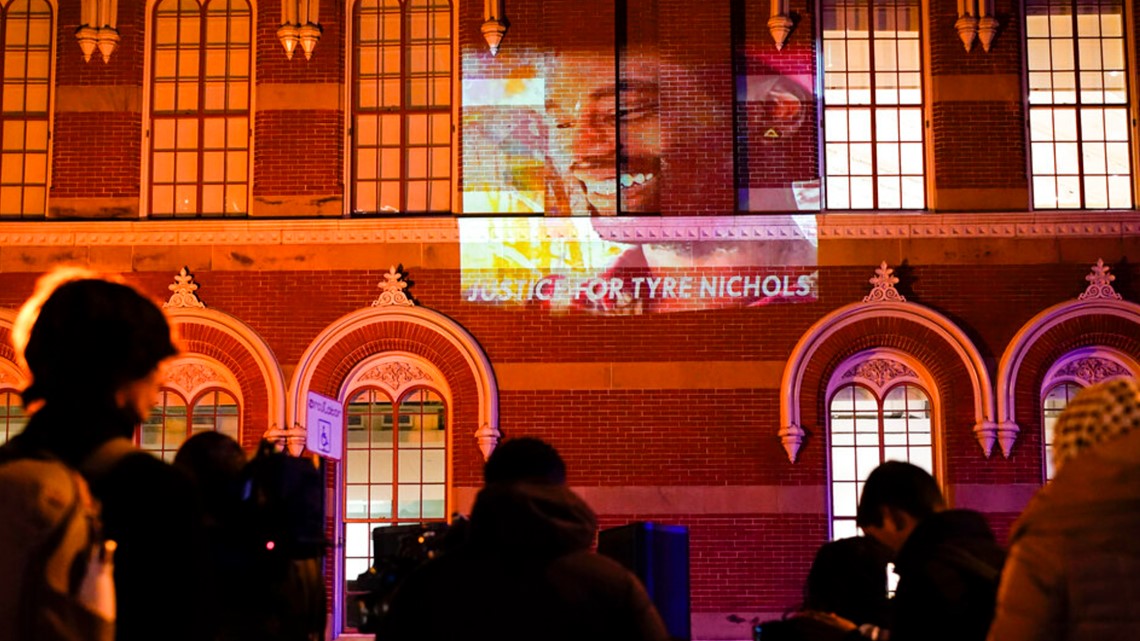 She also spoke of her son, who she said had Crohn's disease, and said she suddenly felt a pain in her stomach at the same time the officers were beating Nichols.
Editor's note: The following police video is extremely graphic. Viewer discretion is advised.
The Associated Press contributed to this report.