COBB COUNTY, Ga. — A boil water advisory has been lifted after being issued for Cobb County Water System customers south of Windy Hill and Macland Roads on Tuesday.
Test results showed there was no contamination to water supplies from a water main break that led to the advisory, the county said in a release.
The test results were analyzed by the Georgia Environmental Protection Division.
The area under the boil water advisory included SunTrust Park, where the Atlanta Braves hosted the Pittsburgh Pirates Tuesday evening.
The Braves detailed their preparations to 11Alive:
"...we have taken all necessary precautions for our fans' safety. We have turned off water fountains, ice machines and fountains throughout the ballpark and The Battery Atlanta and have notified all tenants as well. Our food and beverage operations will not be affected for tonight's game."
11Alive went to The Battery Atlanta during game time to talk with some fans - many didn't even know about the advisory.
The Cumberland Improvement District, which includes Cumberland Mall and the Cobb Galleria Centre, sent out a tweet Tuesday afternoon advising of the boil water advisory.
The Cobb County-Marietta Water Authority said on Tuesday that officials discovered a break in a line on Maner Road in Smyrna around 4 a.m. Pressure in the system was restored around 8 a.m., but the agency says after testing, the authority has issued a boil water advisory.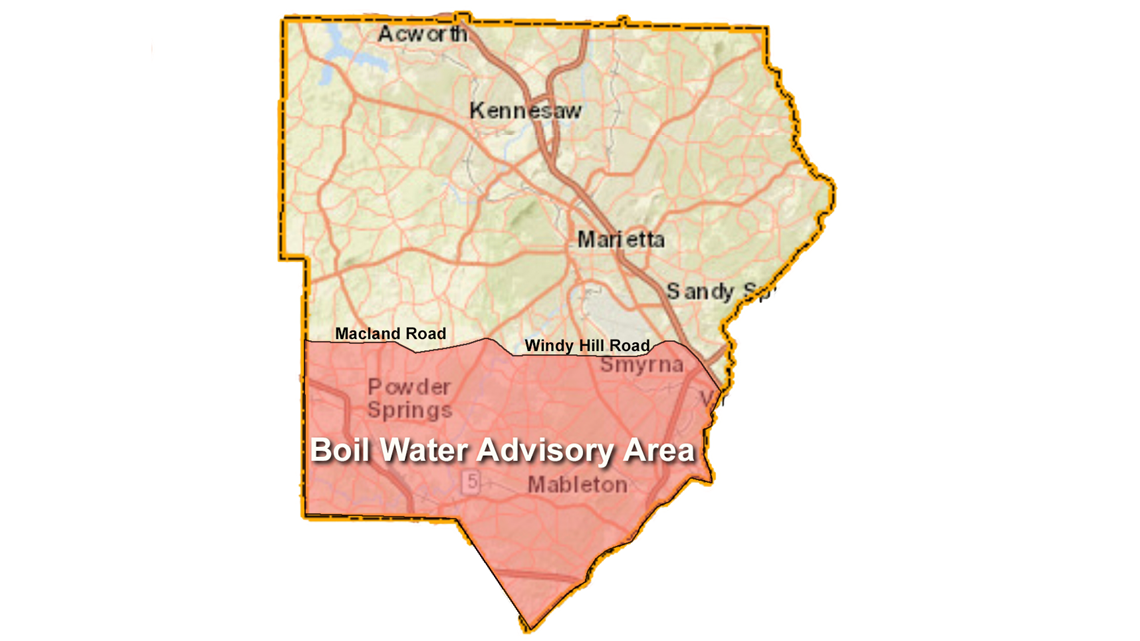 "Cobb Water officials believe the system never completely lost pressure and there should be no issues, but this order is issued under an abundance of caution," the county had said in a release.
According to the water authority, neighborhoods in Smyrna, Mableton and Austell reported water loss or low water pressure.
"A boil water advisory is a precautionary measure issued to alert customers when there is a potential for compromised water quality," the county said in a release. "It is recommended that customers boil all water used in the preparation of food and beverage for consumption for two minutes."