HENRY COUNTY, Ga. — We're just one week away from the biggest wedding of the year, and royal watchers everywhere are tweeting and posting up a storm about Prince Harry and Meghan Markle's big day.
Every new detail is probably flooding your social media feeds – from the engagement to the venue to who made it on the ultra-exclusive guest list.
PHOTOS | Prince Harry and Meghan Markle's royal wedding invites unveiled
But one thing you might not know is why this wedding means so much more to one local family.
11Alive's Natisha Lance spoke to the distant family of Meghan Markle, who is closing the gap on their family tree in a big way.
The Ragland family has roots in Henry County that date back a century. And now they share that history with royal family's soon-to-be newest member.
"Markle's third great-grandmother is Texas Ann Ragland, and we know from census reports that by the 1910 census she had moved to Los Angeles," explained Dorothy Tuck to 11Alive.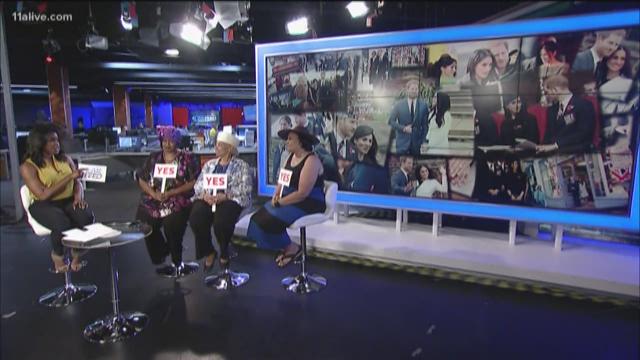 Tuck is a member of the Henry and Clayton County Genealogical Society, and helped piece together the family tree that gives Markle her Georgia roots.
"And then, you have this chart over here," Tuck continued. "Fourth great-grandparents, and we know they had to be slaves, because of when they were born, but we were not able to identify the specific slave owners."
VIDEO | Kensington Palace Reveals Who Will Walk Meghan Markle Down the Aisle
Tuck found out about Markle's connection to the Ragland family when the London Times and a documentary filmmaker contacted her with a special request.
"They asked if we could find a family member," Tuck recalled. "They wanted to surprise her by telling her that she is related to somebody famous, but they didn't tell her who until later."

Markle's third cousin got the shocking news.
"Initially, I was not told until the day they filmed the documentary, and we're literally on live camera and that is when Miss Tuck informed me there was someone famous in my family," Gilland Ragland Few told 11Alive. "I was, 'OK, well, who is it?' She said, 'Congratulations, you're related to Meghan Markle,' and I literally froze like in time."
"I was just ecstatic beyond belief," Few continued. "A day I will never forget!"
VIDEO | Megan Markle's parents to have formal roles in Royal Wedding
Few returned the favor by breaking the news to her own family, including their oldest living member – 85-year-old Ms. Ann.
"I would be the second cousin to her," she stated. "How bout that?"
The big question – does Markle know?
"She does not know. Two days before the wedding she might be a little busy," Few joked.
One day, the family hopes Markle and her mother find out about them and will be just as proud of them as they are of her.
"As her family on the Ragland side, we understand it at this point, we represent her as well," Few explained.
The family plans to watch the royal wedding together on May 19, proud not only as family but also as black women.
"It just brings a little bit more significance to African-American woman that we can reach and accomplish whatever goals and aspirations we set out to do," Few concluded.
PHOTOS | Prince Harry & Meghan Markle