If joy has a sound, it's coming from Josiah Barfield's playroom.
His mom Lacy said, "He is the happiest kid ever."
In his happy 4-year-old world, you can overtake a kingdom, ride the railroad, and fight Darth Vardar all before breakfast. If you call in your order, he's happy to cook it for you.
Watch Josiah's full story on 11Alive at 5 p.m.
He's talking into his plastic phone discussing his menu. Josiah promptly starts cooking at his pretend kitchen. He lays out an elaborate spread and turns to me. "I hope you are really hungry!" He laughs.
Josiah has inexplicable energy and courage.
"I don't think there is anything he is afraid of." His mom laughs. "He always tells me he wants to go to the woods to find snakes."
That explains his favorite box of toys.
Josiah proudly pulls out his transformers one by one. "The thing I love about transformers is they are so tough like me." He smiles and flexes his muscles.
If only Josiah's battle, the villain he constantly faces, was pretend.
Josiah stares down his life-sized Darth with a toy sword. "I am just strong, watch out!"
Strength wasn't an option for him, or for his parents Anthony and Lacy Barfield. It has been required from before Josiah's first breath. Mom said, "I look back now and think to myself, how in the world did we get through that?"
The first heart surgery came at 8-days-old. Doctors at Children's Healthcare of Atlanta found his congenital heart defect when his mom was 23 weeks pregnant. Doctors diagnosed him with Hypoplastic Left Heart Syndrome (HLHS). That means that the left part of the heart didn't form correctly, and it affects the normal flow of the blood through the heart.
By 6 months old, Josiah was in heart failure and on a transplant list. June 2013, Children's cardiothoracic surgeons did a second heart surgery. "In those days, it was minute by minute, day by day and hour by hour," Lacy said.
Then, the child whose name means "healed by God" was. His mom is convinced of it.
They went home.
Josiah sits on the floor and carefully pulls out long strands of beads out of special box with a gold heart on the top of it. "These are my beads of courage."
They are even more precious than his super-strong transformers.
Photos | Brave Conquers Fear, Josiah
Photos | Brave Conquers Fear Josiah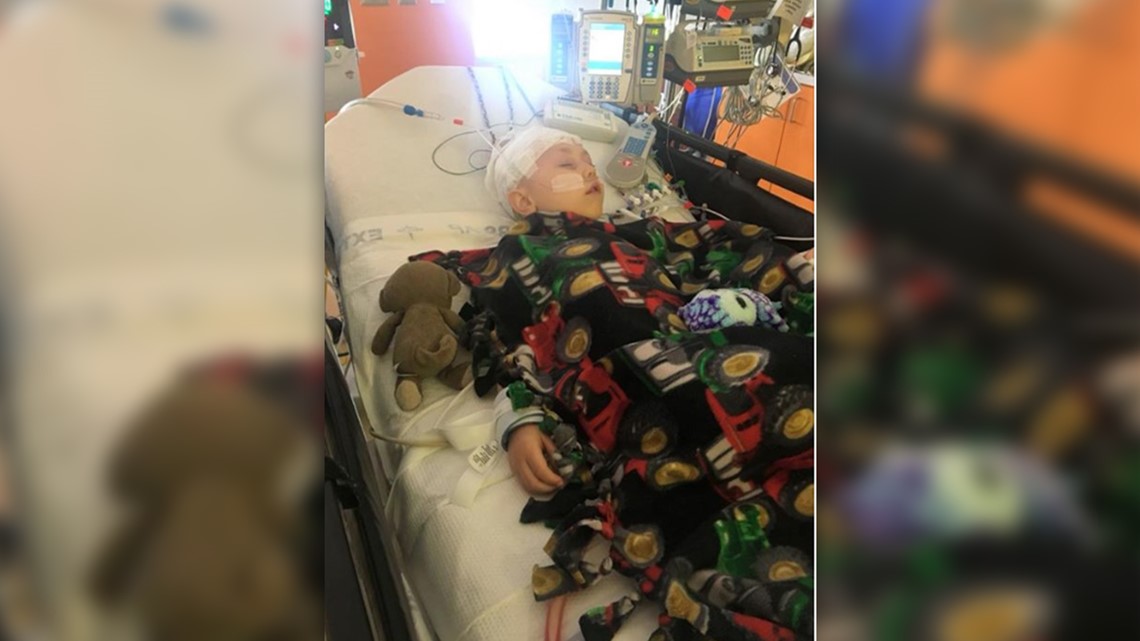 "That is a heart surgery beads, I have two of those." Every bead of courage represents something he's gone through at the hospital. There is one for every X-ray, poke of a needle, IV, or incision.
His mom said, "Each one is a physical example of what he has been through. You can hold every bead. You can wear every necklace." She added, "the amount of things he's been through and he still has his joy."
Josiah picks up his little guitar and starts to sing. "There is something about the way your love shines on my face…" He smiles as he strums the strings. "I'm about to get my worship on, take me away on this beautiful day."
Every bit of Josiah's positivity and bravery is needed now more than ever. The family knows he will soon earn a lot more beads of courage from Children's Healthcare of Atlanta.
Lacy takes a deep breath. "We are facing the decision of when to have another surgery coming up." She said, "We are praying for wisdom."
Every bit of Josiah's positivity and bravery is needed for this next step. He is facing this next heart surgery with experience and faith.
As a family, they have learned so many lessons about how precious life is. Lacy said, "You aren't promised tomorrow so we do our best to enjoy every little thing. "
Josiah is finishing his song standing next to the castle of his playroom kingdom. "…take me away on this beautiful day…" It IS a beautiful day.
Josiah said, "Be brave. You can get through things even when you don't think that you can."
Josiah is Brave Conquers Fear.
If you have a story of someone showing strength and courage in circumstances they are facing, I'd love to hear about it. It can be someone of any age facing any kind of challenge. I'd love to tell their #BraveConquersFear story.
EMAIL: Cpreheim@11Alive.com
TWITTER: @cherylpreheim
FACEBOOK: https://www.facebook.com/CherylPreheim/