"I feel light and I feel free." For Grace Bunke, water is a place to forget.
She glides under the waves and forgets, for a moment, about the bad days past and her worries about the days ahead.
The water is also becoming a place to remember for Grace.
"Hi! Are you ready?" Grace smiles at a new friend who is with her poolside. "They saved us a lane."
She is getting some company, a coach, for her return to the water.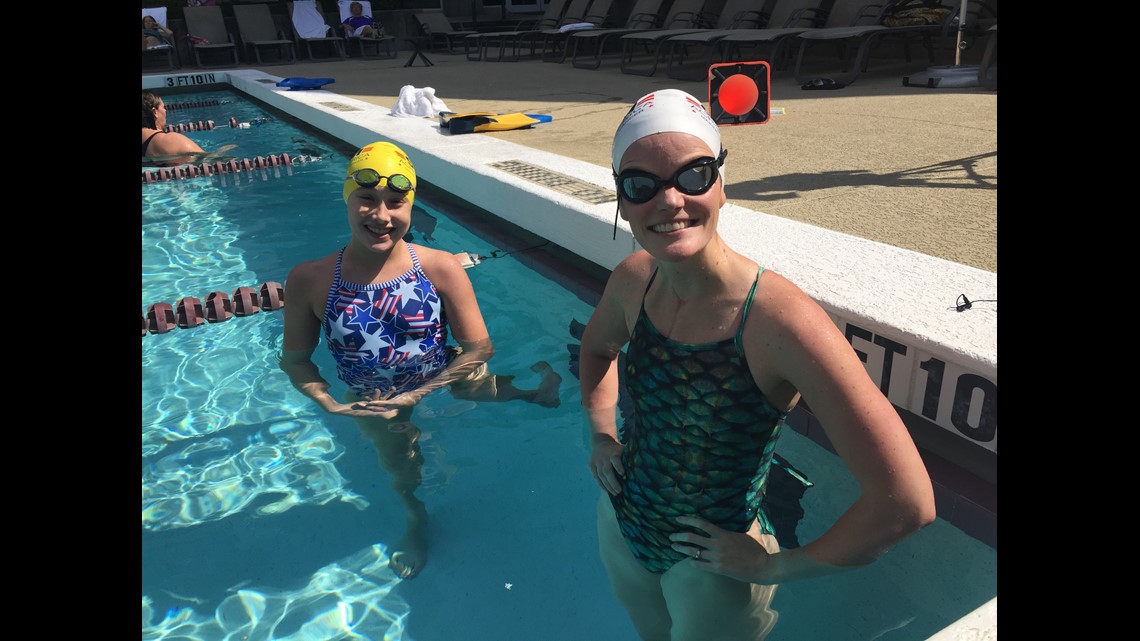 Dr. Julie Granger is a physical therapist more than twice Grace's age, but they have cancer in common. Granger said, "It is so great to swim together almost in fellowship." They also share the feeling that the pool is a place where they feel whole.
"Even though we are going through something so difficult life is still going on and there are so many wonderful things." Dr. Granger said.
In the water, Grace feels strong. She is strong.
She just got out of the hospital for radiation treatments 4 days ago and has been in a lot of pain since. But Grace wouldn't miss a chance to swim. She is sharing a lane with Dr. Granger. "I'm out of breath trying to keep up with her and I'm wearing fins."
Grace had a burst of energy as soon as she felt the water around her. "This is the first day she can even be up and about." Her mom Vicki said, "It is so nice to see glimpses of Grace back so it is a special day."
Grace's mom watches her daughter gracefully move the length of the pool, wishing the water could drown the cancer cells.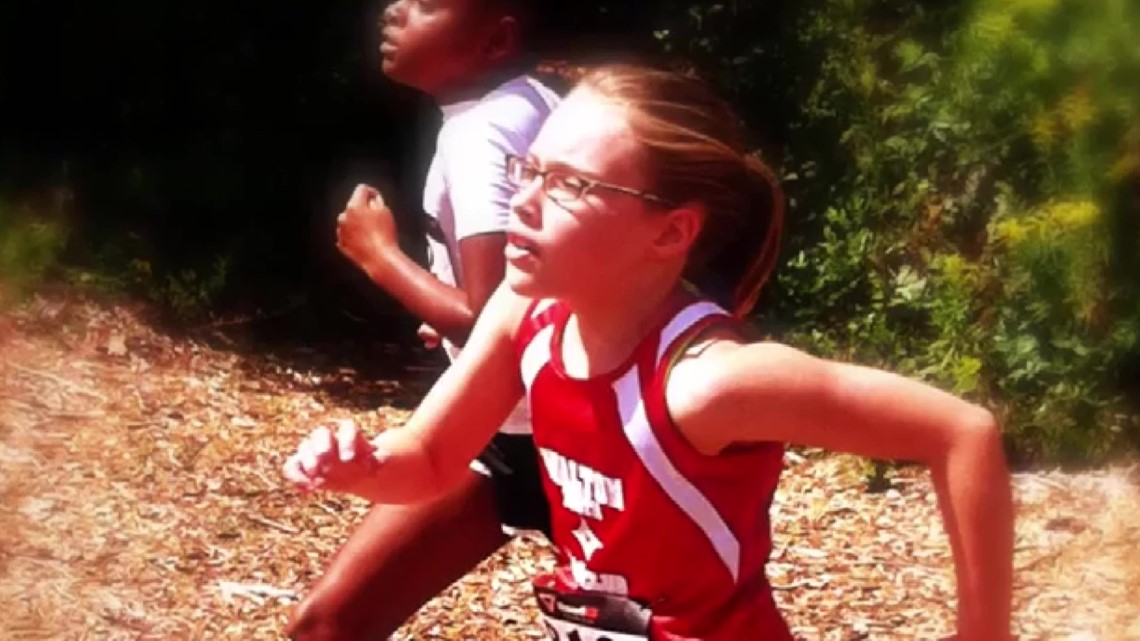 "I think of healing seeing her kind of power through the water." She said. "It's very metaphorical of how she approaches life."
Grace had been an avid runner and soccer player until osteosarcoma came. Surgeons at Children's Healthcare of Atlanta amputated part of her leg. They rotated and reattached her knee at her hip. It is a procedure called rotationplasty. Grace, always the determined athlete decided she'd give swimming a try, reluctantly.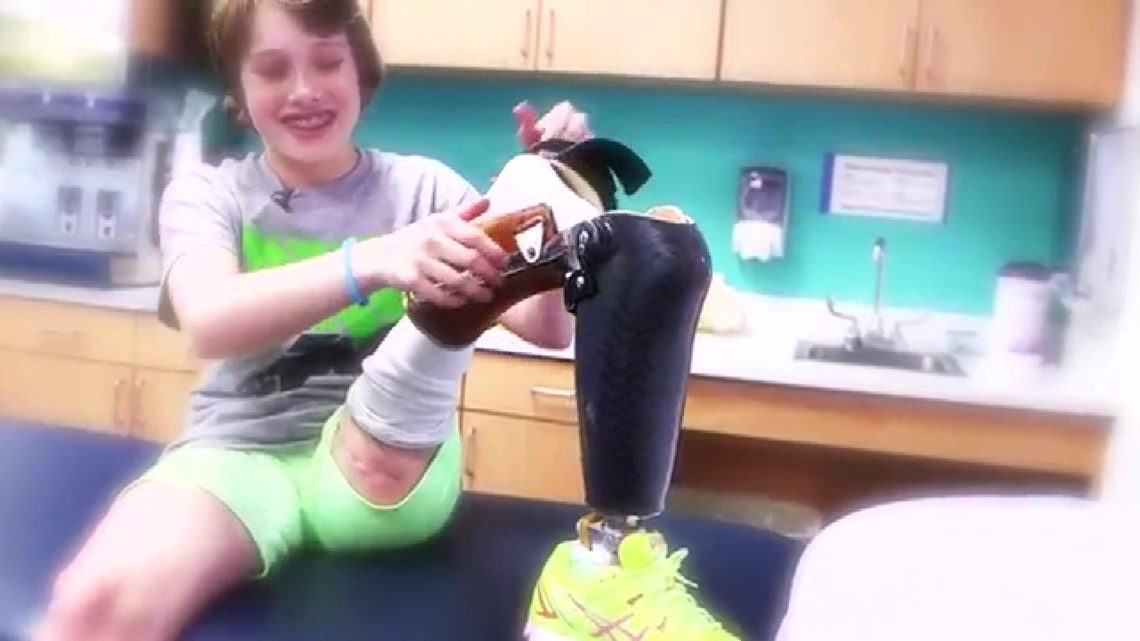 "At first I didn't really like it, but couple weeks later I fell in love with it," she said.
Grace says being in the water makes her forget the waves of fear that come, or that the hardest days are still ahead.
She has had a relapse. The cancer is back.
"There is no treatment now. The goal at this point is not a cure, it is quality of life," her mom said. She pauses and adds, "Grace knows that."
The way Grace at 14 years old faces that reality demonstrates a courage and grace that worlds cannot fully describe.
"I just keep fighting just keep looking on the bright side and think of positive things and it helps me through it," Grace said.
I'm sitting across from Grace beside the pool. I am in awe of her faith and perspective.
"You are amazing, Grace, in every way," I said. "You give a lot of other people strength."
Grace smiles but wipes away tears that are moving down her cheeks.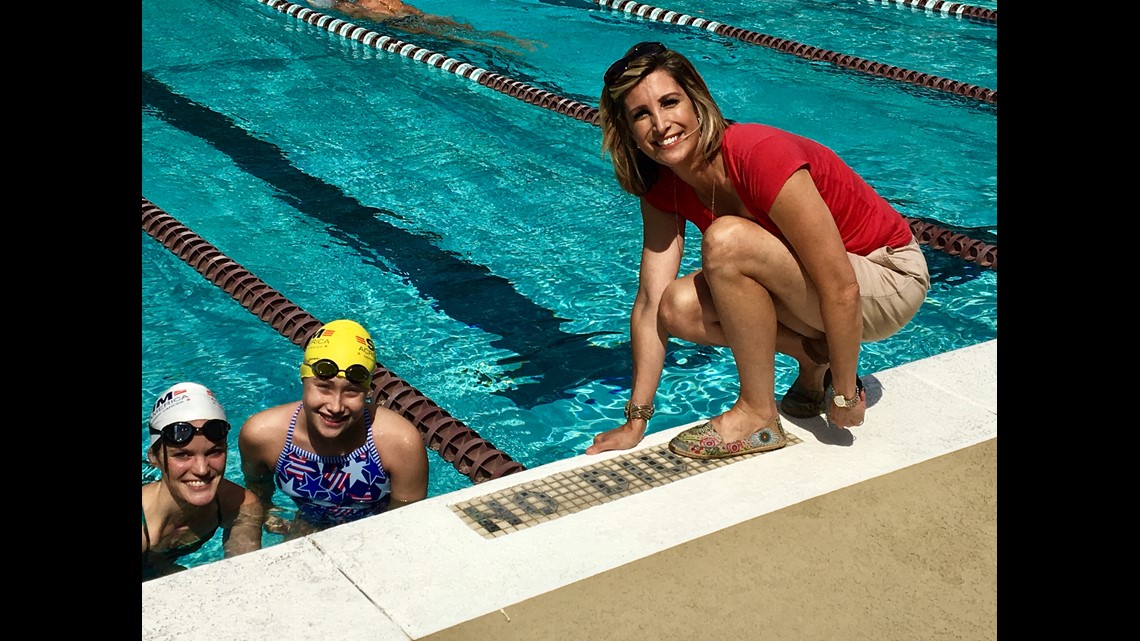 As long as she is able, she will swim. Grace will swim not only to forget but also to remember. She says she always remembers others in the same battle.
She and Dr. Granger are training for Swim Across America. Their slogan is: Making Waves to Fight Cancer. So far, Grace is the top fundraiser. The money goes for cancer research.
"It's important to me because it is really hard," Grace said. "We want to cure cancer because nobody should really have to go through it, cause it's really bad, it's not easy."
Cancer led her to this passion of swimming and her passion for swimming can now give back to the hospital that has given her so much.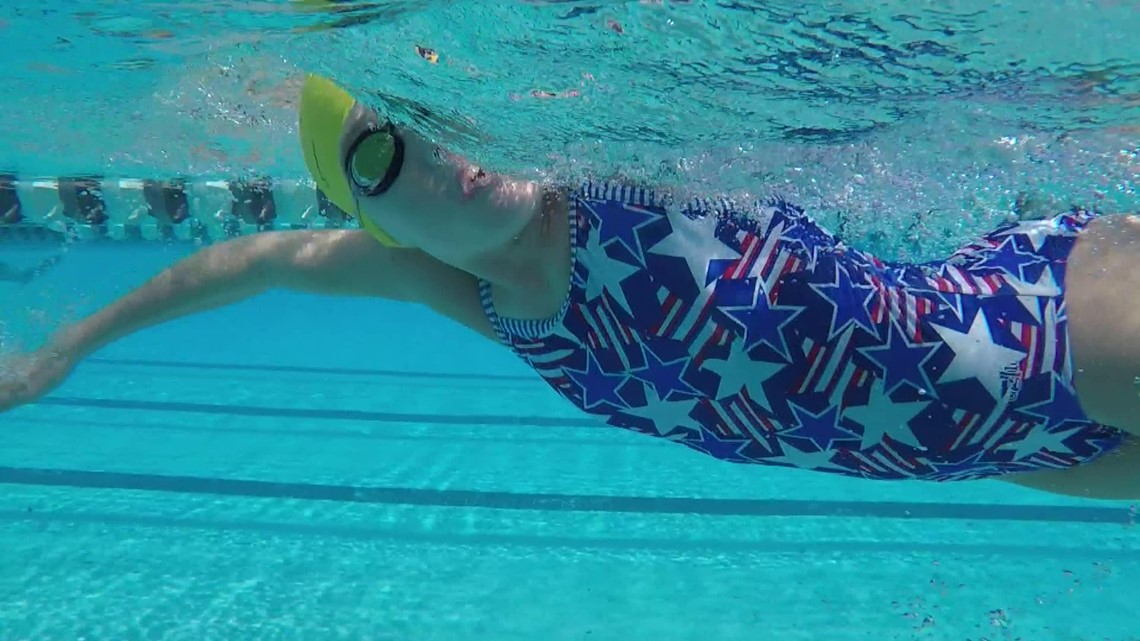 "This is an opportunity for her to give back." Her mom said. "If she can't save herself, hopefully, some of the money raised will offer someone else a cure down the road."
Dr. Granger swam her first Swim Across America last year, 5 weeks after surgery to remove her cancer. She and Grace have formed a team together for Saturday's race at Lake Lanier.
"I wish I had that amount of inspiration and strength at 14 years old," she said. "There is so much I'm learning from her."
Grace teaches us all that the best way to forget the hardest things we will ever face is to remember what is still good and beautiful.
Like a simple moment poolside with a person who loves you deeply in a place you feel whole.
Grace is now wrapped in a towel, exhausted, and snuggled in her mom's lap. Vicki Bunke gives her a kiss on the head. "She is not going to give up living every day she has."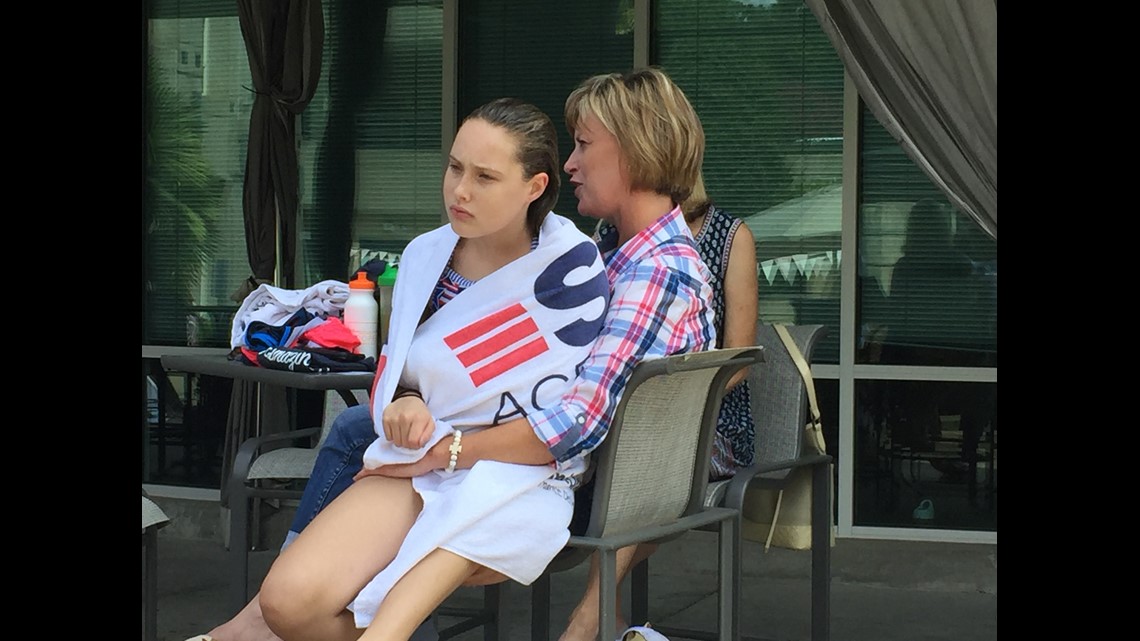 A Follow Up Note on Amazing Grace:
Since our day together training at the pool a few weeks ago, Grace has experienced a lot of pain from her radiation. It has kept her from being home with her family or being active. Grace has made the difficult decision to stop: no more painful treatments that could not cure her anyway.
"Sometimes the bravest decision you can make in life is to let go," her mom said.
Grace will still swim the 1K open water race at Swim Across America remembering all the other people she is fighting for. She will share the water with 16 Olympials including 5 time Gold Medalist, Missy Franklin. Grace's goal has been to swim at the 2020 Paralympics in Tokyo.
"I'm so excited to see them and be the water with them," Grace said smiling. "I want to see if I can actually catch up to them."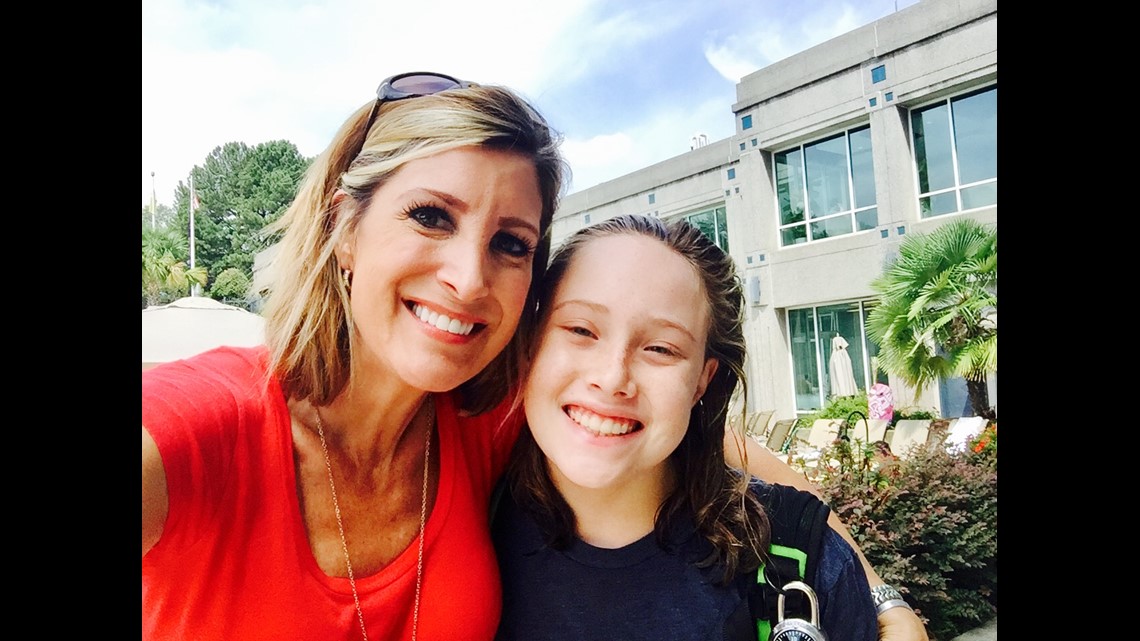 Swim Across America is celebrating its fifth anniversary of the Atlanta Open Water Swim at Lake Lanier on Saturday, Sept. 23. While swim registration is now sold out, the inaugural family Duck Splash is still open for less experienced swimmers. The Atlanta swim has raised $1.5 million dollars for research. All proceeds from SAA-Atlanta benefit the cancer research team at Aflac Cancer Center.