HIRAM, Ga. -- Bows, wreaths and garland glimmering with lights welcome visitors as they arrive at the Dobbs home in Hiram
"Christmas literally blew up in our house the day after Halloween," Brandon Dobbs laughs.
For the Dobbs family, Christmas is a feeling, not a day on the calendar.
"It just makes everybody happy," Jamie Dobbs said.
They are learning that joy is a choice and a mindset. It is medicine. You can hear giggling coming from the living room. Six-year-old Brantley has moved his bed downstairs these days. The stairs are too much work. His entire body is swollen from the treatments, medication and another round of steroids.
Brantley Dobbs is Brave Conquers Fear
Brantley points to a superhero Christmas tree on the wall above his bed. "There is Superman, Flash and Captain America," he explains. "They all have cool superpowers."
He loves to show off the army of super heroes that surround him and tease his 5-year-old little sister Lucy. "You act Crazy," Brantley said to her. Lucy's favorite spot is at the foot of her brother's bed.
"I'm kidding," He smiles.
They are typical brother and sister, Dad says. "But they are best friends."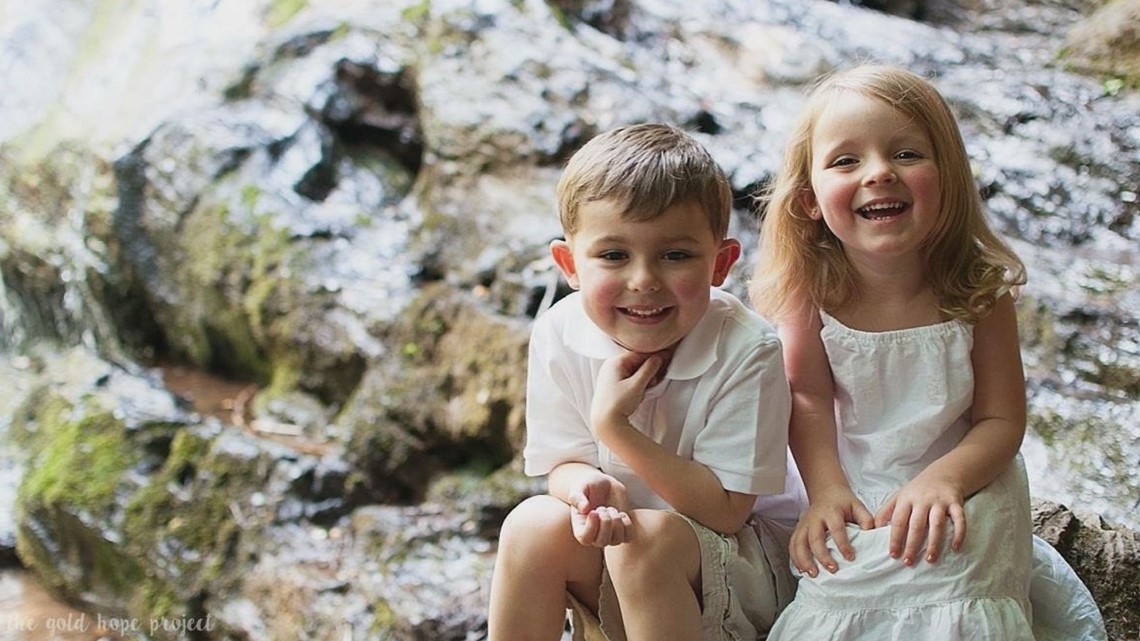 There is a picture of Brantley and Lucy together that hangs over the fireplace. It shows them soon after doctors found the bump in Brantley's head as he calls it. He has an inoperable brain tumor, called DIPG.
"Most kids live 5 to 9 months, sometimes they live a year," Mom said. "Brantley is on month 20 now."
So every day of each month is an opportunity to share love and focus on happiness.
That is why you'll find Christmas in every nook and cranny of the house.
ORNAMENTS OF ENCOURAGEMENT
A friend of the family shared Brantley's story on Facebook asking people to send ornaments to brighten his days. And the flood gates of encouragement opened.
If you'd like to send an ornament or card to Brantley, send them to:
Hospice Atlanta
1244 Park Vista Dr.
Atlanta GA 30319
Attention: Brantley's Christmas Cheer c/o Lanise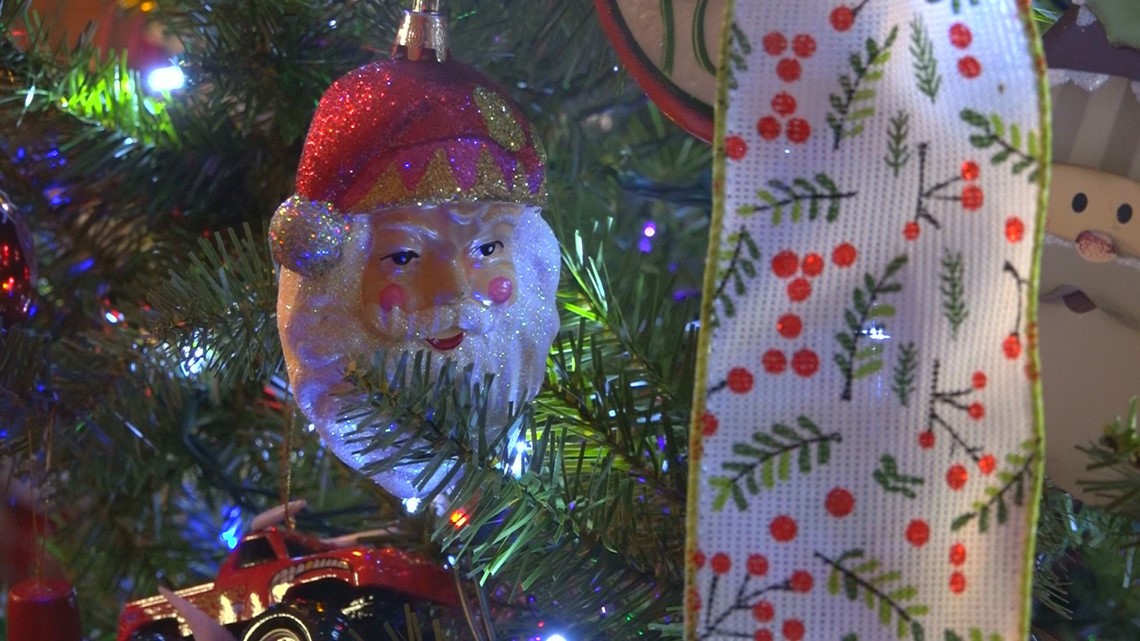 "We started getting them in and it was amazing," Jamie Dobbs said. "He has been smiling and laughing and we haven't seen that a lot."
"He loves opening all the ornaments and it makes us happy to watch him with his gifts," Brandon Dobbs said.
Each gift is love packaged.
Love universal. The boxes are arriving from all over the country and many parts of the world.
Brandon said, "They've come from Canada, Ireland, England, Alaska, Hawaii, Maine…"
Just that morning Jamie opened a box from Mexico and the United Arab Emirates.
"We can't keep up," She laughs. "We get packages every day."
Lucy has learned what time love arrives each day. She stands out on the front porch and waits for the mail truck to pull into the driveway.
She carries a stack of smiles up the stairs. It always comes right on time.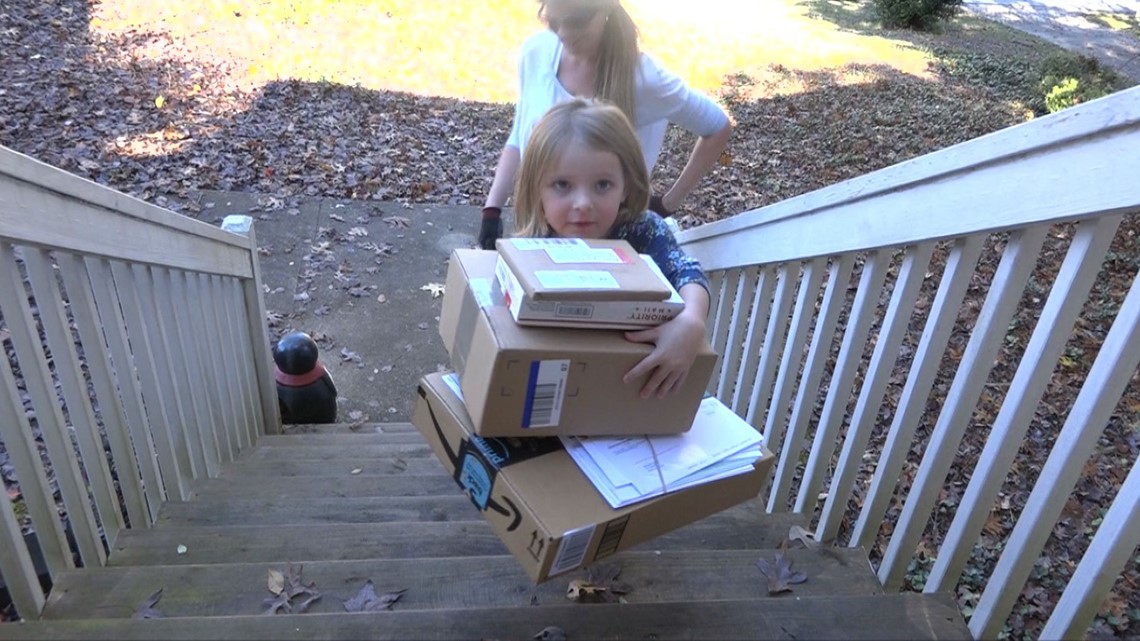 Brantley smiles and laughs as he opens the gifts. As he does, dad is at a big map on the wall. They put a flag in place people have sent an ornament. There are more than a hundred markers already.
"It means so much because he has touched so many lives and continues to show us that he is still touching lives," Jamie said.
There is one place not on any map that Brantley talks about, in his dreams, to God.
"He talks to me," Brantley said in a matter-of-fact way. "He is a big white cloud."
He's talked to his mom about it. "He usually shares his conversations with God on the really hard days," she said. "He said it's just clouds and a little bit of light."
Brantley says God talks to him about the bump on his head. He says God reassures him that everything will be alright.
"It is just complete calmness that comes over him," Jamie said. "He'll tell you that he knows he is going to heaven and he is ok with that because of the conversation."
She says as a mom, that is the hardest and the best thing a child could every say.
Brantley is only 6, but the wisdom of his soul is much greater.
His eyes are starting to get heavy. He's tired from opening all those presents. Lanise Shortell sits on the edge of his bed. She keeps a close eye on him. Shortell is his Pediatric Hospice Nurse, with Visiting Nurse, VNHS.org and Hospice Atlanta.
The Dobbs's consider her family.
"We could not go through this without her support," Brandon said. She helps with medication, communication with doctors, and helps prepare everyone in the family, emotionally, for the difficult days ahead.
"She is an angel," Jamie adds.
Shortell says it is the other way around.
"Brantley has brought joy to our life. He's allowed us to really see things from the point of view of a child. His faith is profound," she said.
Brantley's dad notices he's drifted off, "I think he is asleep now."
In his hand, an ornament of Big Ben in London.
His mom snuggles him and kisses his cheek. She whispers in his ear, "do you know I love you." Without opening his eyes, Brantley nods. She whispers again, "Do you love me bunches?" Brantley smiles and nods again.
Brantley has taught them that joy is a mindset and medicine for the soul, in any season.
His dad gently touches his knee. "He's inspired us to live every day to the best. No regrets, just be happy."