Thousands of migrants from Central America are waiting in makeshift shelters in Tijuana hoping to apply for asylum in the U.S.
But on Nov. 25, a protest took a turn, when a group of migrants rushed a border fence. Migrants were protesting to put pressure on the U.S, who can only process up to 100 asylum requests at the San Ysidro Port of Entry, to devote more resources to the process.
As the protest progressed on Sunday, several images sparked outrage online. Some from people claiming the images were fake.
11Alive did some research and found out what really happened when the images were taken.
CLAIM 1: Photo of mom with two kids staged as part of media propaganda.
One image shows a mother running away with two children after tear gas was dispersed into the crowd. The photo went viral after claiming the presence of visible cameramen, with a group of people standing around and what appears to be a person posing in front of a camera, was evidence the media staged the picture. Many posts also pointed to several news agencies using the same photo as proof of media staging.
11Alive research shows the photo was taken by Kim Kyung-Hoon, a photographer with Reuters. Every news agency who used the picture credited Kyung-Hoon and Reuters, an international news agency. Other news agencies, like CNN, CBS News, NBC News and Fox News have used Reuters images in the past and present. It's very common for news agencies to use the same photos and share photos and video via subscriptions with their partners. For example, 11Alive has a subscription to Getty Images, a photo repository similar to Reuters.
As for the cameraman in the background of the picture, it would be understandable that there are several journalists, cameraman and still photographers covering the event, as this has become an international story receiving coverage from dozens of news agencies.
Finally, the picture shows what appears to be a can of tear gas on the ground and smoke coming up next to the woman and her children running. Looking at the background of the picture, where the people are standing around, there doesn't appear to be a can of tear gas near them. This would offer an explanation of why this crowd is standing and the woman and her children next to the tear gas are running.
CLAIM 2: No one was tear gassed in the first place.
The image referenced above, coupled with a second photo taken by Kyung-Hoon, quickly went viral as people, politicians and celebrities began circulating the photos.
The second photo in question, shows a baby crying from exposure to tear gas. Several people were quick to slam both photos as being fake, claiming no tear gas was used.
However, the US Customs and Border Protection confirmed tear gas was used.
"Today, several migrants threw projectiles at the agents in San Diego," a tweet from the agency reads. "Border Patrol agents deployed tear gas to dispel the group because of the risk to agent's safety. Several agents were hit by projectiles."
In addition to the tweet, photos from several other media agencies, including Getty Images, as well as various local and national news reporters, show tear gas, people running from the tear gas with shirts covering their mouths.
President Donald Trump confirmed the use of tear gas, telling reporters on Monday, "They had to use it because they were being rushed by some very tough people and they used tear gas. Here's the bottom line: Nobody is coming into our country unless they come in legally."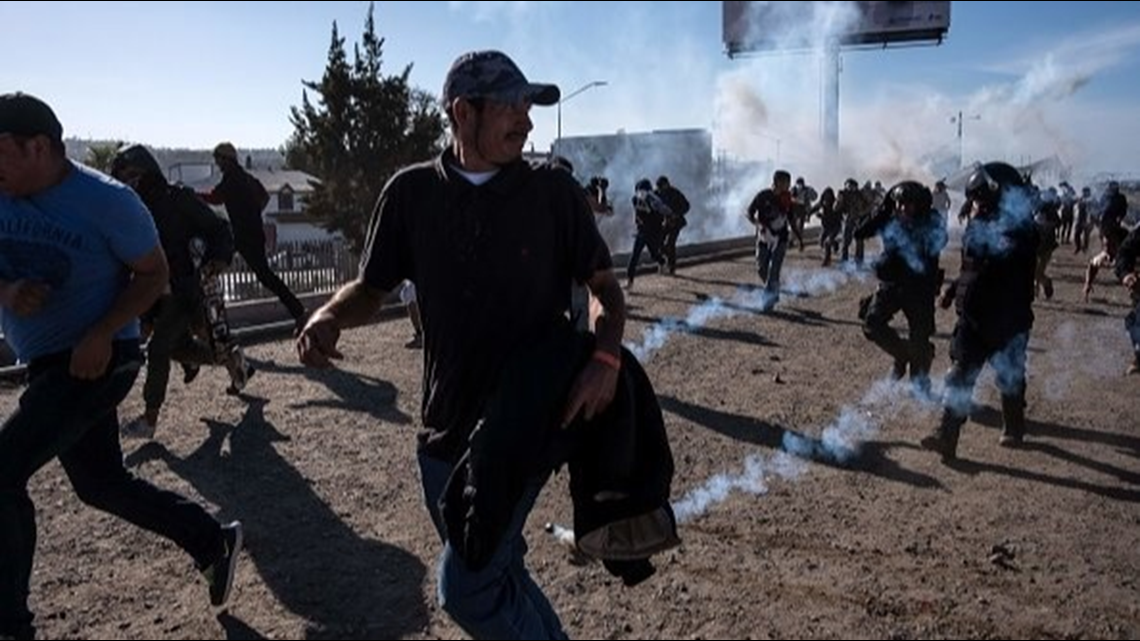 In conclusion, both photos appear to be very real, not staged and a direct reaction to the events unfolding around them.
PHOTOS: Migrants push past Mexican police, approach US border