While there still remains no official winner in the Georgia governor's race, Republican Brian Kemp is declaring victory.
Kemp's staff is saying that Democrat Stacey Abrams has no clear path to victory, and that Kemp should be considered governor-elect. The results are not official.
With all of the precincts reporting, Kemp, who is the current secretary of state, maintained a lead of about 63,000 votes. With 3,919,761 votes counted, that would give Kemp roughly 50.33%. In Georgia, a candidate must receive more than 50 percent of votes cast. Libertarian candidate Ted Metz had about 1 percent of the vote.
In an email released Wednesday afternoon, Kemp's staff said that Kemp's lead over Abrams had grown.
"Absentee ballots are counted and Kemp leads his opponent by 64,000 votes," said Cody Hall, Kemp's press secretary. "Based on counts released by the Secretary of State's office, Brian Kemp's margin is so large that the number of provisional ballots and overseas ballots will not change his Election Day victory. Simply put, it is mathematically impossible for Stacey Abrams to win or force a run-off election."
Abrams has not conceded the race to Kemp, saying "the race is not over." Abrams said thousands of provisional ballots cast on election day still need to be counted, and said there are over 1,000 rejected absentee ballots still in limbo.
Kemp himself maintained a low profile on Wednesday. However, in an afternoon conference call, Kemp staff members said after absentee ballots were counted, the Republican candidate appeared to be in a stronger position than earlier in the day, and that the votes yet to be counted aren't enough to keep Abrams in the race.
"I think the message here is pretty simple that the takeaway is clear – the election is over. The votes have been counted. Brian Kemp is the governor-elect in Georgia," said Austin Chambers with the Kemp campaign. "Based on what we know right now with the votes that are outstanding, it is impossible between the absentees and the provisionals that are outstanding. It is impossible for her to force this into a runoff or recount."
President Donald Trump hasn't waited for the results to be officially certified; he claimed victory for Kemp several times during an afternoon news conference.
Brian Kemp watch party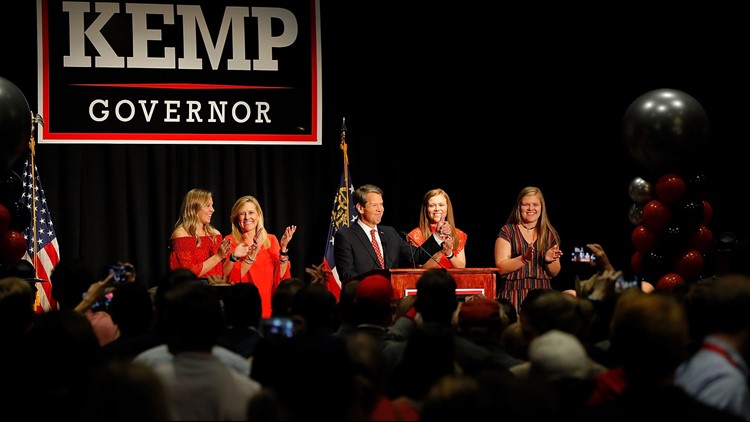 How is a recount triggered?
The votes must first be certified -- which would not come until next week. Ordinarily, the secretary of state's office certifies elections during the week following an election. This gives time for absentee ballots to come in and for any paper ballots to be included in the total.
If the two candidates are within one percent of each other, either candidate may request a recount.
The tabulated electronic votes are stored on memory cards. They would simply be re-uploaded to a server and sent to the secretary of state's office. This process is called re-canvassing.
As secretary of state, Kemp would also be responsible for maintaining oversight of any recount or a runoff election if that comes to pass.
What if there's a runoff?
If no candidate gets more than 50% of all votes cast, a runoff election is automatically triggered between the top two vote-getters in the election.
In this case, the runoff election would take place on Tuesday, Dec. 4 between Brian Kemp and Stacey Abrams, eliminating Libertarian candidate Ted Metz.
Voters who had registered before the Oct. 9 deadline -- even if they did not vote in the general election on Tuesday -- would be eligible to vote in the runoff election.
Stacey Abrams watch party