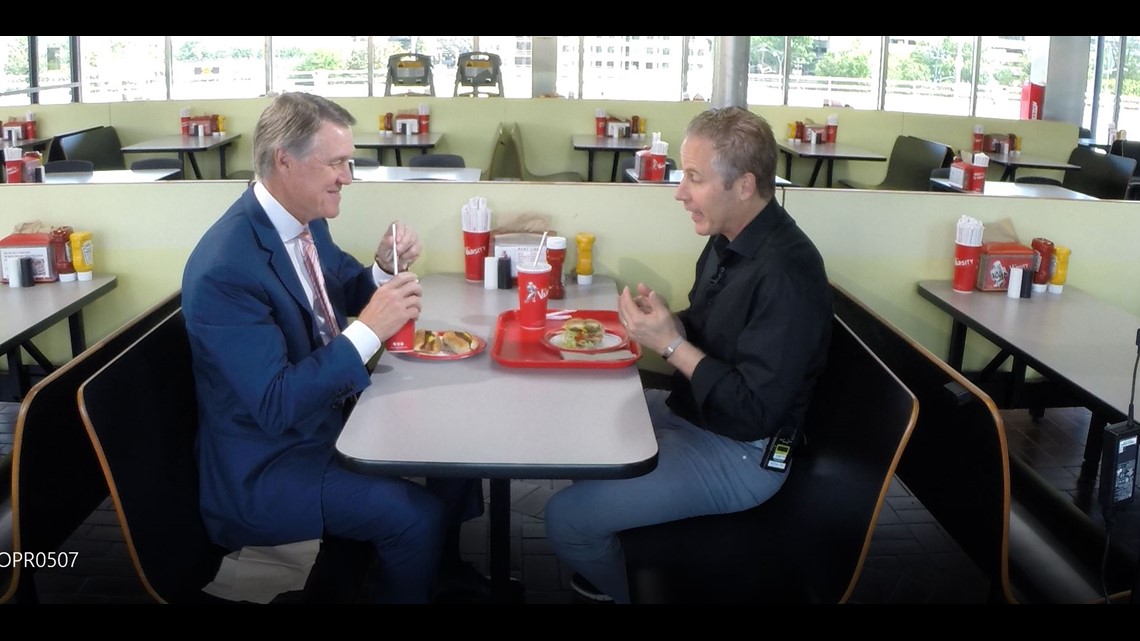 Atlanta — It's not often that we, as journalists, can find a chunk of time to sit down a U.S. Senator for a free-form, broad-ranging conversation about anything under the sun. When they're not representing Georgia's interests in Congress our elected officials spend their time visiting constituents in their home district. But, after months of planning, 11Alive News and Vinnie Politan were able to do just that with Republican Senator David Perdue.
We met Sen. Perdue at The Varsity in downtown Atlanta, a place near and dear to the Georgia Tech graduate's heart. Over chili dogs and Frosted Oranges (he knew exactly what to order), we had a wide-ranging interview. We talked about the perceived impasse in Washington, the Savannah port, Russian trolls, the national debt and career politicians. Not light stuff to chat about over a chili dog but the Senator was open for all questions.
We decided to share the entire conversation here. We broke the interview into three parts and, other than changing up camera angles, are presenting it as it happened: unfiltered, raw, and unedited. In part one (at top of page), we talk to him about compromising in Congress and being a political outsider.
In part 2, we ask Senator Perdue about China, North Korea, and whether he's friendly with any Democrats.
In Part 3, the Senator talks about the how the President's polarity affects Congress, the Dodd-Frank bill, and health care. We also threw in one of Vinnie's signature segments: the lightning round. We ask burning questions like whether he prefers football on Sunday or Saturday and which social media outlet is his favorite.