ATLANTA — Tyler Perry Studios appears ready for the Democratic presidential debate.
The fifth debate between the candidates happens Wednesday, November 20. MSBNC and the Washington Post are hosting the event.
The debate will take place on a White House-themed set that just two weeks ago was a completely empty Sound Stage One at Tyler Perry Studios.
Candidates set to appear include Joe Biden, Elizabeth Warren, Andrew Yang, Rep. Tulsi Gabbard, Tom Steyer, Sen. Bernie Sanders, Sen. Kamala Harris, Sen. Cory Booker, Sen. Amy Klobuchar and Mayor (South Bend, Indiana) Pete Buttigieg.
NBC News Senior Vice President of Specials Rashinda Jones said the candidates' positions on the stage will be set by their polling numbers.
"They're positioned based on polling, so the candidates with the highest polling numbers start in the middle, and then they fan out," Jones said.
An all-female panel will moderate the debate. Moderators include Rachel Maddow, host of "The Rachel Maddow Show" on MSNBC, Andrea Mitchell, host of "Andrea Mitchell Reports" on MSNBC and NBC News chief foreign Affairs correspondent, Kristen Welker, NBC News White House correspondent, and Ashley Parker, Washington Post White House reporter.
RELATED: 11Alive Poll: On eve of Democratic debate, Trump neck-and-neck with leading challengers
The two-hour debate will follow the following format:
No opening statements
75 seconds to answer
45 seconds for follow-ups, at moderators' discretion
75 seconds for closing arguments
Tyler Perry Studios hosts the Democratic debate in Atlanta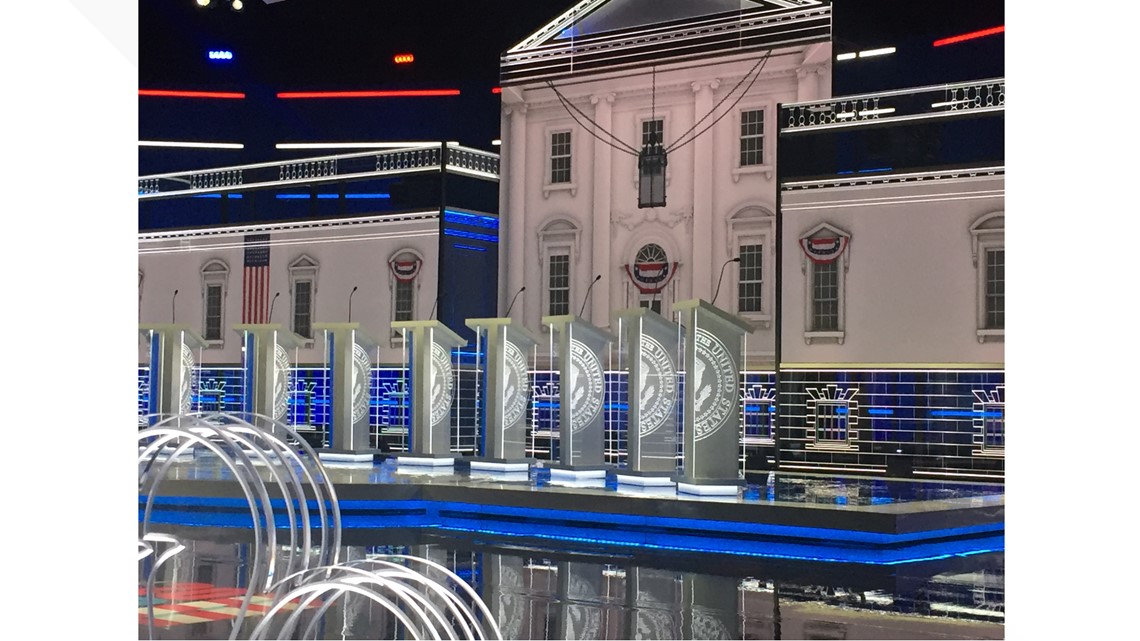 The debates will take place at 9 p.m. Wednesday and will air on MSNBC as well as NBC and Washington Post social and digital platforms.
While the debate is the main event, there are numerous events planned throughout the week. Former President Barack Obama will be in town on the same day, and candidates have plenty of campaign events planned. Here's everything you need to know about the debate and surrounding events in the Atlanta area.
OTHER HEADLINES:
Sophie Speaks: How a Georgia mother allowed her boyfriend to impregnate her 10-year-old
Man tortured by gang members, skull 'depressed' in one the most brutal murders in Atlanta
Police: Teen had plan to attack metro Atlanta church, murder 'multiple' people