Here's who is running for Clayton County sheriff
Voters can make their pick on March 21 during the special election.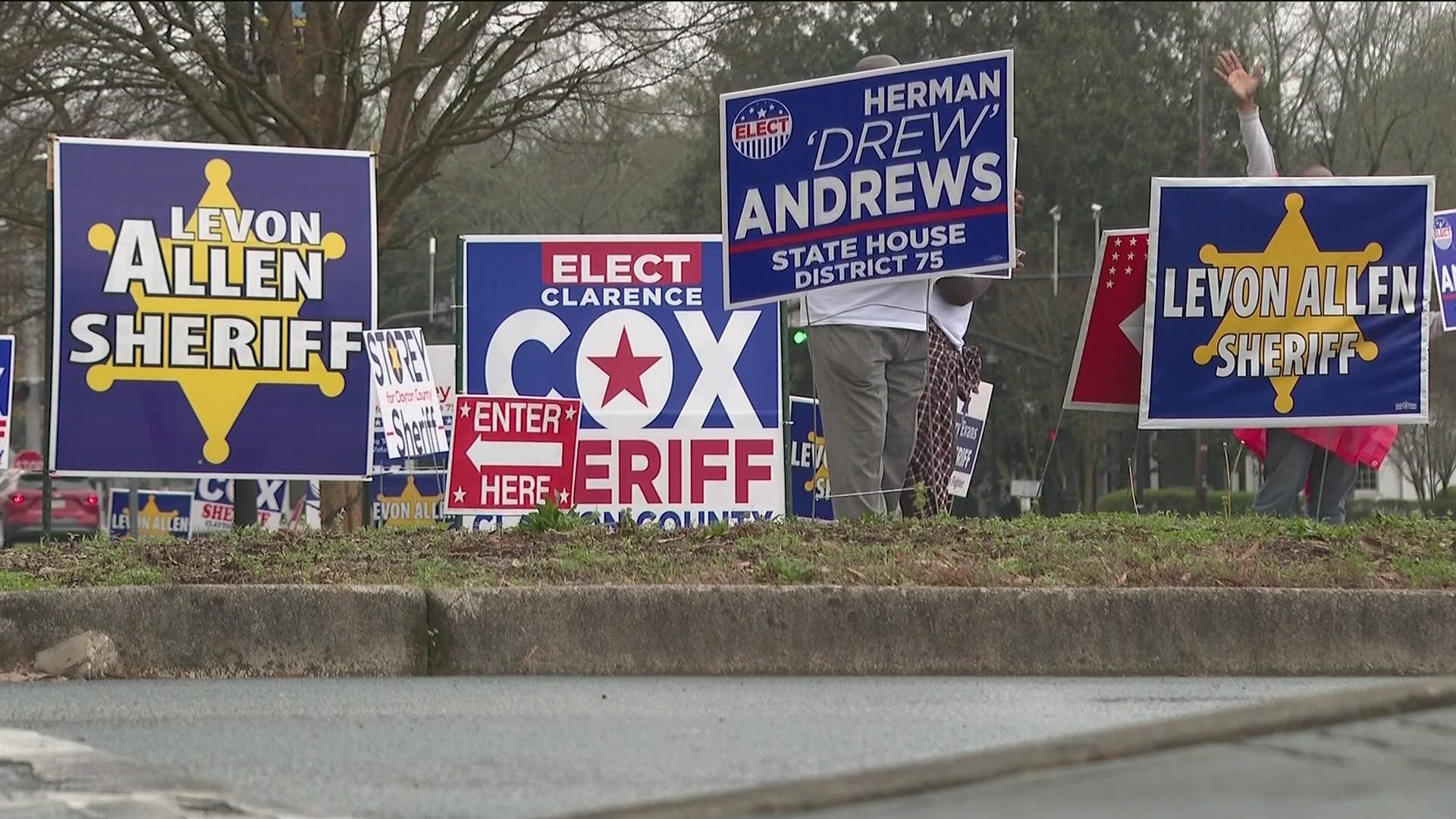 It's a crowded race to become Clayton County's next sheriff.
Five candidates vying for votes, hoping to offer stability and safety as the county's next chief law enforcement officer. Residents can vote for their choice during the special election on March 21. Early voting is underway.
The effort to become the county's top law enforcement officer comes as part of the fallout for embattled former sheriff Victor Hill.
Hill served four terms as sheriff before he was accused of federal civil rights violations. He was found guilty of violating the rights of six inmates while they were under his supervision and will be sentenced on those charges on March 14, a week before Clayton County voters can pick his successor.
As the sheriff's office works to move past Hill and his trial, candidates are promising a brighter future.
Learn about the people who want to be Clayton County's next sheriff below.


Levon Allen
: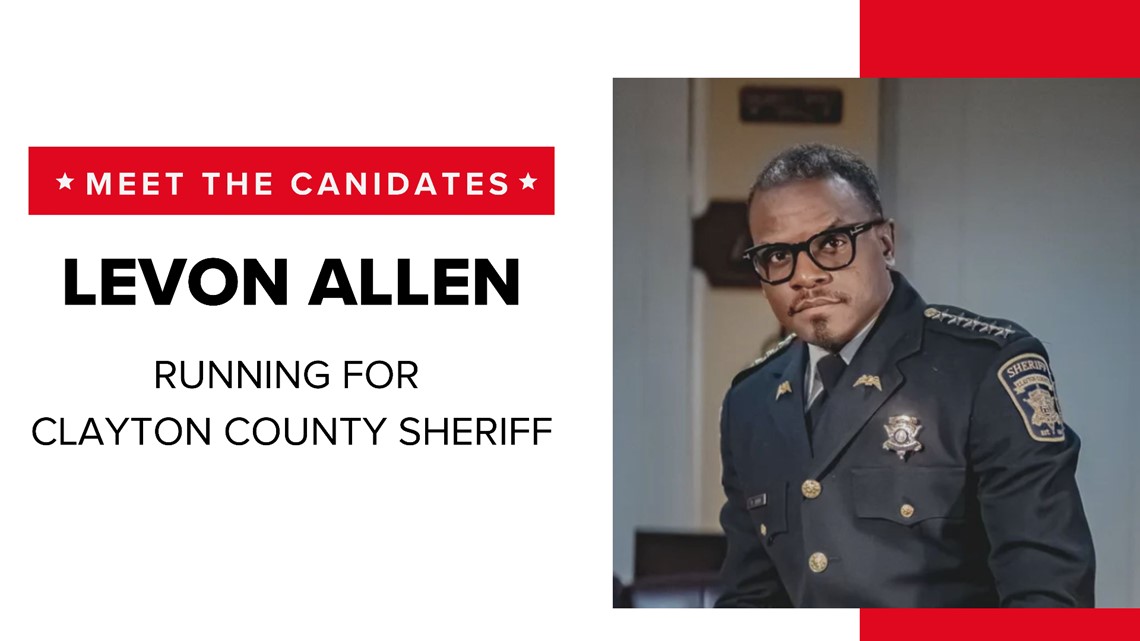 Allen has been serving as interim sheriff since Hill's departure.
Sharing his personal experience witnessing domestic violence within his family, the U.S. Army veteran said he stepped into law enforcement to "defend those who could not defend themselves."
According to his candidate bio on his website, Allen had approached Hill at the sheriff's office in 2008 and explained his goal to one day become sheriff. Allen now claims Hill as his godfather and says he became his protégé.
Before his long career in the Clayton County Sheriff's Office, Allen's law enforcement career started in 2010 in DeKalb County as a detention officer. Allen would eventually obtain a correctional officer position in Clayton County. He worked through the ranks in the sheriff's office, including as chief deputy, his website reads.
Clarence Cox
: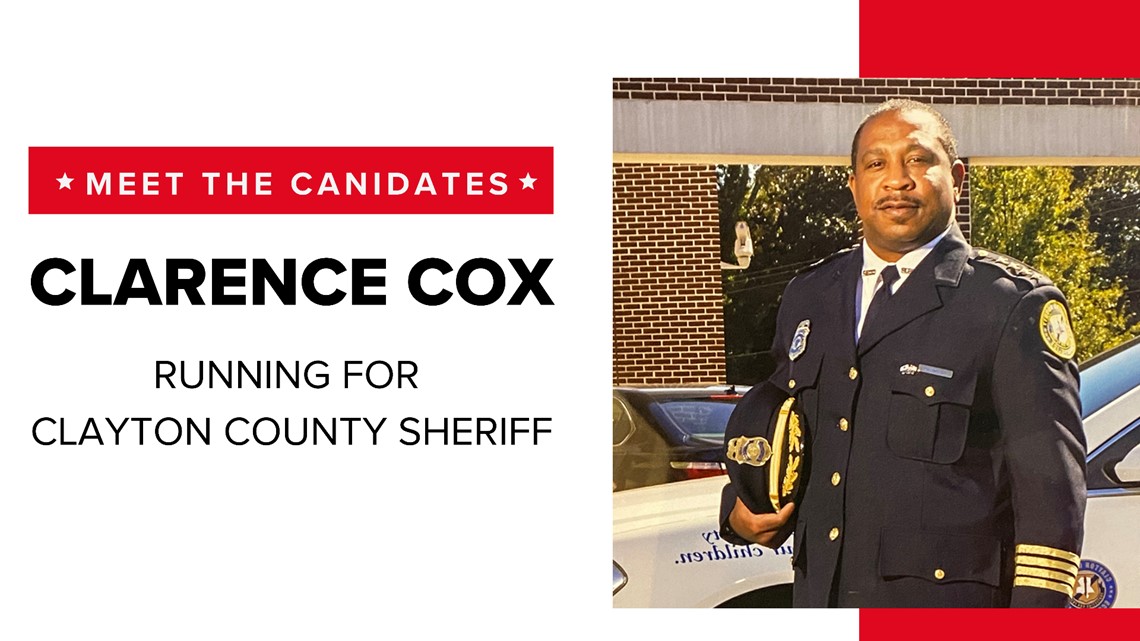 Cox boasts 38 years of law enforcement experience and stands on the platform of bringing more transparency to sheriff's office operations and community-oriented policing practices.
Cox is also known as a law enforcement pioneer.
He is credited for creating the police department for Clayton County Public Schools and served as its first chief and is one of the original members of the Georgia Homeland Security Task Force, previously known as the Georgia Information Sharing and Analysis Center (GISAC). Cox has also served as the deputy chief of Morehouse College Campus Police and has served on drug enforcement task forces.
Beyond working for law enforcement agencies, Cox has also dedicated time to law enforcement organizations. He has served as the National President of the National Organization of Black Law Enforcement Executives (NOBLE), where he co-founded The Convoy of Care which provides humanitarian relief to Georgians and beyond during weather-related disasters.
Terry Evans
: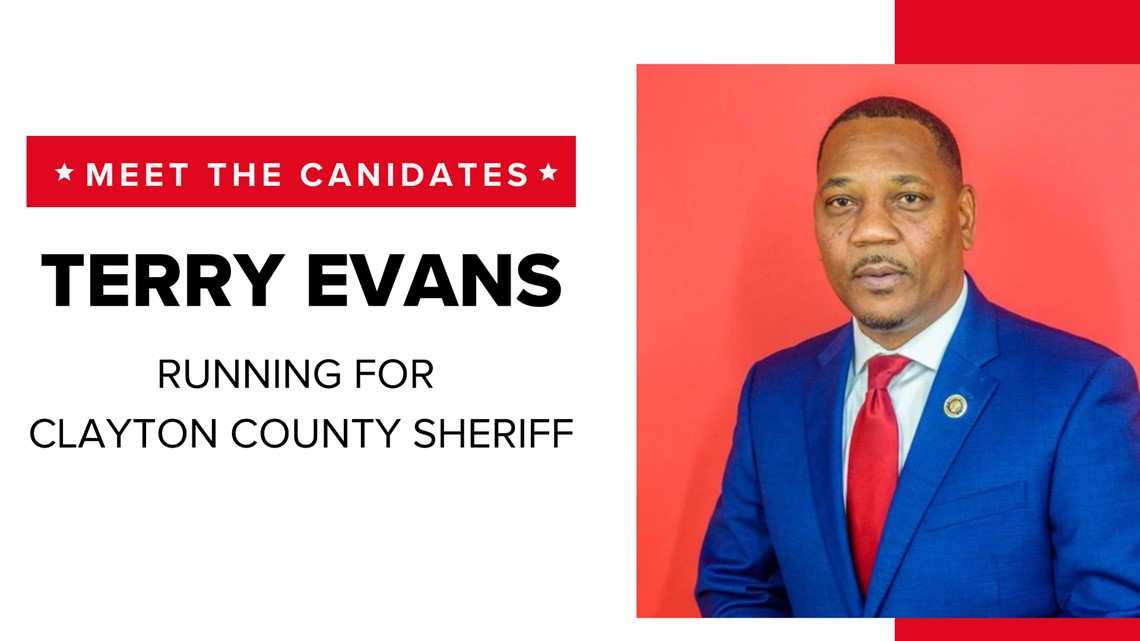 Evans is running for sheriff on the values of integrity, honesty and respect.
A Marine who was honorably discharged 1992, the Dublin, Ga. native first eased into law enforcement with the Georgia Department of Corrections. After starting as a correctional officer and later a watch commander, Evans would further his law enforcement career in Clayton County for two decades.
"During my tenure as Commander, Clayton County experienced the lowest crime rate in the metro Atlanta area," Evans said on his website.
Evans' 20-year law enforcement career in Clayton County includes experience in several special units, as a fugitive investigator and commander of professional standards. He said his resume is a testament to his values and his mission to address criminal behavior and "provide high ethical standards."
Evans' campaign slogan is "I work for you." To learn what that means and learn more about why he wants to become sheriff, visit his campaign website.
Dwayne Fabian
: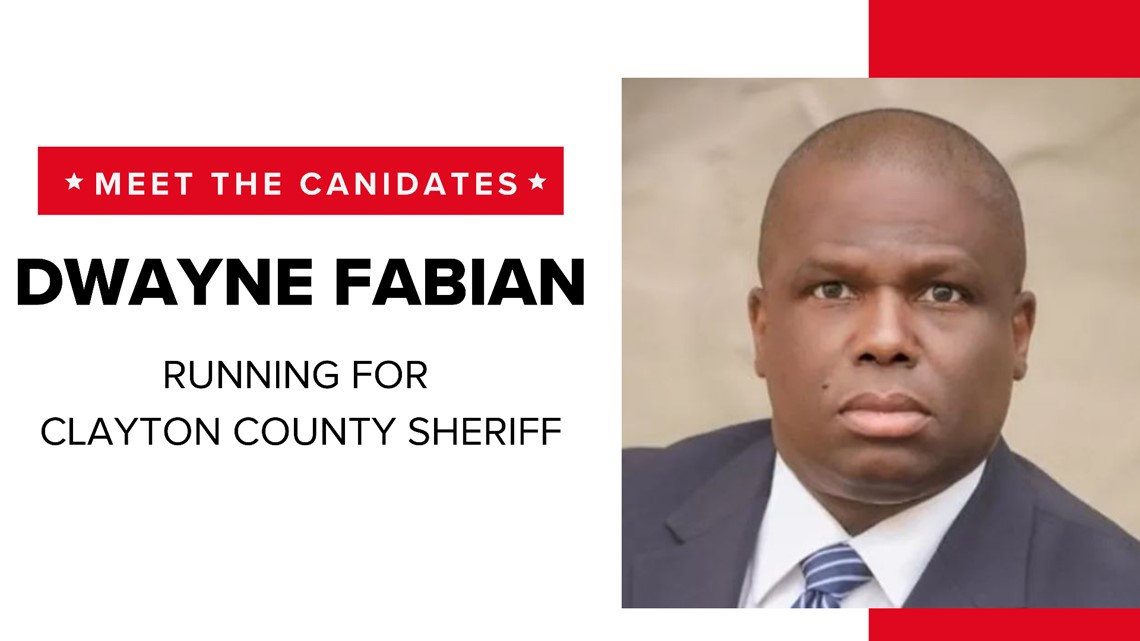 A 31-year law enforcement veteran, Fabian is clear: "I will strive to restore a positive image to the Clayton County Sheriff's Office," he writes on his campaign website.
He outlines on his website how he's going to accomplish this by working to bridge the gap between Clayton County's youth and seniors to help build a better community. Fabian says mentorship is important and intends to help implement programs like the Boys and Girls Club of America to help educate the county's youth on how to become productive members of society.
As far as law enforcement, he aims to purchase drones for the sheriff's office to assist with patrols and to utilize new software to detect shootings and provide more surveillance. He also hopes to form a gang task force with nearby law enforcement agencies to help lessen crime.
Fabian establishes that he's capable to become sheriff due to his varied law enforcement career. Starting as a police officer in Savannah, Fabian later worked a great portion of his law enforcement career with the Georgia State Patrol where he also oversaw portions of Clayton, Fulton and DeKalb counties. He has since retired as a trooper.
As a resident of Clayton County, Fabian feels he is being called to improve the sheriff's office. Learn more about his vision on his campaign website.
Chris Storey
: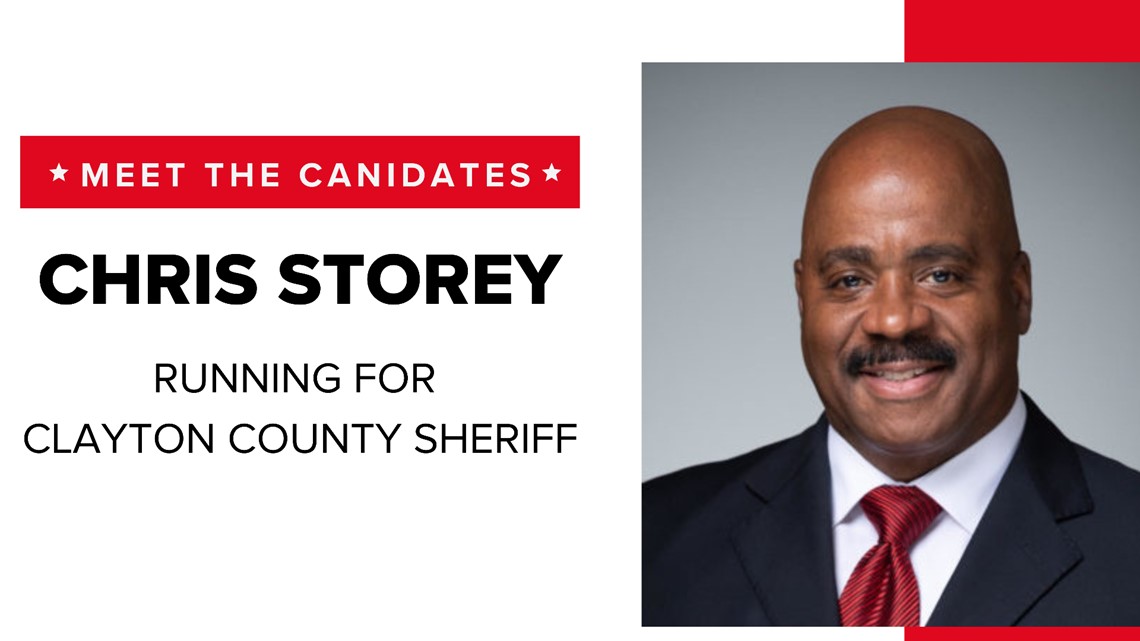 A decorated law enforcement officer, Storey has 23 years of experience serving within the Clayton County Sheriff's Office.
He started his career with the agency in 1999 as a correctional officer in the jail. He was promoted to deputy sheriff in 2001 and would eventually become a general instructor certified by Peace Officer Standards and Training (POST) and advance to receive the senior deputy certification.
Storey is credited for streamlining administrative policies for the sheriff's office stalking unit, assisting with nationwide training regarding domestic violence and taking part in a program to recruit the next generation of law enforcement officers.
Most notably, Storey assisted in the development of the "Train the Trainer" program, concentrating on Historically Black Colleges and Universities in Washington D.C., according to his website. He also participated in the filming of a training DVD at the nation's capital for the National Stalking Resource Center.
11Alive is featuring each candidate ahead of the election. The playlist below feature coverage and candidate profiles of the race.