Georgia election guide 2022: Everything you need to know as a Peach State voter
Georgians will have a lot to weigh as they go to the polls and decide who represents and governs one of the country's most important swing states.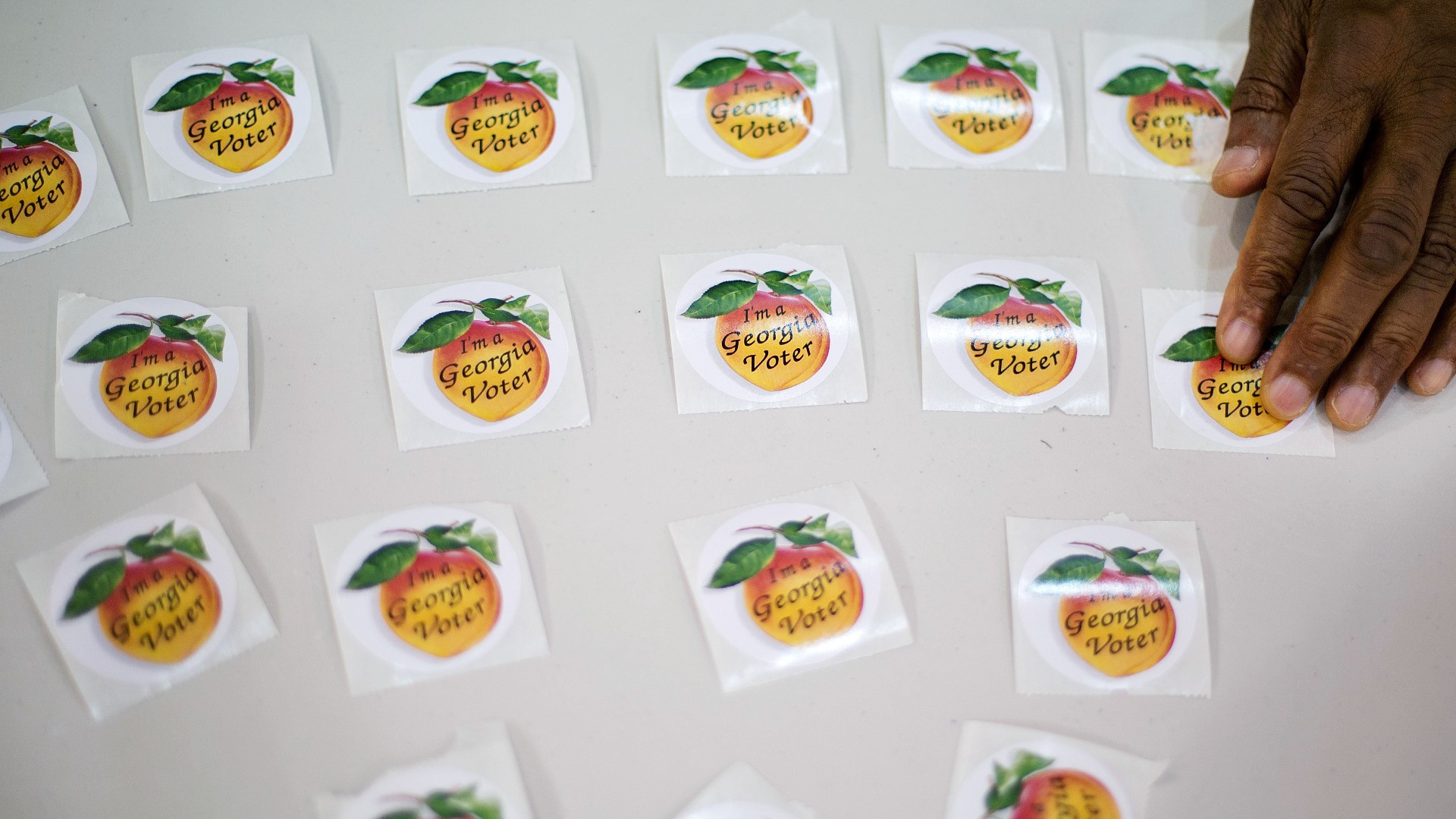 This November, all eyes will be on Georgia, which has the makings of becoming a swing state.
Georgians will have a lot to weigh as they go to the polls - from a crucial U.S. Senate race, to governor, to several other statewide and local offices that have major impacts on how you live.
With this guide, we intend to have you covered across the board. Whether you need resources about how to vote, or information on your local races, or an outline of who the candidates are and what they believe, 11Alive wants to make sure you feel empowered and informed as you head to the polls.
Part 1
:
Ways to vote
You have essentially three options to cast your ballot:
Absentee by mail: For information about how to request and send in an absentee-by-mail paper ballot, visit here. The deadline to request an application is Oct. 28, and all absentee ballots must be received by Election Day (Nov. 8). Voters are encouraged to request early and send back their ballot as soon as possible, as the state cannot guarantee when it will receive your ballot in the mail. You can also ensure it gets received on time by submitting it at a drop box (check your local county site for drop box locations and times. Click here for where to find drop boxes around metro Atlanta.)
Early in-person: The early voting period begins Oct. 17 and ends Nov. 4. Times and locations vary by county, however - you can check your specific county information here.
Election Day in-person: Election Day is Nov. 8, and polls will be open from 7 a.m. to 7 p.m. To know where your voting location is, sign in at the My Voter Page website, scroll to the bottom of your information page, and click "View / Print Precinct Card."
Part 2
:
Voter resources
How to check your registration
This information can all be found on the Georgia Secretary of State's Office's My Voter Page:
Enter your first initial, last name, county of residence and date of birth.
Enter your Georgia ID or driver's license number.
If you are registered to vote, all your information will be available.
The page also allows you to view your U.S. Congressional District, Georgia Senate District and Georgia House District.
For more information on checking your registration, including what to do if you've changed your address recently, click here.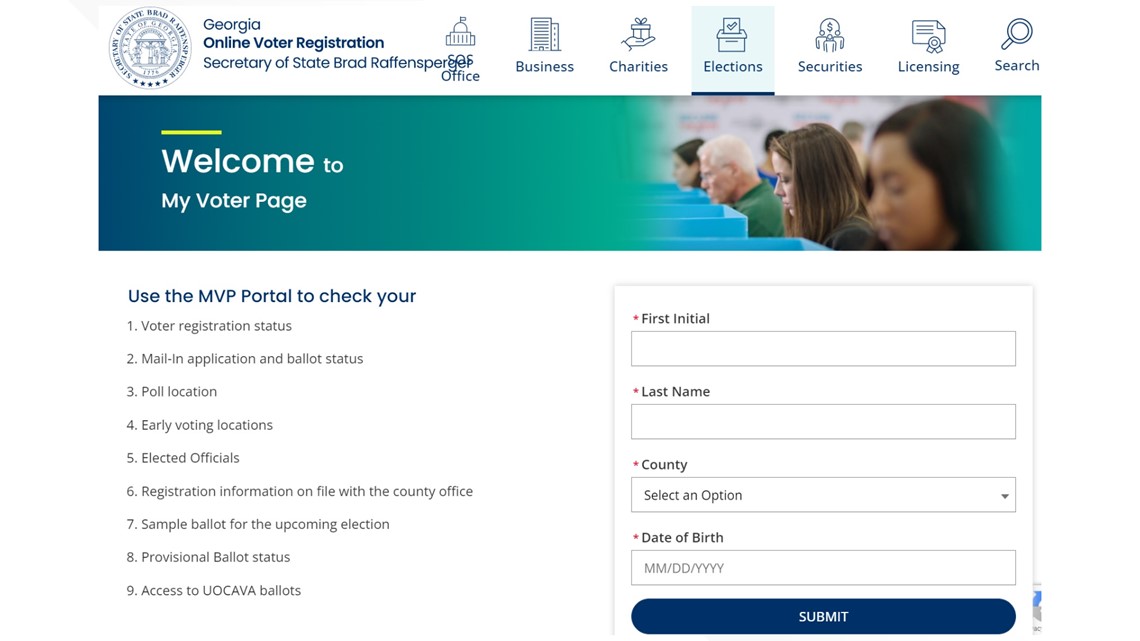 How to find where to vote
Georgia has made this one pretty easy; head to the Georgia My Voter Page and sign-in using your first initial, last name, county and birthday. If the website is not moving forward and says that registration cannot be found, verify that you are registered to vote.
The next page will show the voter's information, and at the top bar, select the "Elected Officials information" tab. That page shows all information for elected officials on the federal, state and local levels.
What do I need to vote?
When you head to the polls, you'll need one of the forms of ID below to cast your ballot:
A Georgia driver's license that's issued by the appropriate state agency.
A valid identification card issued by a branch, department, agency, or entity of the State of Georgia.
A valid U.S. passport.
A valid employee identification card with your photo issued by any branch, department, agency, or entity of the United States government in the state or any county municipality.
A valid U.S. military ID with your photo.
A valid tribal identification card with your photo.
Anyone who registered for the first time in Georgia by mail and didn't provide an ID at the time, can provide one of the six photo IDs (listed above) and one of the following forms of identification below:
A copy of a current utility bill
A bank statement
A government check
A paycheck
Other government documents with your name and address
The State of Georgia offers a free voter identification card if you don't have one of the six acceptable forms of photo ID. The voter ID card can be issued at any county registrar's office or Department of Driver Services Office.
To get one, you will need to provide:
A photo identity document or approved non-photo identity document with your full legal name and date of birth.
Document with your date of birth
Evidence that you're a registered voter
Document with your name and residential address
What time do polls close?
Polls across the state close at 7 p.m. on Election Day. Remember: anyone who is in line before 7 p.m. will be allowed to cast their ballot.
Part 3
:
Local guides
We've compiled guides on five major metro Atlanta counties. Those are:
Part 4
:
The races and issues at stake
Who are the candidates in the major races? What do they believe? What are the issues at stake? We're providing a comprehensive outline for you on these matters across several articles, which include:
There are also two constitutional amendments and two statewide referendum questions facing voters. Those are explained below:
In the next guide, we aim to tell you a little bit about the various jobs you have a say in, and why they demand your attention no less than more high-profile races.
Additionally, 11Alive has conducted polling on Senate, governor, attorney general, secretary of state and issues that concern voters. Those include:
Part 5
:
11Alive's Election Mission Statement
11Alive is committed to helping you vote confidently by understanding the 2022 election issues that impact you. Our goal is to educate and inform our audience about the election process. We plan to do that by verifying facts, providing context, and explaining the system.