ATLANTA — Scroll below for updates.
A historic audit of Georgia's election began today. It's a hand retally of the state's nearly five million ballots cast in the general election on Nov. 3. It's the largest audit in the country's history to be conducted by hand.
This is all in an effort to validate the close results in the presidential race. In Georgia, President-elect Joe Biden leads President Trump by less than .5 percent.
NBC projected Friday that Biden is the apparent winner in Georgia. The Associated Press has not called the race yet.
The audit is not a recount. A recount can happen after the state certifies their election results and must be requested by the candidate. That's why it's being called a retally or hand count.
Throughout the day, we'll update this blog with new information from the counties as they begin the tally.
9:21 p.m. | Deputy Secretary of State, Jordan Fuchs, issued a statement on the lawsuit filed against Secretary of State Brad Raffensperger and others.
The suit, which was filed by Attorney L. Lin Wood, claims the process for handling absentee ballots was changed without approval from the general assembly in such a way that problem ballots could have been missed.
Below is Fuchs statement regarding the complaint:
"Silly baseless claim— grasping. Signature match is intact and the General Assembly passed legislation to allow voters who failed to include a signature time to add one. Fulton County only had one rejected ballot in 2018 and now they have thousands. We strengthened signature match, and will continue to do so, period."
8:08 p.m. | Georgia attorney L. Lin Wood tweeted that he is filing a lawsuit against Secretary of State Brad Raffensperger and others.
According to the document Wood posted on Twitter, Wood is claiming that the defendants "unilaterally, and without the approval or direction of the Georgia General Assembly, changed the process for handling absentee ballots" in the state.
The complaint alleges the tabulation of absentee ballots in last week's election "is improper and must not be permitted."
6:40 p.m. | The Carter Center announced earlier today that they were sending monitors to a number of county audit boards across the state. As an independent, nonpartisan monitor, The Carter Center plans to assess the retally.
We learned Friday afternoon more about the process. As many as 100 non-partisan observers will be in different counties across the state. Watch the interview below.
3:33 p.m. | 11Alive went to the Georgia World Congress Center where Fulton County will begin their election retally process on Saturday. The tables are already set up.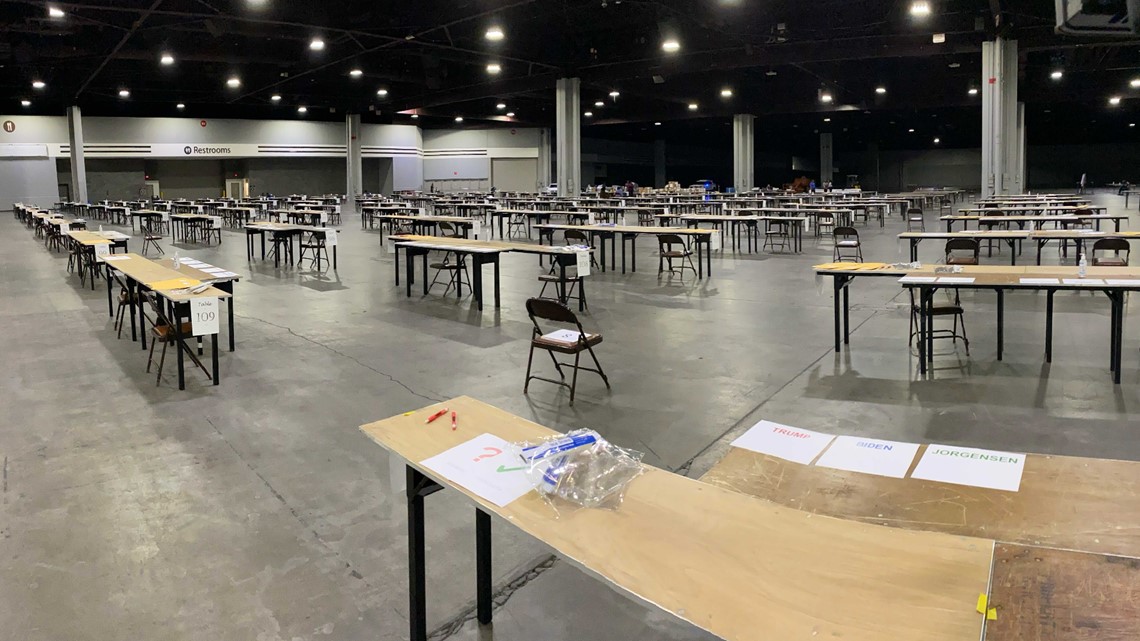 3:20 p.m. | DeKalb wrapped up its news conference about their retally process. They went over protocols for COVID-19 and how the process will be completed. You can watch the update below.
3:01 p.m. | DeKalb County Voter Registration and Elections is getting ready to host a virtual press conference about how they plan to facilitate the audit that requires a tabulation by hand of more than 370,000 ballots.
2:20 p.m. | NBC projects that Joe Biden is the apparent winner in Georgia.
2:04 p.m. | The Secretary of State's Office issued a news release saying monitors from state and county party organizations will be closely observing the statewide full hand tally.
"Transparency is indispensable for ensuring confidence in the outcome of Georgia's elections, which is why I have instructed county elections officials to ensure political party monitors can watch every step of the way," said Secretary of State Brad Raffensperger. "Providing access and oversight of the full hand recount process has been part of the planning since the beginning. We have encouraged counties to livestream their recounts when possible and have made sure political parties can ensure a clean and fair recount in Georgia. Transparency should be a guiding principle in how counties are conducting the audit. While there are rules in place that allow counties to keep order, the more transparency they can provide the better while still ensuring an orderly process."
Georgia counties started their statewide Risk Limiting Audit Friday and they must finish by 11:59 pm on Wednesday, November 18. The Secretary of State's Office will then certify statewide election results after completion of the audit, by November 20.
While the audit triggered recount must be open to the public and media, designated monitors will be able to observe more closely. The general public and the press will be restricted to a public viewing area.
1:20 p.m. | As of 1 p.m., Biden is still leading in Georgia. The margin between Biden and Trump is now up to about 14,150 votes.
1:15 p.m. | Cobb County elections have certified the county's election results.
1:09 p.m. | Douglas County Board of Elections & Registration told 11Alive this afternoon that the county started its retally today at Deer Lick Park Gym. The cut off time each day will be 6 p.m. They will work every day until the tally is completed.
12:55 | Fulton County announces they have certified their election results with the state.
Fulton County Election Director Richard Barron said they will begin counting on Saturday and said it could take until Monday to finish. The two-person audit boards are made up of Fulton County employees.
12:15 p.m. | Cobb County elections officials gathered to certify results. Their audit began this morning. Officials estimated it could take until Wednesday to finish the audit.
12:00 p.m. | Video in Cobb County shows workers conducting the hand county audit. They will work until about 6:00 p.m. on Friday and return in the morning on Saturday.
10:43 a.m. | Georgia's Secretary of State Brad Raffensperger went into quarantine yesterday after his wife tested positive for COVID-19. Today, his office said, "his leadership team will quarantine for 10 days and be actively engaged with county management throughout the recount process."
Raffensperger will remain in quarantine as well.
10:00 a.m. | Gwinnett County began their audit with about 150 audit boards working at a time.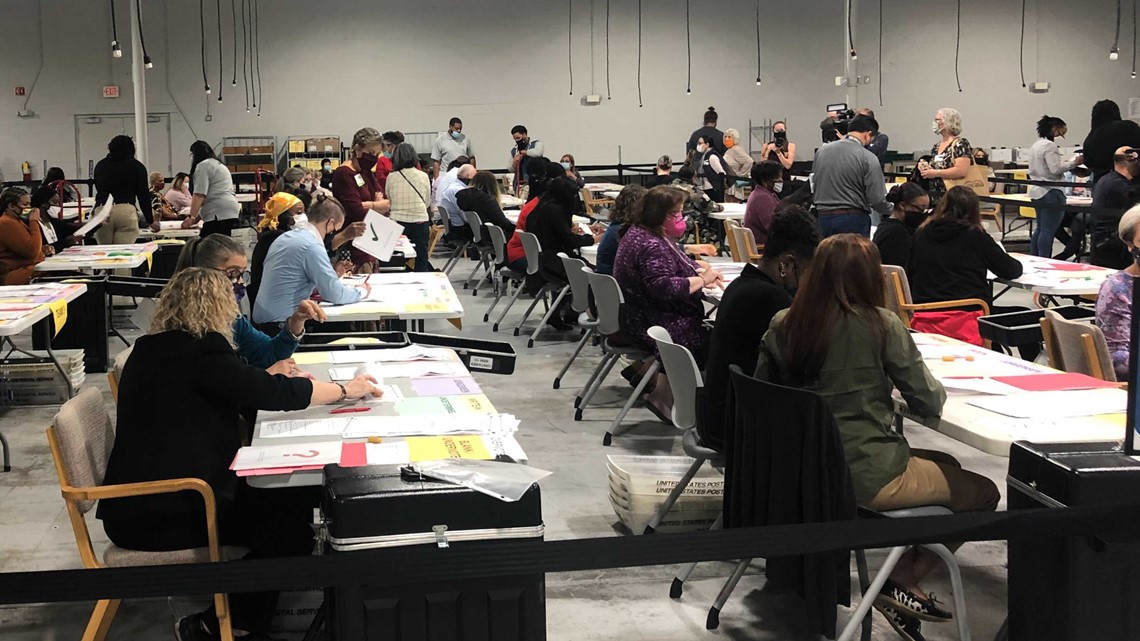 9:42 a.m. | DeKalb County announced they would begin their audit on Saturday. On Friday, the county certified its election results.
9:30 a.m. | Clayton County has certified their election results and began their audit at 9:00 a.m. at the Clayton County Police headquarters.
9:00 a.m. | Cherokee County announced their audit would begin at 9 a.m. and last until 11 p.m. "every day until completion." Officials said everyone involved is required to wear a mask.
9:00 a.m. | Athens-Clarke County has set up a live stream of the retally process for public view:
8:53 a.m. | The Carter Center announced they will monitor the risk-limiting audit in Georgia. They were accredited by Georgia's Secretary of State's office. In a release, the organization said they will be spread across the state.
"What we're monitoring is what many people have been calling the hand recount. Because the margin in the presidential race is so close, this sort of audit essentially requires review of every ballot by hand," said Paige Alexander, the Carter Center's CEO. "This is unusual, but it provides an opportunity to build trust in the electoral system prior to the state's certification of results."
The Carter Center, founded by former U.S. President Jimmy Carter and former First Lady Rosalynn Carter, typically monitors elections in third world counties. This is the first time they're taking these measures in a country like the United States.