MACON, Ga. -- The state's two major candidates for governor, Democrat Stacey Abrams and Republican Brian Kemp appeared together on Tuesday afternoon before the Georgia Chamber of Commerce's Congressional Luncheon in Macon.
This marks the first time that both candidates are appearing together in the same venue since this year's primary and runoff elections.
During Tuesday's hour-long session, Abrams and Kemp each spoke to the assembled members of the state's chambers of commerce at their annual conference. After each candidate spoke for about 20 minutes, another 10 minutes was taken up in a Q&A session with Georgia Chamber president Chris Clark.
Both Abrams and Kemp concentrated on their core messages, as geared toward small businesses across the state, while the two candidates avoided the sort of personal attacks that have peppered recent television commercials.
The 44-year-old Abrams has been in politics for the past 12 years since first running for office in 2006. Most recently, Abrams was House Minority Leader in the General Assembly while representing the 89th House District.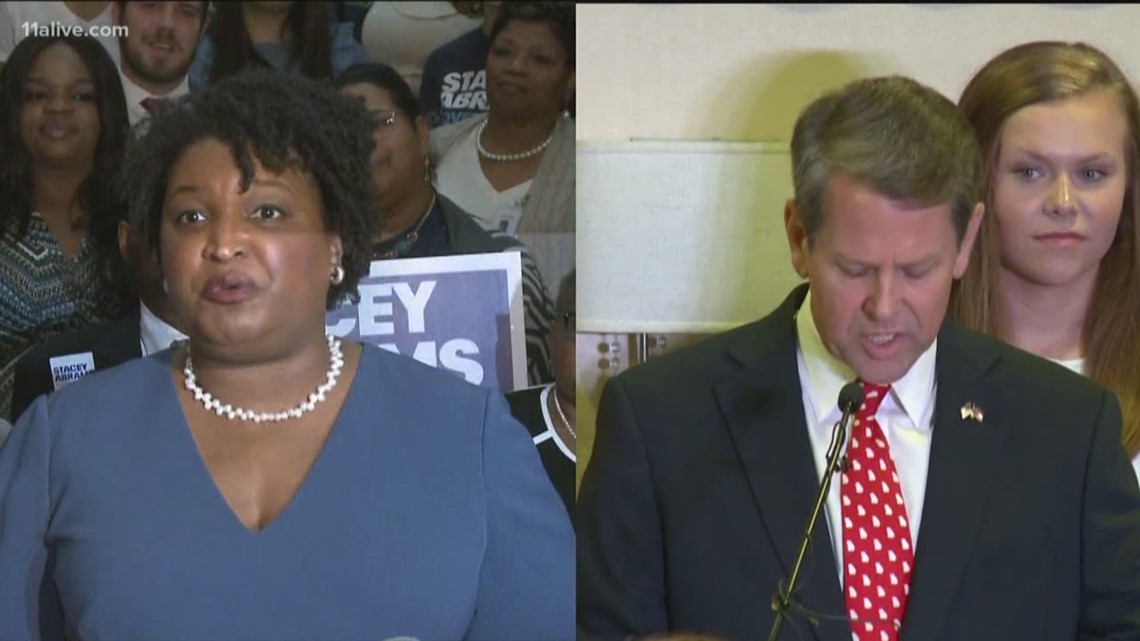 Brian Kemp, 55, is the state's current Secretary of State, and like his opponent during the recent primary runoff, Lt. Gov. Casey Cagle, retained his job during the current campaign for governor.
Since the secretary of state's office oversees the election process in the state of Georgia, multiple groups have called for Kemp to resign, citing a potential conflict of interest.
Recent television commercials for each candidate points to debt owed by the other candidate as a measure of fiscal irresponsibility.
A recent 11Alive News analysis of the debt from both candidates shows that Abrams owes a total of $227,000 in IRS, credit card and student loan debt. About $54,000 of that debt was directly to the Internal Revenue Service.
Kemp says "it ought to be" illegal for Kemp to more than $50,000 to the IRS while helping her campaign financially. Abrams says she needed to defer paying taxes due to a family emergency and is on a payment plan with the IRS.
"I could not defer my family's needs. I could defer paying my taxes and I am paying them. The IRS and I are in good standing," Abrams told 11Alive News earlier this month.
Kemp is a defendant in a lawsuit over a half-million dollar loan he guaranteed in 2016 but never repaid. Kemp says the money is owed by a company in which he's an investor called Hart AgStrong.
North Georgia businessman Rick Phillips said Kemp signed a document personally guaranteeing repayment. When the loan came due, Phillips told 11Alive Kemp requested two 90 day extensions – yet failed to repay the half million dollars.
"He made it very plain he would secure the debt," Phillips said.
Kemp's campaign released a statement in June saying, in part: "Brian Kemp is one of many investors in Hart AgStrong. He's not in charge of operations and the company is working to settle their debts."
Kemp also claims Hart AgStrong has failed to repay money owed to Kemp.