Metro Atlanta county & municipal elections on March 21 | Everything you need to know
Voters in several communities around metro Atlanta are headed to the polls.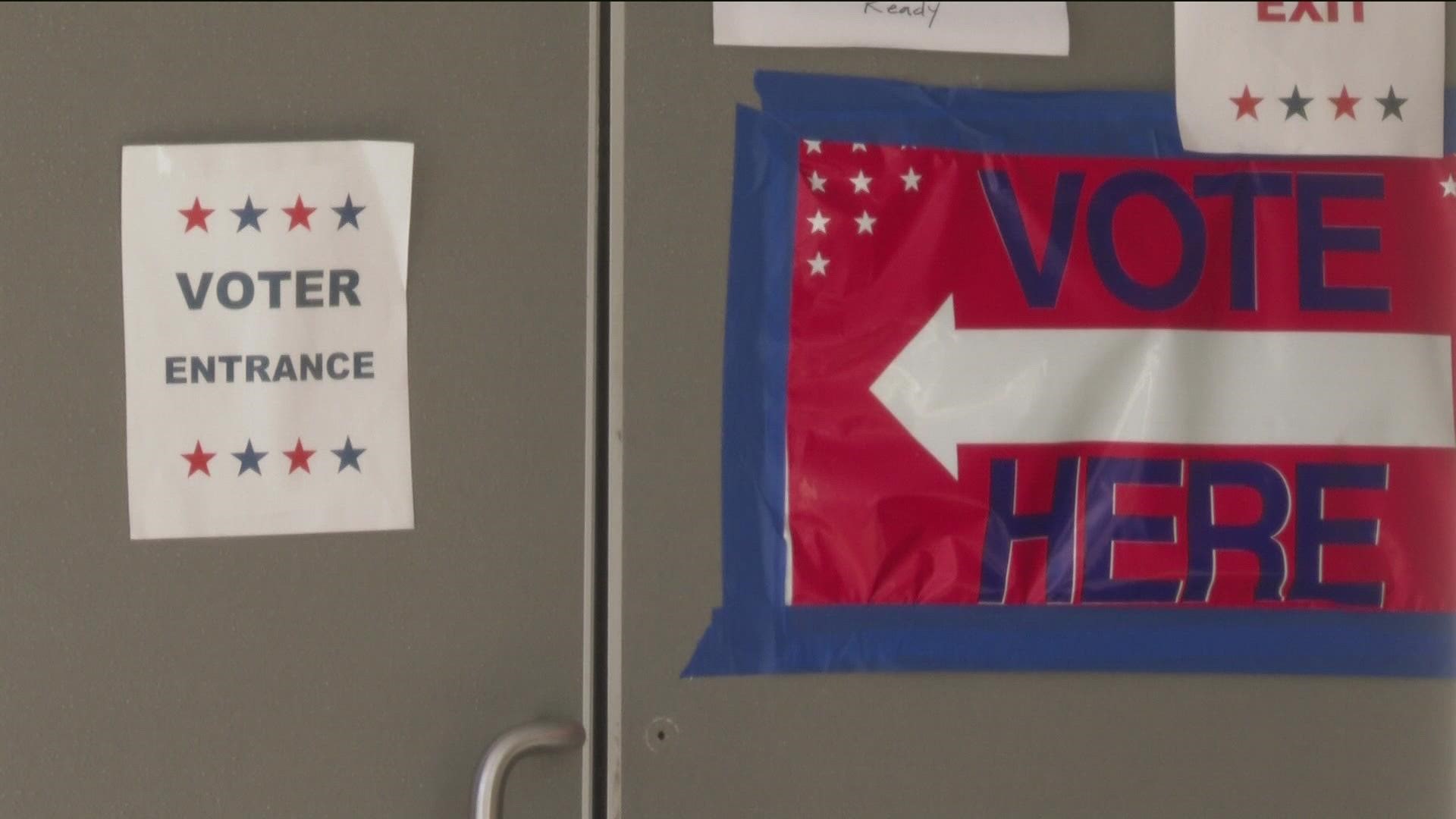 Several communities around metro Atlanta will head to the polls on Tuesday, March 21, for important local elections.
Here are the details on those races and more as voters around metro Atlanta prepare to go to the polls and decide important races that impact their communities:
Clayton County sheriff
:
11Alive has already compiled extensive profiles on all the candidates in the Clayton County sheriff's race.
This race looms large as the headliner Tuesday - ex-sheriff Victor Hill was one of the most influential and towering local politicians in metro Atlanta before a federal inmate abuse conviction led to his retirement and an 18-month prison sentence.
Click the profiles below to read more about each of the candidates jockeying to replace Hill in this key Clayton County position:
Mableton
:
The races they'll vote on include:
Long is a public policy advocate and has reportedly raised the most money in the race, as of this week. According to her website, she has public policy experience and worked as chief of staff to the state's Senate Minority Leader Gloria Butler. If she wins, Long's website said she wants to prioritize fashioning Mableton as a family-friendly city and healing the division in the community between those who were for incorporating the area as a city, and those who were against.
According to his website, Carman was against cityhood and is running "to represent all of those who voted against cityhood by ensuring that we build this city's foundation with transparency and minimal financial impact on the residents." The site notes he has 23+ years of career experience in sales, marketing, operations and leadership.
Owens' Instagram page notes he is a Marine Corp vet and cybersecurity expert who attended Harvard, Georgia Tech and North Carolina A&T for various degrees. He has the endorsement of former Gov. Roy Barnes - who was raised in Mableton, and his campaign is emphasizing issues such as building a functional and transparent city government, protecting home values & increasing affordable home availability, and ending food deserts and increase entertainment options in the area.
Murphy's website states he is a businessman and former executive at companies including Ford and Dunkin Donuts, who knows "the important of being budget-conscious." He also has a political background as chairman of the Austell Community Task Force and special assistant to the late, former Cobb County Commission Chair Mike Boyce. His campaign emphasizes small business opportunities, affordable housing, development and "environmentally sensible solid waste solutions."
The other Mableton races are:
Jonesboro
:
Jonesboro has two special elections, one to fill the role of mayor after the resignation of longtime Mayor Joy B. Day to spend more time with family.
They're also voting on two city council seats (though in one race, the sole candidate is unopposed) because the two mayoral candidates vacated their seats to run for mayor.
Sartor's endorsements include the Elect Black Women PAC and some of her campaign planks include prioritizing clean and safe neighborhoods as well as a promise to "push back against developers that are more concerned about their profit than the residents." She wants to emphasize developments that "provide diversified housing, dining and entertainment options that honor and respect Jonesboro's diversity and quality of life."
Sebo-Hand's website emphasizes affordable housing, replacing the city's public library, improving roads and wastewater management and upgrading city parks. She promises to "continue advancing the city forward in a progressive manner while maintaining its ambience and small town vibe."
City Council (Sartor's seat)
City Council (Sebo-Hand's seat)
State House District 75
:
Andrews is an Army veteran with more than 20 years of service, according to his campaign site, and is now a community organizer. He has prioritized issues such as fighting "against voter suppression, wage stagnation, poor healthcare and discrimination in any form." His campaign planks also include being an advocate for small business and creating financial opportunities, as well as "an action plan to mend the fractured relationship between the community and the police."
Ashley's platform includes boosting "community identity and community pride," improving services -- especially for youth and women in need, and adding or improving community gardening space, special needs education, shelters for people experiencing homelessness or abuse, roads and mental health. She is a church volunteer and homemaker and has been an officer in the Public Health Service Commissioned Corps.
Bell's social media pages state he is a Morehouse graduate, a Naval officer, activist and advocate. His platforms include enhancing services for seniors, building safer communities and improving recreation options for youth, as well as prioritizing mental health.
Other things on the ballot
:
There are two other things to keep an eye on.
A school district bond to generate $434 million with a 1% sales tax increase. The money would go to pay for one new high school and three new elementary schools, as well as an early learning center; new school buses and other bus equipment; technology upgrades; acquiring land for future school and athletic facilities; and repairs and renovations at existing facilities within the county.
A SPLOST (special purpose land option sales tax) 1% tax increase to generate $217 million for road, street and bridge improvements; county building and stormwater renovations and improvements; retiring debt and infrastructure in Fayetteville; public safety and building improvements in Peachtree City; infrastructure and road improvements in Tyrone.
See the sample ballot for a more detailed breakdown of exactly what the SPLOST money would pay for.
11Alive is committed to helping you vote confidently by understanding the 2023 election issues that impact you. Our goal is to educate and inform our audience about the election process. We plan to do that by verifying facts, providing context, and explaining the system. In addition, get more election resources here at 11alive.com/vote.