ATLANTA — Republican gubernatorial candidate Brian Kemp may have declared himself the winner of Georgia's governor's race, but Democrat Stacey Abrams is not backing down.
"We know our opponent has declared himself victor and we do not accept that," campaign staffers said during a media call Wednesday night, the day after the Nov. 6 election.
With all of the precincts reporting, Kemp, who is the current secretary of state, maintained a lead of about 63,000 votes. With 3,919,761 votes counted, that would give Kemp roughly 50.33 percent of the vote. In Georgia, a candidate must receive more than 50 percent of votes cast. Libertarian candidate Ted Metz had about 1 percent of the vote.
"Based on what we know right now with the votes that are outstanding, it is impossible between the absentees and the provisionals that are outstanding. It is impossible for her to force this into a runoff or recount," Kemp's campaign said Wednesday afternoon.
During the call, Abrams team pointed out two numbers: 25,700 and 23,800. If Abrams can get 25,700 more votes, then she would force a runoff with Kemp. The 23,800 more votes for Abrams would force an automatic recount.
But the Secretary of State's office, run by Kemp, said there aren't any votes left to count.
According to the Kemp camp, there are about 22,000 provisional and around 3,000 mail-in ballots outstanding. Even if Abrams got every single one of those votes, that still wouldn't be enough. However Abrams' team said they are concerned about those numbers because there has been no data or proof offered to back that number up; they are looking into the numbers on their own.
"Georgia voters are supposed to take the Secretary of State's statement as face value - we reject that," Abrams' campaign manager said. "They deserve these votes to be counted before (Kemp) crowns himself winner."
Brian Kemp watch party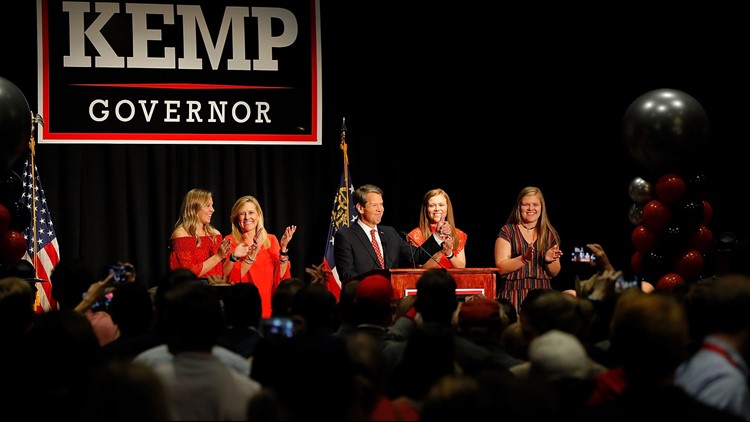 Abrams' team said they believe the majority of remaining uncounted votes are in Democrat-leaning places and said, as more time goes by, the margin between the two candidates continued to shrink. The team said they are now focusing on developing a strategy to "ensure every vote is counted and that Georgians have the ability to have confidence in the election and its outcome."
Right now, Abrams' campaign said they are not leaving any options on the table and exploring all legal avenues to make sure every vote is counted. That included asking the governor's office for an extension in accepting ballots in hurricane-impacted areas in south Georgia, like Dougherty County, which they said had to re-route mail through Tallahassee, Florida.
"We saw historic turnout and we want every vote understood and accounted for. That's what Georgians expect," staffers said. "When that happens, we will accept those results. We have nothing close to that at this hour."
Elections are supposed to be certified the Monday after an election is held, but this year, that Monday falls on a federal holiday - Veteran's Day is Sunday, Nov. 11. According to Abrams' team, that's left counties with some confusion as to their deadline because they have not gotten guidance from the Secretary of State's office. The Secretary of State's office certifies elections Nov. 20.
Meanwhile, Abram's campaign said all of the optics have raised the question of a conflict of interest.
"He's using Secretary of State's office as an arm of his campaign apparatus and we need to understand why and how there is division between those two efforts," campaign officials said. "It is well past time that the Secretary of State resign from position of overseeing this election."
Ultimately, the team said, they will continue to push for transparency "before there is any conclusion to this campaign."
"This is about the voters of Georgia," they said.
The votes must first be certified -- which would not come until next week. Ordinarily, the Secretary of State's office certifies elections during the week following an election. This gives time for absentee ballots to come in and for any paper ballots to be included in the total.
If the two candidates are within one percent of each other, either candidate may request a recount.
The tabulated electronic votes are stored on memory cards. They would simply be re-uploaded to a server and sent to the Secretary of State's office. This process is called re-canvassing.
As secretary of state, Kemp would also be responsible for maintaining oversight of any recount or a runoff election if that comes to pass.
If no candidate gets more than 50 percent of all votes cast, a runoff election is automatically triggered between the top two vote-getters in the election.
In this case, the runoff election would take place on Tuesday, Dec. 4 between Brian Kemp and Stacey Abrams, eliminating Libertarian candidate Ted Metz.
Voters who had registered before the Oct. 9 deadline -- even if they did not vote in the general election on Tuesday -- would be eligible to vote in the runoff election.
Stacey Abrams watch party