Editor's Note: This interview with Stacey Abrams, the Democratic candidate in the Georgia governor's race, was conducted prior to Election Night. As of November 7, an official winner in that governor's race had yet to be declared. Click here for an interview with Abrams' opponent, Republican Brian Kemp.
There is a growing crowd inside Emerald City Bagels in Atlanta.
Andrew Hansen stands out. He is dressed in a bunny costume holding his 5-month-old daughter, Esther who is wearing a pumpkin onesie for Halloween.
Hansen makes his way through the group of people to take a picture with Stacey Abrams.
"I want my daughter will have a souvenir of a moment in history," he said. "I'm so glad we got to meet her."
Hansen lives in Summerville. He knows the historic implication of Georgia's Governor's race.
Stacey Abrams is campaigning to break a decade's long Republican streak in the Governor's office and become the first African American woman in the country elected to that office. She has campaigned in all 159 counties in Georgia. The pace is fierce.
Moments to be still are hard to come by. When they do, you'll find Stacey Abrams enjoying her collection of tea sets.
"I've picked these up from trips to other parts of the world," she said.
She loves to brew a cup of flower tea and immerse herself in a good book. The daughter of a librarian is a voracious reader and an accomplished author.
"These are the eight books that I have published."
She showed us her books among hundreds that fill her shelf. Stacey Abrams says who she is personally and in politics is set in a foundation her family laid.
"My mom and dad both worked full-time and struggled to make ends meet," she said.
"We were a working poor family and I am the second of six kids."
Her parents both earned master's degrees from Emory University. Abrams saw how education opened opportunities for them.
"My mom was the only one of seven siblings to finish high school," she added. "Dad the first in his family to graduate from college."
It is why one pledge in her campaign is to work to make a good education accessible for every family in every county in the state.
"I want to make sure others can have the same opportunities, I want to guarantee that they can finish high school and get a good job or graduate college without going into debt."
Stacey Abrams has a love for country music and said it's a good example of how she has learned to be open to differences.
"When I was 15 I made a statement that I hated country music, how did I know? I had never listened to it."
So, she listened, and she learned to appreciate it.
She says working with many viewpoints is essential in governing a state politically divided.
"When I am the next Governor I intend to work across the aisle to find solutions to problems I have very clear goals, but I know we have to work together to get there."
"I would say my campaign has not been a vitriolic campaign I haven't run it as a base campaign I've run it to build a coalition."
Abrams says the welcome she has received in rural Georgia has been encouraging. Another sign, she says, that the democratic party in the state is growing and evolving.
"We've had more people register, we've had more people move into the state, we also we have an electorate that has been watching some terrible decision making at the federal level and there is a real understanding of the consequence of elections."
But questions about voter suppression and problems with absentee ballots have been part of the campaign.
"Unfortunately, my opponent has twice sued to try and allow them to reject ballots," she said.
Oprah, Stacey Abrams host town hall in Marietta ahead of midterm elections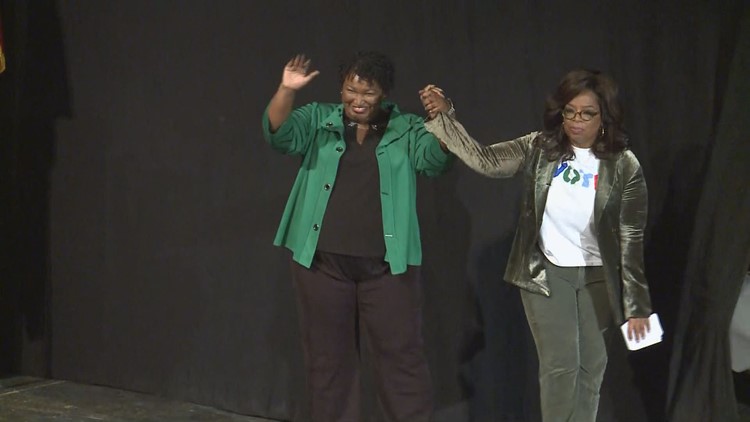 Abrams says her opponent staying in his office as Secretary of State has presented a conflict of interest. "I think that is very sad, if you are the guardian of the public trust you should be fighting to defend voters, not in court trying to reject voters."
Ambassador Andrew Young, Common, Oprah, and Former President Barak Obama have joined Abrams on her campaign trail.
Ambassador Young said in one rally, "This is a choice that will make the world better for all of us."
Stacey Abrams already has a list of firsts in her political career.
"I was the first woman, from either party, to lead in the general assembly and I was first African American to lead in the House of Representatives."
A win on November 6th would bring the most significant first yet.
"What I've already been able to achieve has sent signals around this country that more is possible for everyone." She adds "It is incredibly humbling."