ATLANTA -- Early voting for the May 22 primary elections starts on Monday, April 30 across Georgia.
In the primaries, most statewide and local races will be up for grabs, including those for governor and the general assembly. Other statewide races will include lieutenant governor, secretary of state and other state cabinet posts. Most counties will have commissioners' posts and education boards open for election. Some counties will include judicial posts open.
U.S. congressional candidates will also be chosen for each party during this primary election.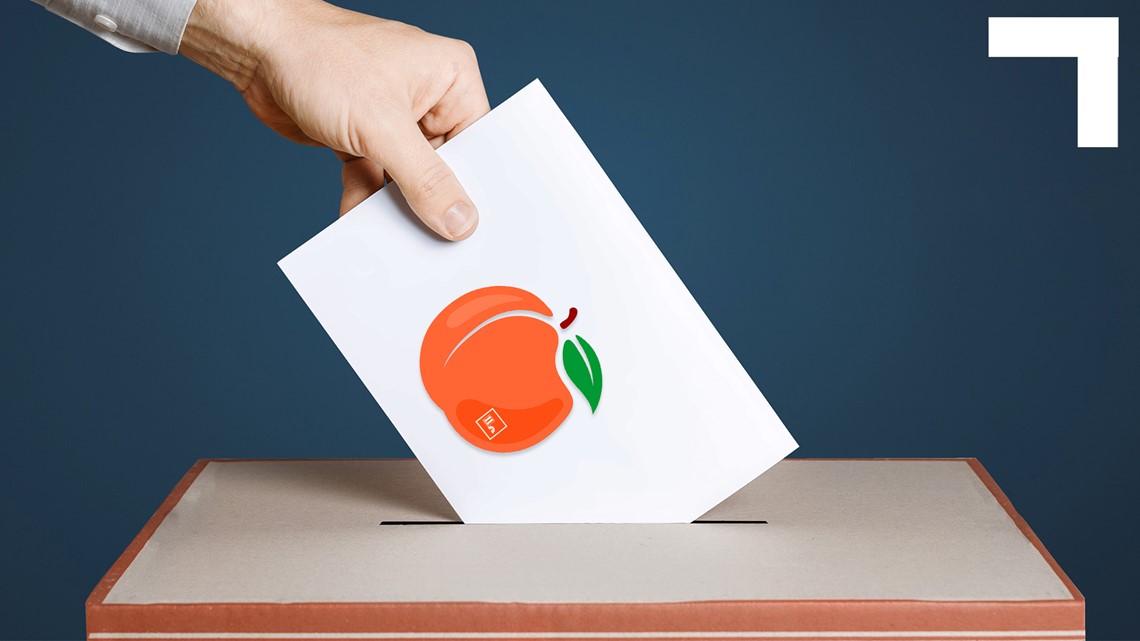 Who is running?
Georgia's current governor, Nathan Deal, is nearing the end of his second term, and by law is not permitted to serve more than two terms. The field is wide open with candidates running to replace him.
Stacey Abrams - Ex-state house minority leader, attorney and novelist
Stacey Evans - Ex-state representative and attorney
Casey Cagle - Lieutenant governor and ex-state senator
Eddie Hayes - Restaurant owner
Hunter Hill - Ex-state senator, civil engineer and Afghan War veteran
Brian Kemp - Secretary of state, ex-state senator and businessman
Clay Tippins - Business consultant and Iraq War veteran
Marc Urbach - Teacher and conservative activist
Michael Williams - State senator, businessman and Trump campaign activist
Georgia's current lieutenant governor, Casey Cagle, is running for the Republican nomination as governor, opening the field for a number of candidates to replace him.
Sarah Riggs Amico - Businesswoman
Triana Arnold James - Pastor, businesswoman and Army veteran
Geoff Duncan - Ex-state representative, health care executive and ex-pro baseball player
Rick Jeffares - State senator, ex-Henry County commissioner and ex-Locust Grove city manager
David Shafer - State senate president pro tempore, ex-state GOP executive eirector and Businessman
Current Secretary of State Brian Kemp is among those running for governor, which also opens a field for those who wish to replace him.
John Barrow - Ex-congressman, ex-Clarke County commissioner and attorney
Dee Dawkins-Haigler - Ex-state representative, minister and political consultant
R.J. Hadley - Rockdale County tax commissioner, Democratic activist and 2010 U.S. Senate candidate
David Belle Isle - ex-Alpharetta mayor, ex-Alpharetta city councilman and attorney
Buzz Brockway - State representative, ex-Gwinnett County GOP chair and businessman
Josh McKoon - State senator and attorney
Brad Raffensperger - State rep., ex-Johns Creek city councilman and civil engineer
Only two candidates are running for attorney general, including incumbent Republican Chris Carr, there's also Democratic candidate Charlie Bailey.
State School Superintendent
Sid Chapman - State teachers union president, ex-teacher and pastor
Sam Mosteller - Pastor, army veteran and civll rights activist
Otha Thornton - Ex-national PTA president, Iraq War veteran and retired Army officer
Richard Woods - Incumbent candidate
John Barge - Ex-state schools superintendent, educator and 2014 gubernatorial candidate
Sonia Francis-Rolle - Educational consultant and ex-teacher
State Agriculture Commissioner
Only two major candidates are running for state agriculture commissioner, including incumbent Republican Gary Black, there is also Democratic candidate Fred Swann.
State Insurance Commissioner
Incumbent Republican State Insurance Commissioner Ralph Hudgens has held the office since 2011, and prior to that had been a member of the Georgia General Assembly, holding offices in both the Senate and House dating back to 1996. He announced last year that he would be retiring from political office and not running for re-election during this cycle.
Janice Laws - Insurance agency owner
Cindy Zeldin - Non-profit group executive and consumer health care advocate
Jim Beck - Ex-deputy insurance commissioner, ex-insurance agent and conservative activist
Jay Florence - Deputy insurance commissioner, attorney and ex-state legislative aide
Tracy Jordan - Hoschton City Council, realtor & pharmacist
Mark Butler - Incumbent candidate
Richard Keatley - College Professor and 2017 U.S. representative candidate
Fred Quinn - Financial manager analyst
Georgia's congressional delegation has been primarily Republican for the past several cycles, but with questions rising about President Trump and his policies, there have been many to wonder whether or not some of the congressional seats would become potential battlegrounds in the fall.
During the primaries, districts that would not have had Democratic challengers will likely see one or more candidates show up this election cycle.
Lisa Ring - Bryan County democratic chair and ex-corrections officer
Barbara Seidman - Retiree
Sanford Bishop - Incumbent
Herman West Jr. - Pastor, businessman and Vietnam War veteran
Drew Ferguson - Incumbent
Philip Singleton - Retired Army officer and Iraq War veteran
Chuck Enderlin - Airline pilot and USMC veteran
Hank Johnson - Incumbent candidate
Juan Parks - Marine JROTC instructor and Afghan War veteran
Joe Profit - Businessman, minister and ex-pro football player
Melanie Williams - Property manager
John Lewis - Incumbent candidate
Karen Handel - Incumbent candidate
Kevin Abel - Businessman and community activist
Bobby Kaple - Ex-TV news anchor and journalist
Lucy McBath - Gun control activist, businesswoman and retired airline flight attendant
Rob Woodall - Incumbent candidate
Shane Hazel - Business development manager and Iraq War veteran
Kathleen Allen - Risk manager and progressive activist
Carolyn Bourdeaux - Ex-state senate budget director and ex-congressional aide
Melissa Davis - Government budget analyst and community activist
David Kim - Learning Center chain CEO and community activist
Ethan Pham - Attorney and ex-software developer
Steve Reilly - Attorney, Army veteran, democratic activist and 2012 nominee
Austin Scott - Incumbent candidate
Vance Dean - Self-employed and GOP activist
Danny Ellyson - Businessman and disabled Iraq War veteran
Doug Collins - Incumbent candidate
Dave Cooper - Freelance journalist, retired Army soldier and Iraq War veteran
Jody Hice - Incumbent candidate
Bradley Griffin - Digital marketing company CEO, landscaping contractor and Army veteran
Joe Hunt - Restaurant chain executive
Tabitha Johnson-Green - Nurse
Chalis Montgomery - Educational consultant and minister
Richard Winfield - College professor, author and Democratic activist
Barry Loudermilk - Incumbent candidate
Flynn Broady Jr. - Attorney, retired Army soldier and Iraq War veteran
Rick Allen -Incumbent candidate
Eugene Yu - Businessman, ex-police officer, Army veteran and 2014/2016 candidate
Robert Ingham - Tax preparer
Francys Johnson - Ex-state NAACP president, attorney and minister
Trent Nesmith - Roofing company owner and non-profit group founder
David Scott - Incumbent candidate
Femi Akinkugbe - TSA security guard and Army veteran
David Callahan - Part-time driver, home renovator and ex-printer
Tom Graves - Incumbent candidate
Steven Foster - Physician and businessman
When can you vote?
Primary election day itself will be Tuesday, May 22. Any necessary runoffs will come on Tuesday, July 24. Early voting starts on Monday, April 30 and ends on Friday, May 18.
Where can you vote?
Early voting locations in each county will differ from your local voting location for Election Day. Each county's information is listed below: