ATLANTA — Local and state law enforcement agencies, including the Georgia Bureau of Investigation and Atlanta Police said Tuesday they were aware of an FBI warning about potential armed protests at all 50 state capitols this week, and said they were prepared to "do what is necessary" to maintain security.
The mass demonstrations raise the possibility of scenes in state capitols across the country similar to those in Washington last week, as a pro-Trump mob sacked the U.S. Capitol.
The GBI pledged to "do what is necessary to ensure safety and security," in a statement.
"The GBI is aware of reports and GISAC (State Fusion Center) is monitoring. We are also in communication with our partners and will continue to do what is necessary to ensure safety and security," a statement issued Tuesday by GBI Public Affairs Director Nelly Miles said.
Atlanta Police and the Georgia Department of Public Safety, which oversees the Georgia State Patrol and Capitol Police, also said they were prepared.
APD said it was "prepared to respond quickly" if "protests or illegal activity occur."
"We do not share operational or security plans," the department said. "However, the safety and security of our city and citizens is our priority."
The Department of Public Safety said it "continues to monitor protest activity and to evaluate its security measures at the Capitol."
While the agency also does not share operational plans, it said it is "prepared to respond in the appropriate manner as we have always done in the past. Our primary concern will always be the safety of everyone who works at or visits the Capitol grounds."
In a join news conference at the Georgia Capitol Building on Tuesday, Gov. Brian Kemp; Major General Thomas Carden, Adjutant General of the Georgia Department of Defense; and Colonel Chris Wright, Commissioner of the Georgia Department of Public Safety; addressed security concerns following the events that happened at the Capitol.
They said law enforcement does have a plain in place. Kemp said they are preparing to deal with anything that could potentially happen.
"As you know, we welcome peaceful protests as we did last summer," Kemp said. "And we want to ensure that any peaceful demonstrator is able to exercise their First Amendment rights as much as they would like in a safe manner."
"But let me be clear, law breaking like we saw last week will not be tolerated here period," the governor added.
Increased security at Georgia Capitol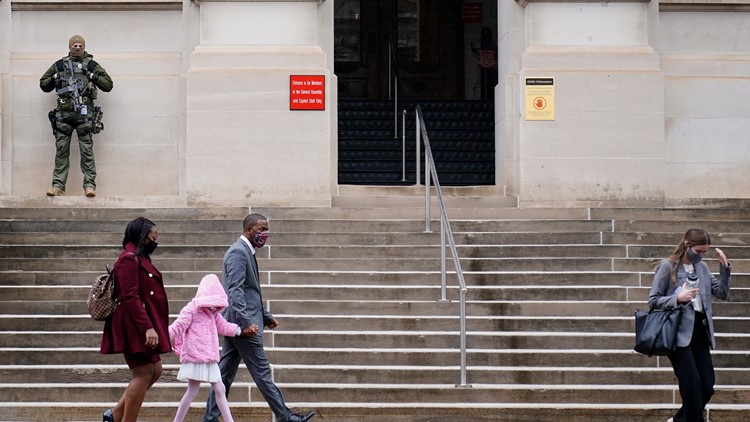 The Georgia National Guard said that it does not have a "specific request at this time to heighten security measures" at locations where it has provided security backup in recent months, including the State Capitol and governor's mansion.
Carden, the adjutant general of the Georgia Guard, said it "will be ready if our governor calls us, to provide additional capabilities our professional law enforcement teammates need."
The FBI also issued a statement:
"While our standard practice is to not comment on specific intelligence products, the FBI is supporting our state, local, and federal law enforcement partners with maintaining public safety in the communities we serve. Our efforts are focused on identifying, investigating, and disrupting individuals that are inciting violence and engaging in criminal activity. As we do in the normal course of business, we are gathering information to identify any potential threats and are sharing that information with our partners. The FBI respects the rights of individuals to peacefully exercise their First Amendment rights. Our focus is not on peaceful protesters, but on those threatening their safety and the safety of other citizens with violence and destruction of property."
The Georgia state legislature, the General Assembly, returned to session on Monday with a more visibly robust security presence. The Associated Press photographed at least one Georgia State Patrol SWAT team member standing guard at the Capitol Building entrance.
According to an official who spoke to the Associated Press, the FBI bulletin said: "Armed protests are being planned at all 50 state capitols from 16 January through at least 20 January, and at the U.S. Capitol from 17 January through 20 January."
The AP described at least one other bulletin that had gone out the week before the Capitol riots that had "warned of the potential for armed demonstrators targeting legislatures."