ATLANTA - Gov. Nathan Deal was joined Wednesday by U.S. Agriculture Secretary Sonny Perdue as the state bid a final farewell to the governor who gave Georgia HOPE.
Zell Miller's executive state funeral was held in the rotunda of the state capitol, where the former governor and U.S. senator, best known for launching the HOPE scholarship, had been lying in state since Tuesday afternoon.
Also in the audience were U.S. Sen. Johnny Isakson, former Georgia secretary of state and U.S. senator Max Cleland, and former lieutenant governor Pierre Howard.
"His achievements and career were truly legendary, a fact that was verified Tuesday three of the five living presidents of the United States attended his funeral," Deal said.
Three U.S. presidents spoke at Tuesday's funeral for Miller on Tuesday; Jimmy Carter, Bill Clinton and George W. Bush all attended the service at Peachtree Road United Methodist Church.
"What do you say about the man who gave Georgia hope?" Perdue, himself a former Georgia governor, said. "I'm grateful for his life as a citizen of Georgia and a citizen of the United States." (Story continues below gallery.)
PHOTOS: Zell Miller's executive state funeral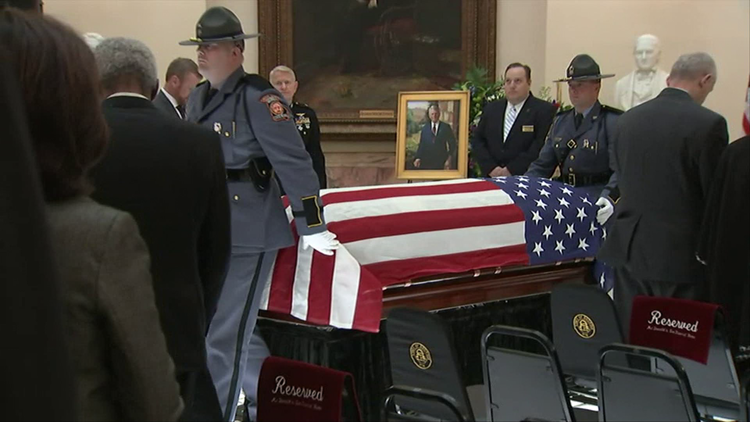 These events followed Monday's visitation at Young Harris College which, in itself, drew a sizable crowd for one of its most well-known politicians.
A private family service for Miller was set for Wednesday afternoon in Cumming.
PHOTOS | Zell Miller, former Ga Governor