Georgians went to the polls Tuesday to vote in a variety of runoff elections. (Click here for a voter's guide).
Refresh this page for continuous updates through the day.
►►Bookmark this page for election results after 7 p.m. 11alive.com/elections◄◄
9:03 pm -- Kemp addresses his supporters.
8:48 pm -- Gov. Nathan Deal congratulates Kemp on his victory:
8:40 pm -- Associated Press declares Kemp the winner.
8:34 pm -- Cagle concedes race to Kemp, calls to congratulate him.
8:24 pm -- Kemp 66%, Cagle 34%
8:15 pm -- Kemp 65%, Cagle 35%, with 15% reporting.
7:55 pm -- Kemp 62%, Cagle 38%, with 7% reporting.
7:47 pm -- Kemp, 62%, Cagle 38%, with 2% precincts reporting.
7:38 pm -- Kemp's lead widens further, 59% to 41%. No metro Atlanta counties reporting.
7:31 pm -- Kemp's lead widens to 57% to 43% with 1 percent still reporting.
7:17 pm -- Kemp's lead narrows to 52% over Cagle's 48%.
7:14 pm -- Kemp jumps out to an early lead over Cagle, 54% to 46%, with 1 percent of precincts reporting.
7 pm -- Polls close throughout Georgia.
5:18 pm -- Some metro Atlanta voters reported trouble voting at their polling locations on Tuesday.
11:30 a.m. UPDATE - Casey Cagle tweets a message insisting he will "make sure @JulioJones_11 reports to training camp" if he's elected governor.
Jones is in the middle of a contract dispute with the Atlanta Falcons.
9:30 a.m. UPDATE - President Donald Trump tweeted a message of support for Brian Kemp, days after his endorsement of the gubernatorial candidate.
8:30 a.m. UPDATE - Brian Kemp touts his support and endorsement by President Trump.
7 a.m. UPDATE - Polls open in Georgia.
RELATED STORIES |
►FULL ELECTION RESULTS | 11Alive.com/elections
►GEORGIA ELECTION GUIIDE | These are the runoff candidates
►VOTEABLE: Getting to know Georgia's gubernatorial runoff candidates
► RELATED | Stacey Abrams makes history in Democratic Primary | Cagle, Kemp in GOP runoff
► Have a news tip? Email news@11alive.com, visit our Facebook page or Twitter feed.
PHOTOS : Brian Kemp wins GOP governor's nomination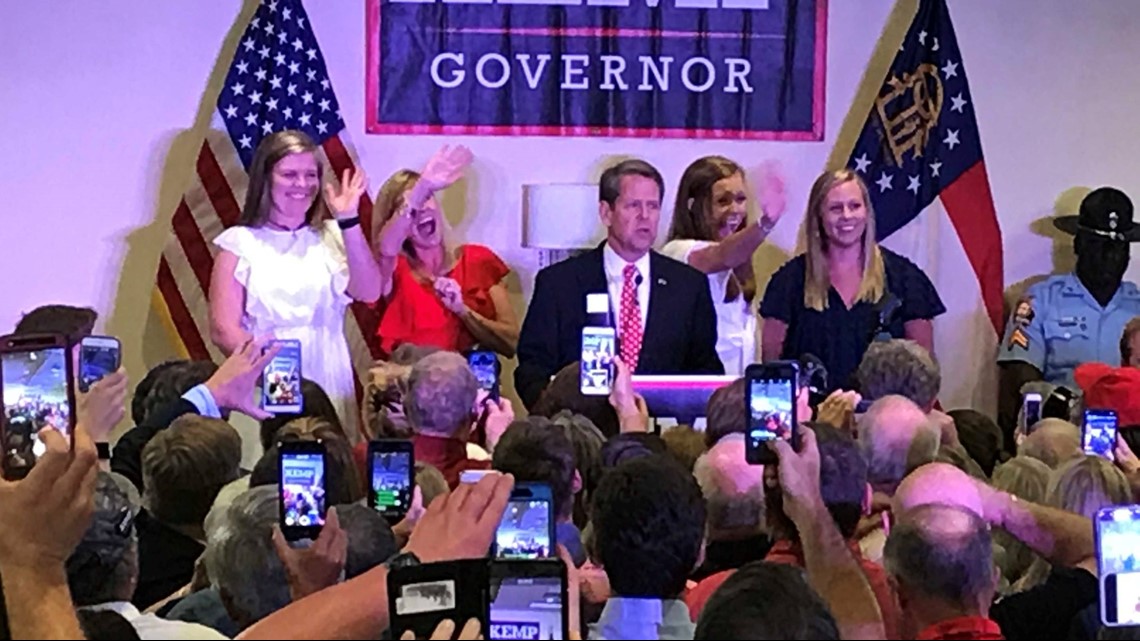 Ga. candidates for governor cast their votes in the runoff