ATLANTA — Another potentially tumultuous week in American political life looms, with the House of Representatives moving closer to impeachment proceedings against President Donald Trump.
Meanwhile, in Georgia, counties are working to wrap up last week's Senate runoff election. So far, according to figures at the Georgia Secretary of State's website, 40 out of the state's 159 counties have certified their results.
Once all the counties have certified their individual results, the state can certify the total results. And Sec. of State Brad Raffensperger does that, Senators-elect Raphael Warnock and Jon Ossoff can be sworn in.
Both David Perdue and Kelly Loeffler conceded those races late last week.
But the news of Georgia's Senate race took a distant back seat following the sacking of the U.S. Capitol by an insurrectionist pro-Trump mob last Wednesday.
Fallout from that extraordinary event continues, with House Speaker Nancy Pelosi over the weekend threatening to move ahead with impeachment proceedings if Vice President Mike Pence does not invoke the 25th Amendment to begin the process of removing Trump from office.
Georgia's six Democratic representatives have all signaled they would support impeachment, but it's unclear how the eight Republicans would fall.
Many, however, still supported objecting to Georgia's election results when counting of electoral votes resumed following the Capitol riots, and continue to stand by the president.
11Alive will be tracking updates as they come in on Monday. Please note all times below are Eastern.
12:40 p.m. | Georgia House Speaker David Ralston has been re-elected to the position. One of the most influential political figures in the state, Ralston said after the election he would push for an amendment to the state constitution this session to make the secretary of state position one appointed by the Georgia General Assembly rather than one elected by the public.
11:05 a.m. | Here's a look inside at the socially distanced first day of the new state legislative session, from 11Alive photojournalist Pete Smith.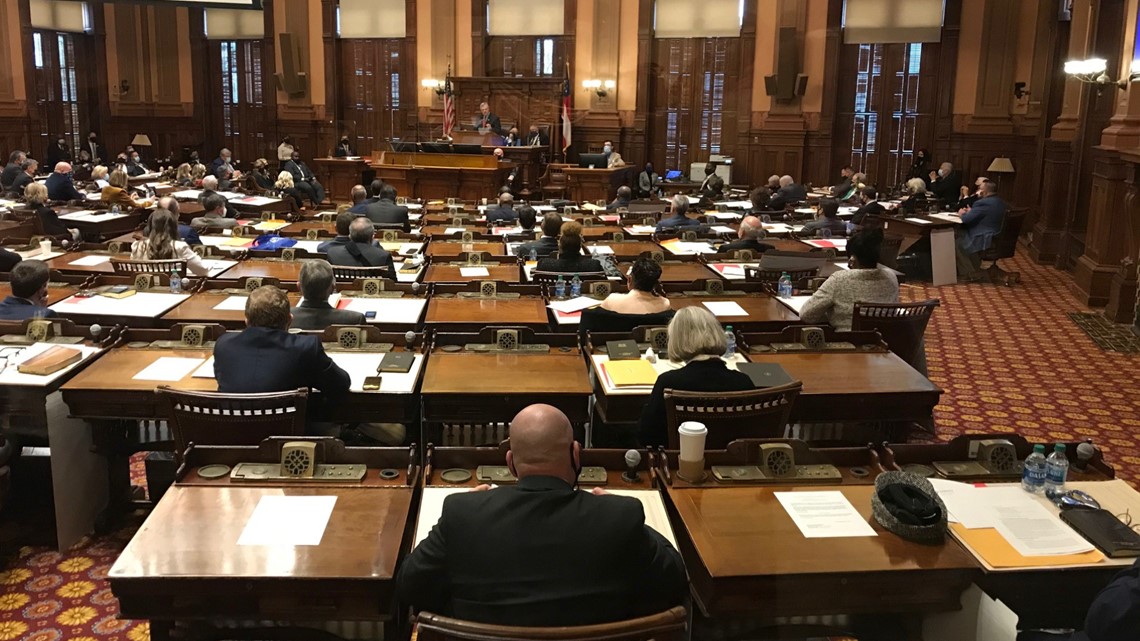 10:45 a.m. | By the way, in Georgia General Assembly news, state Sen. Butch Miller, a Gainesville Republican, has been confirmed as Senate President Pro Tempore for another legislative session. He has held the position since 2018.
10:35 a.m. | Evidently encouraged by the success of statewide Democrats in the presidential and Senate races, Charlie Bailey, the unsuccessful Democratic candidate for Georgia Attorney General in 2018 has already announced he's running again in 2022.
Bailey lost the 2018 race to current Attorney General Chris Carr by a little less than 3%.
10:10 a.m. | Rep. Lucy McBath has issued this statement on impeachment:
"The world watched as insurrectionists, incited by President Trump, attacked American democracy, American institutions, and the American way of life. The result of his rhetoric has left five Americans dead, laying bare his contempt for our Constitution, his disdain for our democracy, and his persistent threat to this nation's security.
"Last week, I called for Vice President Pence to invoke the 25th Amendment and remove President Trump from office. If the 25th is not invoked, Congress must impeach the President, remove him from office, and disqualify him from ever again holding an office of trust under the United States of America.
"With heavy hearts and a clear purpose, we have again been called to protect our Constitution and defend our democracy. With the eyes of the world and the presence of God upon us, we must do our solemn duty."
9:55 a.m. | The Supreme Court has declined to give expedited consideration to a number of Trump-related election lawsuits, including Lin Wood's original lawsuit against Brad Raffensperger to stop certification of Georgia's election results and the so-called "Kraken" suit that was brought by Sidney Powell.
That doesn't mean they've been denied a hearing outright, but without an expedited hearing it would almost certainly render the matters moot by the time they would be considered.
7:00 a.m. | Another thing going on today: The start of the state legislative session.
One especially charged topic you can expect to come up in the weeks ahead? Changes to Georgia's election laws.
6:20 a.m. | Good morning! While we wait to see what happens up in Washington, one of the things we'll be tracking locally throughout the day is what kind of progress Georgia's counties make toward certifying the Senate election.
So far 40 counties, about a quarter of the 159 in Georgia, have certified their results. But the Secretary of State's website hasn't updated since before noon yesterday, so it's possible we could see more come online today when the first update rolls around.