ATLANTA — Gov. Brian Kemp has officially asked for Georgia's insurance commissioner to resign.
In a letter, Kemp asked for Georgia Insurance and Fire Safety Commissioner Jim Beck to step down from the post, after the US Attorney indicted Beck Tuesday on charges connected to creating fake companies to defraud insurance companies of at least $2 million.
"Your indictment severely undermines your ability to fulfill your official obligations to the people of Georgia," the letter reads.
The indictment alleges Beck committed the crimes between February 2013 and August 2018, while he was general manager of operations for Georgia Underwriting Association (GUA) -- an insurance association located in Suwanee that provided high-risk property insurance to homeowners in Georgia.
The indictment alleges Beck committed he crimes between February 2013 and August 2018, before he was elected as the insurance commissioner. He pleaded not guilty to those accusations at the federal courthouse in Atlanta, Wednesday.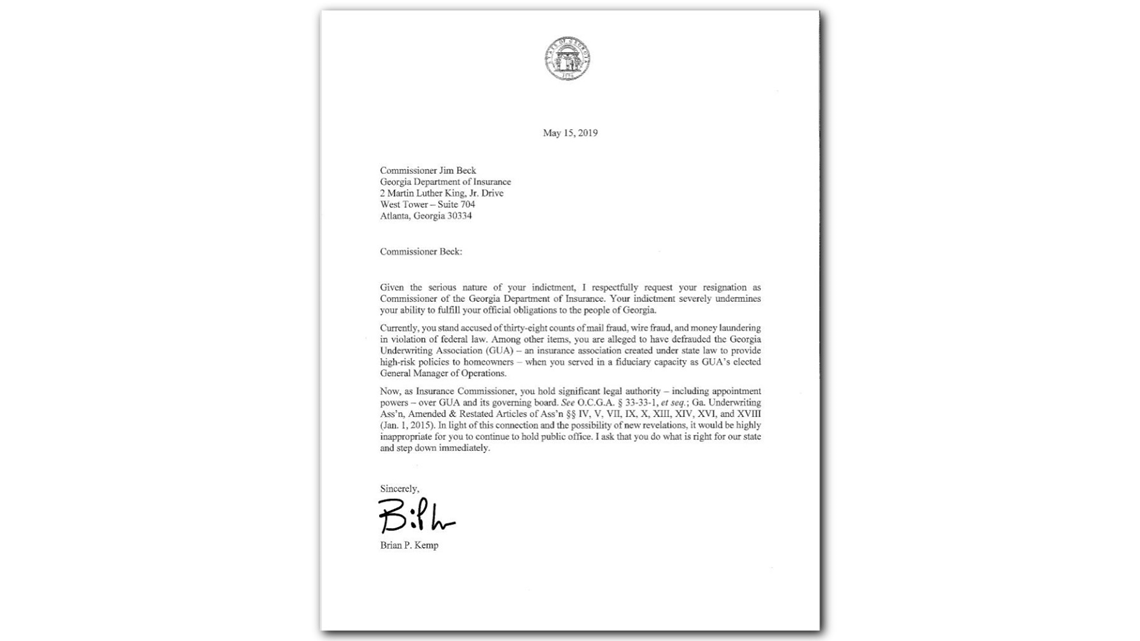 "In light of this connection and the possibility of new revelations, it would be highly inappropriate for you to continue to hold public office," Kemp chastised.
"I ask that you do what is right for our state and step down immediately," the letter concludes.
Following Beck's indictment Tuesday, the Office of the Insurance and Fire Safety Commission issued a statement saying the accusations "have no bearing on his service as an elected official to the people of Georgia."
"The Commissioner maintains his innocence and he is entitled to the same presumption of innocence that every citizen of Georgia walks into a courtroom with when accused of a crime," the statement continued.
Beck was elected to the office of Georgia Insurance and Safety Fire Commissioner in 2018, but he's been in the industry for years. In addition to serving as Insurance Commissioner, Beck is also the Safety Fire Commissioner and Industrial Loan Commissioner. His duties include regulating approximately 1,600 insurance companies, licensing 137,000 insurance agents, and regulating over 1,000 industrial loan offices.