ATLANTA — Below are the full comments of Georgia Senate appointee Kelly Loeffler, introduced by Gov. Brian Kemp as his choice to fill retiring Sen. Johnny Isakson's seat at the end of December.
Good morning. I want to start this morning by thanking Governor Kemp for this important opportunity to serve our nation and our state.
I am humbled by this honor and I am grateful for the confidence that you've placed in me. Thank you, governor.
I'd also like to thank Senator Isakson for his years of service to our state and our nation. He's a true statesman for Georgia and we keep him and his family in our thoughts and prayers.
I know I have a lot of work to do to earn the trust and support of my fellow Georgians, so for starters please allow me to introduce myself.
My name is Kelly Loeffler, I am a devoted wife, a proud patriot and a devout Christian.
I have lived the American dream and I am blessed to stand here today, but it is a long way from where I came from. I grew up on a family farm, the fourth generation of corn and soy bean farmers. I was shy, I had braces on my legs and on my teeth.
We lived simply, life revolved around farming, church, school and 4-H. There was a rhythm to our lives - we planted in the Spring, I showed cattle at the county fair in the summers and in the fall we harvested. Sundays were for church and family.
I attended public schools and helped pay my way through school waiting tables.
Hard work, faith and family - this is not a political slogan, this is at the foundation of everything I believe.
I'm not a career politician or even someone who's run for office. I've spent the last 25 years building businesses, taking risks and creating jobs. I haven't spent my life trying to get to Washington.
So here's what folks are going to find out about me: I'm a lifelong conservative, pro-Second Amendment, pro-Trump, pro-military and pro-wall. I make no apologies for my conservative values and I look forward to supporting President Trump's conservative judges. I am strongly pro-life - the abortion-on-demand agenda is immoral. In the Senate I look forward to supporting S.160 - Senator Lindsey Graham's 20-week abortion ban. And when it comes to protecting innocent life, I look to God because every life is a blessing.
In Washington I will work with President Trump to continue the incredible economic progress our nation has seen. Because of our president's policies, we're growing our economy and jobs at a record pace. Every day, new jobs are created for working moms and dads, for young graduates and for that waitress just looking for a chance.
I've been called soft-spoken, but I've also been called a lot worse.
In Congress, I may not be the loudest voice in the room, but you don't have to be shrill to be tough. And when it comes to fighting for Georgia, I will never back down.
No one will fight harder for our state, for our nation, for our president and for our conservative values, because here's the thing: Contrary to what you might see in the media, not every strong American woman is a liberal, many of us are conservatives and proud of it.
With all of the important things to be done in Washington and here at home in Georgia, I am angered by the impeachment circus. I oppose it, it's a distraction and a sideshow. Just imagine what could be done if Democrats would stop fighting President Trump and playing politics and start working together. Think what could be done for hard-working families - creating jobs, expanding access to health care, keeping America safe and strong.
Make no mistake - Washington Democrats want to overturn much more than an election, they want to overturn our way of life, because they resent America's success. They can't tell you how much their socialist ideas will cost, they don't care how many jobs will be destroyed, and they can't even agree that they want to protect our borders. The only thing they agree on is that they hate Donald Trump.
Elizabeth Warren, Bernie Sanders, that whole socialist gang in Washington – they've taken over the Democrat Party and they will not stop until America bends to their every demand, and everything that has made our country great is destroyed.
Kelly Loeffler Senate appointee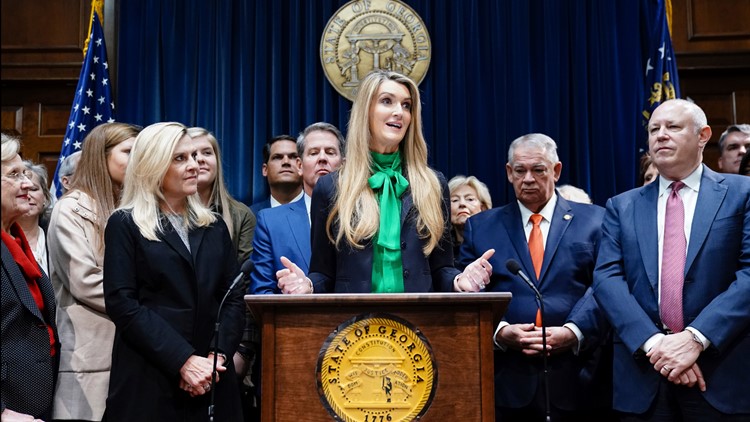 This is the fight of our generation and this is why I'm here. I'm Kelly Loeffler, this is who I am, this is what I believe.
As an outsider to Washington, I know I have to prove it, to earn your trust and your support - through my votes, through my priorities and my actions. And that's exactly what I'm going to do.
Thank you, may God bless Georgia and may God bless America.