The demonstrators, from the Westboro Baptist Church in Topeka, Kan., have, for many years, been known for their hate speech which has fueled their nationwide protests.
Over the years, their protests have taken a significant focus on homophobia, Islamophobia, antisemitism, anti-Catholicism and even on some levels, anti-Americanism.
In an announced protest of this weekend's graduation ceremonies at Morehouse as well as Spelman College and Clark Atlanta University, the church pointed at support by the schools of the LGBTQ community overall, and in specific examples by each school.
With Morehouse, the church pointed at the college's recently updated admissions policy that will include students that identify as men, regardless of their sex assigned at birth.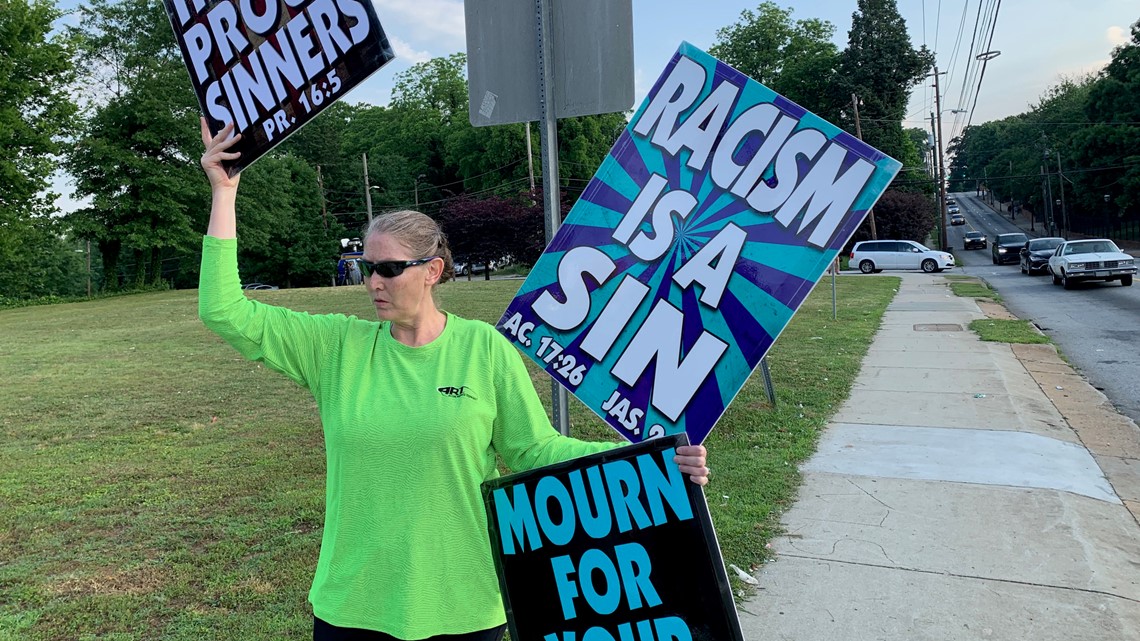 In April, Morehouse released a statement codifying the new policy.
"In a rapidly changing world that includes a better understanding of gender identity, we're proud to expand our admissions policy to consider trans men who want to be part of an institution that has produced some of the greatest leaders in social justice, politics, business, and the arts for more than 150 years," said Terrance Dixon, vice president for enrollment management at Morehouse.
In their protest of Spelman, the church cited the student organization Afrekete, an all-inclusive organization which offers a "safe, creative and liberating space for students across the entire spectrum of the LGBTQIAA+ community and their allies."
When discussing their protest of Clark Atlanta's services, Westboro Baptist protesters directed their ire at one of the graduation speakers, Dr. Ken Walden, president and dean of Gammon Theological Seminary in Atlanta. In a blistering personal attack, a release from the church said, among other things, that he has made a career "lying about Jesus Christ and His Word."
This is not the first time demonstrators from Westboro Baptist have demonstrated a university's LGBTQ policies. In recent years, Westboro pickets have shown up at schools like Vassar College in Poughkeepsie, N.Y., Kansas State University in Manhattan, Kan., Pomona College in Pomona, Calif., the University of Pittsburgh and others.
In each case, members of the church have brought their pickets, and generally rabble-roused in and around the area of the school in opposition to the LGBTQ community. In some of the cases, students provided a counter-protested with signs of their own or with large numbers in support of the LGBTQ community. In other cases, the Westboro demonstrators were largely ignored.