The whole 'Will Julio show?' topic has been a national conversation for the last three months, starting with the later-confirmed whispers of Jones skipping the team's Organized Team Activities workouts in May and mandatory minicamp in mid-June.
So, in that vein, Jones' major gamble for training camp shouldn't be a major surprise to ardent NFL followers, especially those living in Atlanta.
Of course, things certainly get more expensive from here.
**The Falcons still reserve the right to fine Jones nearly $85,000 for missing the three-day minicamp.
**Training camp fines, however, can be as high as $40,000 per day with vested veterans.
PHOTOS | Julio Jones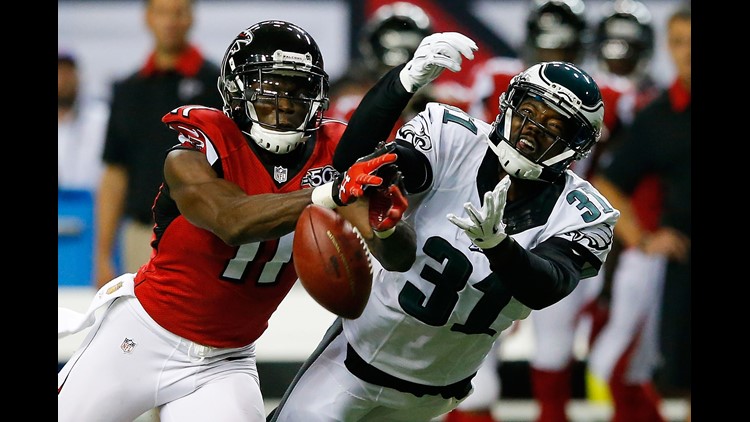 By extension, are the Falcons prepared to levy such a huge cumulative penalty against arguably their greatest playmaker—knowing it could fracture the relationship, long term?
At the NFL owners meetings in May, taking place in suburban Buckhead, Atlanta owner Arthur Blank expressed optimism Jones would remain a Falcon For Life.
Regarding Jones' supposed demand for a new or 'updated' contract, Blank kept it simple two months ago:
"We'll talk to him directly about that, and that's between us and him. We've always treated our players respectively, competitively and done whatever we have to do to make a winning team on the field."
Jones' contract dissatisfaction might be a bone of contention on three different levels:
a) The receiver front: For his next deal, Jones likely wants to stay competitive with Houston's DeAndre Hopkins (five years, $81 million ... signed in 2017) and Tampa Bay's Mike Evans (five years, $82.5 million ... signed in 2017), while keeping an eye on Odell Beckham Jr.'s prospective contract extension, which could approach the $90 million mark.
b) The quarterback front: Jones and Matt Ryan may be great friends off the field, but Julio might also loathe having a base salary that's roughly one-third of his quarterback.
c) Perception can often be 'reality' in NFL circles; and for Jones' sake, he would seemingly have more power negotiating one last mega-payday in his 20s—compared to waiting until next spring, when the five-time Pro Bowler turns 30 years old.