COFFEE COUNTY, Tenn. — A Georgia couple is fighting to regain custody of their five children in Tennessee – after a seemingly benign traffic stop led to a drug possession charge and then a bewildering legal saga that so far has dragged on for more than a month – without a clear end in sight.
The Tennessee Lookout first reported the story of Bianca Clayborne and Deonte Williams last week. The couple was driving through Tennessee from Georgia on their way to Chicago for a funeral – when they were reportedly stopped for a tinted window and "traveling in the left lane while not actively passing."
According to the initial report, a search during the stop turned up five grams of marijuana, an amount classified as a Class A misdemeanor in Tennessee.
Court records from Coffee County, Tennessee, show both Clayborne and Williams were charged on Feb. 21 with simple possession/casual exchange.
On those charges, Tennessee's Department of Children's Services removed the five children – ranging in age from a four-month-old breastfeeding baby up to seven years old – from their parent's custody.
Williams shared photos with 11Alive's Tresia Bowles of the first time he was able to see his children after the arrest – a week later.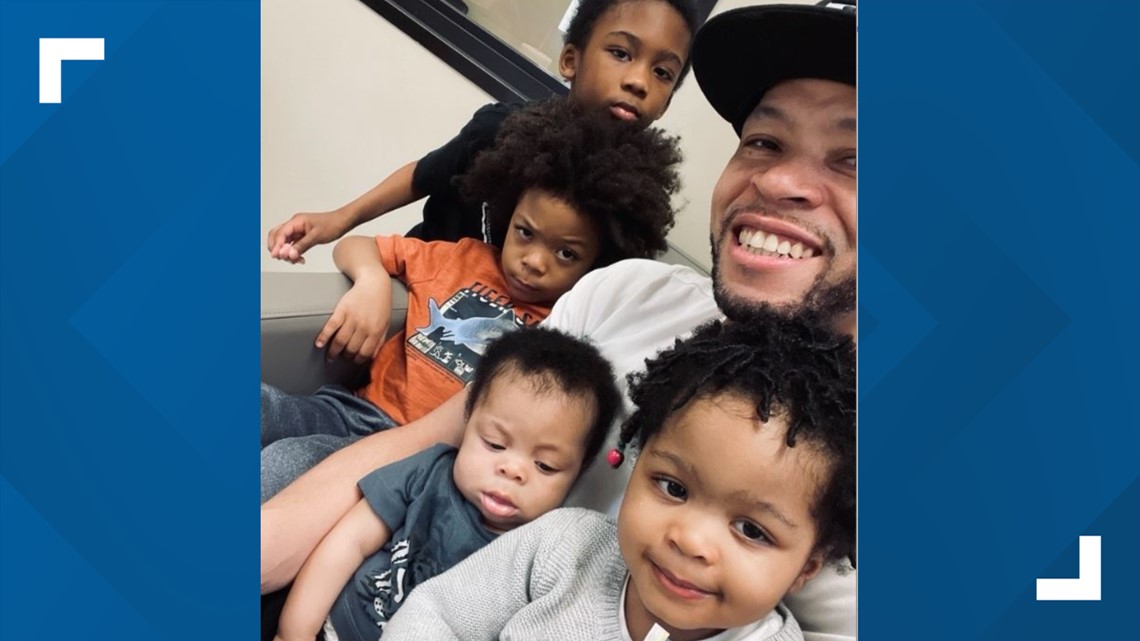 According to the Lookout, a follow-up drug screening resulted in a positive THC test for Williams and a negative result for Clayborne. A further hair follicle test was done that showed positives for other substances, but the parents have denied using any of those substances. Hair tests are also frequently scrutinized, with lawyers and advocacy groups considering them too unreliable – the Lookout also reported a court administrator said they were inadmissible in court.
Nevertheless, Tennessee's DCS used the results "as the basis for alleging severe abuse of the children," the Lookout reported.
The most recent development in the case was this Monday, when the parents attended a juvenile court hearing that, according to Nashville's WZTV, did not result in the return of the children to their custody.
The Tennessee DCS communications director, Alex Denis, defended the agency's handling of the case.
"We talk about transparency a lot, whether that be policy, procedure, protocol – and in this case, we feel like those case managers did just that," Denis said, according to WZTV. "DCS collects evidence just like law enforcement. They then present that to the courts and the judge makes that decision and DCS follows out."
Stream news content 24/7 on the 11Alive+ app. Text PLUS to 404-885-3600 to download.
A release last week by the local district attorney, Craig Northcott, stated that the decisions regarding the care and custody of the children were not his office's to make, but that "the officers involved fulfilled their obligations pursuant to (Tennessee law)... that require law enforcement to ensure that minors are properly protected at any time that a parent or child is taken into custody by contacting the Department of Children Services to alert them of the situation."
Northcott added that he felt the juvenile justice system in Tennessee will "act to obtain a just and efficient result that is in the best interests of the children."
Court records show there's not another legal date until a preliminary hearing in the drug possession case on April 18, at which point it will have been nearly two months since the parents had custody of their children.
Meanwhile, they have reportedly been staying with a family friend who lives in the Nashville area and is serving as a legal foster parent.
An attorney for the mother, Courtney Teasley, held a press conference Monday, saying, "This family has been without their babies for 30 days... I can't imagine my life without my babies."
She also tweeted last week: "I want the world to see, in real-time, how the criminal justice system of oppression is used to disproportionately affect people from marginalized communities."
Teasley wants to advise everyone that the family has not set up a Go Fund Me account. So, don't be fooled by any of those links. The lawyer has set up a donation box for anyone who wants to help. Here is her email if you'd like to help: ct@cteasley.com.