Students on the campus of Kennesaw State University marched Monday afternoon in support of the KSU cheerleaders who knelt down during the national anthem in protest of police violence against minorities nationally and in support of former San Francisco 49ers quarterback Colin Kaepernick, who began the practice in August 2016.
After five of the cheerleaders knelt down during the anthem prior to the start of the KSU football game against North Greenville University on Sept. 30, the university said that the cheerleaders would not be permitted to take the field until after the national anthem is played.
In a statement sent to 11Alive News, a school spokesperson said:
"The decision.... is part of a number of changes that have been made by a new Athletics administration each game as we continue to refine and enhance the gameday atmosphere for our fans. Some of those other changes have included painting the KS logo at midfield for the first time, the addition of metal detectors at gates to expedite fan entry, and music/PA system changes to have more loud speakers by the student section."
Students demonstrating in support of the cheerleaders will assemble on the school's Campus Green at 1 p.m. on Monday.
PHOTOS | KSU Students march for Cheerleaders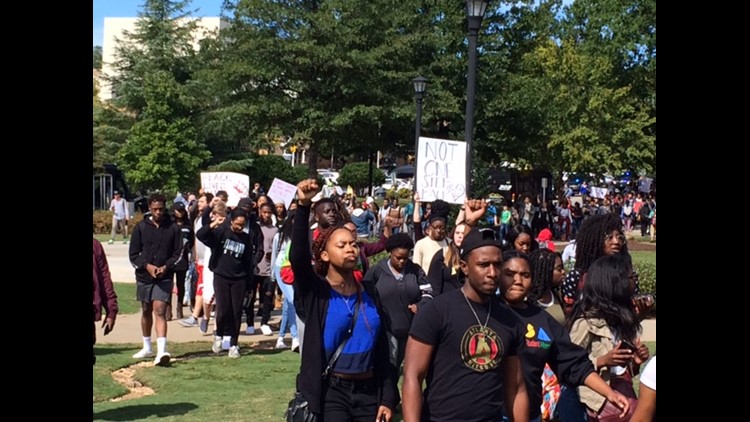 "The Cheerleaders have the 1st Amendment Right to take a knee to show their grievances with the way their nation is being run," a poster announcing the march said, in part. "People always say they would have stood for social justice if they lived in that era. We are in that era! Now is your time!"

An older brother of one of the cheerleaders calls what they did a courageous act of protest out of love for their country.
""Her and another group of the girls really felt moved to join the movement of talking about racial inequality and criminal justice reform," Davante Lewis said, "and decided that they wanted to take a knee."
Lewis said the protest has evoked the usual passionate debate on social media, but he said this past Friday powerful local and state politicians complained to KSU administrators, denouncing the cheerleaders.
"That, to me, represents a type of government coercion and a violation, I think, of government interacting against people's free speech," Lewis said. "We really want Kennesaw to reaffirm its higher education institution as a place of free expression and free beliefs."
Part of America's history and DNA, he said--college students protesting on campus.
KSU said repeatedly to 11Alive News that the decision to keep the cheerleaders off of the field until after the national anthem, beginning at the October 7 game, was merely one of many changes that had nothing to do with the protest or any complaints about it.
Photos | KSU cheerleaders kneel at football game